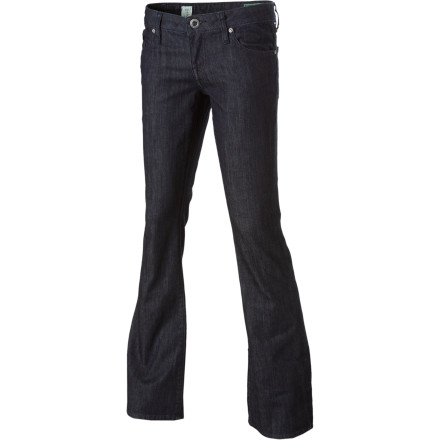 Detail Images
The classic flare-cut jean just won't go away, and why should it? It's super-flattering for every body shape, and it carries a certain boho intrigue with it. So Volcom made the Would Stalk Flare Denim Pant with a soft, stretchy blend of cotton and spandex and added interesting extras like asymmetrical back pocket embroidery. It's a jean that fits in anywhere, while standing out at the same time.
My first pair from Volvom, I really liked them. They are very flattering in my legs and make them look long and lean. I've been wearing a 2 from American Eagle and they have been huge, so I got these in a 1 and theyre a bit snug. They look really cute with sneakers too.
These jeans are great, the wash is nice not to dark, the fit is good, i normal wear a 7 and i got them in a 9 and the fit like a true 9. The fit in the butt is slim but that worked out good for me cuz i dont have much of an ass. Im 6 foot and the length is perfect, i was afraid they were gonna be too short. Overall a good buy for 44 bones. Two thumbs up.
Good fit through the legs and waist. A casual denim that isn't overly tight or too relaxed. Overall a pretty standard jean from Volcolm, If you haven't tried their jeans before you will notice the fit tens to be tighter in the butt compared to their other pants. These jeans ran true to size and were regular length. I enjoyed the distressed knee.