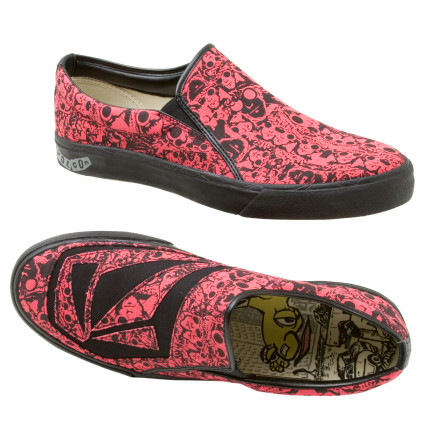 Detail Images
Perfect shoes to fit a certain style
This is my second pair of Creedlers -they are great for casual street walking or the office. Very comfortable.
You wanna complete a stylish look... wearing these seals the package.
everyone here is saying they're too big, but they were too small for me. i wear a 10.5 but i think i should get an 11
These shoes are the shat man. they're holding together great, look even better, and don't cost an arm and a leg. btw, the sizing is screwy, so if you're like a ten, get an eleven. just a sidenote. buy em today, and support the cause
these look great and are damn comfortable. very low cut so some jeans may get wrecked. but on the whole they're great.
These shoes are great! I agree with the ordering them smaller than your usual size. I did so and they are spot on. I actually ordered them a whole size smaller in fact. I also wouldn't suggest these for people with very wide feet. I have narrow feet and these fit great. As said before, they are comfortable, and not heavy at all. Also mentioned before, the color in the picture for the black canvas ones is off. If you look these same shoes up on Amazon, they have to correct picture so you can get an accurate idea of what they look like though. Just don't forget to come back to this site to order them!
just got my order in, got 'em a half a size smaller than my normal fit because according to Chimchim they're a larger shoe - and they fit perfectly. i think the bright green outsole was the seller for me. the color on the site's photo is slightly off though, the black trim along the bottom of the shoe is actually white and beige, more resembling the herringbone or plaid versions.
Better than cheesy Vans....
Just received my new Volcom Creedlers. At first glance, I knew I made a wise choice as I was bombarded by Van's slip-ons... Van's are everywhere and I just couldn't bring myself to buy a pair. So, I went with Volcom.
In a nutshell, these slip-ons rock. Very stylish, HIGHLY comfortable, and extremely light! Actually, I was very surprised by the weight for they LOOK heavy....
Regarding sizing, make sure to order 1/2 size down for they run a little big. I bought a size 8, but I may need a 7.5, but I cant bring myself to wear a 7.5. I will just throw in an insole and I'll be fine. Besides, you know what they say: Big Feet..., Big Shoes...
Overall, the Volcom Creedlers are a killer choice. Stay away from the typical Van's slip-ons.
BTW, I got the Suede material, but I believe the Canvas should be killer as well!
these shoes are super comfortable. when i went to pick them out i was worried because the girl told me they only had up to size 12 and i'm a 13. the 12's fit perfectly because of the way they are shaped. i got the tweed ones and im happy with my purchase