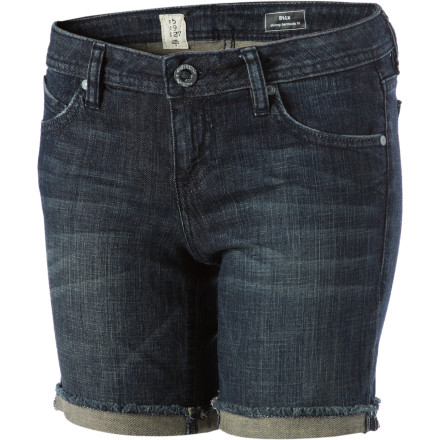 Detail Images
Thank goodness you're wearing the Volcom Women's Stix Skinny Bermuda Short instead of that flowy skirt you were about to wear. You've already seen multiple gals adjusting their skirts due to the wind and are super-glad you're not one of them.
Basic low-rise, five-pockets, and skinny cut gives you a chill short you can rock anywhere (except maybe not to your sister's wedding)
Seven-inch rolled and eight-inch un-cuffed inseam lends a flattering, classy look
Comfortable fabric with a touch of elastane ensures you have plenty of room to dance and swagger about
Unanswered Question
Hello, I'm 168cm tall and my measurements...
Hello,
I'm 168cm tall and my measurements are as follows :
Waist : 67cm
Hips : 91cm (low: 82cm)
Since I'm between two sizes, I don't know which one to order (size 3 or 5?). Could you please help me with this?
Thanks!