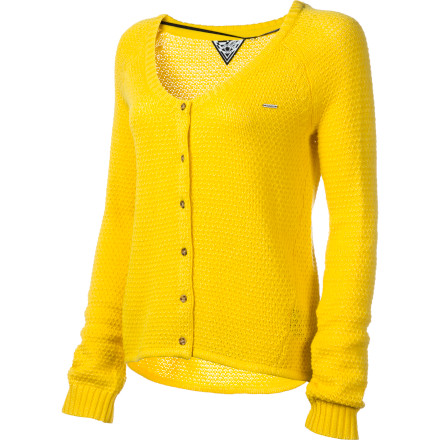 The Volcom Women's Sin Ombre Cardigan makes your outfit thanks to its cardigan style, long, drapey back hem, and scoop neck.
Wrap this medium-gauge sweater cardigan around you for warmth when you're sitting next to a drafty window
Wide scoop neck shows off a bit of your under-layer while the longer back hem slides over your leggings
Cotton and acrylic fabric feels comfortable against your skin
I ended up sending the medium back and getting the large, it's still not that long of a cardigan. It just runs generally shorter than most. Still really cute and I like it a lot just wish it were a bigger more comfy to wear cardigan.
This is a really cute sweater, medium thickness, however the picture of it makes it look like it is a longer bigger sweater. I am usually a medium but sometimes depending on how I want it to fit, a large. I definitely should have gone up a size and gotten a large. This sweater runs pretty small and is pretty short. It definitely cannot be worn with leggings. I'm not overly tall either - about 5'6" and it barely goes over my butt. I'll probably send the medium back and go for a large.