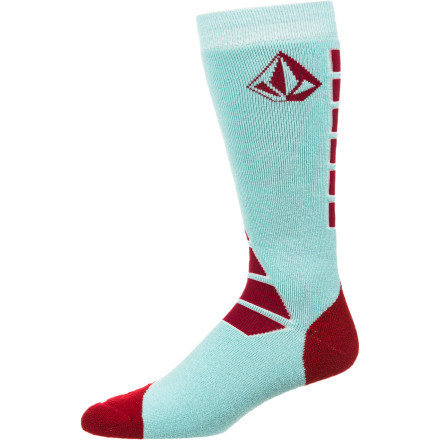 Socks are the most important accessory one can rock when heading to the hill to sprock. Because when you feel that chill and you're not rocking the Volcom Scranton Sock, your toes will feel ill and your nails will turn black and peel. Ya feel?
Heavyweight acrylic, wool, nylon, and spandex, blend provides fast-drying warmth you can rock during the season's coldest weather
Stay Up cuff is designed to keep the sock secure on your leg and prevent it from sagging in thew boot
Fully padded footbed resits wear and tear and insulates for mid-winter warmth
Forward-lean design mimmicks the shape of your boot so you can have a closer fit with no excess material
I love these socks! They keep my feet warm and dry. N cant forget about how cool they look!
Nothing wrong with these socks! i used to wear normal nike socks under my boots until i stumbled upon these! They are very comfortable and keep your foot warm in your boot. Definatly a great buy!
Unanswered Question
anyone have a sizing chart?
anyone have a sizing chart?
Unanswered Question
what size foot is this S/M for?
what size foot is this S/M for?
These socks are pretty cool. The accent color is a really soft and cushiony material, but not too thick. Really comfortable to ride in