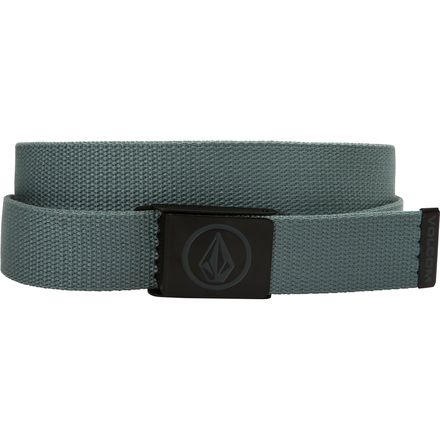 Colors

Detail Images
Description
Clean it up, Junior.
Tired of bustin' a sag? Pull your pants up and look all-grown-up with the Volcom Circle Stone Webbing Belt. Believe it or not, not everybody wants to see your ass.
Is it a circle, a web, or a belt?
Familiarity:

I've put it through the wringer
This belt does exactly what you would expect it to do, but where is it made by Volcom you can do it with some style. The clean look of the buckle means you have some style but with the web belt you are also ready to get a little rowdy.

Really, it's web belt. It isn't going to make dinner, it doesn't make you jump higher and it isn't going to do your homework, but it will hold up your pants, which leaves your hands free to do the rest. Quit holding up your pants with your hands and put a belt on it.

My only complaint about the belt, same with some other people, is that the metal end that fits into the buckle is basically the same size as the buckle, which can make it hard to to put the belt on. Really not a big deal at all. That is seriously my only complaint about this belt.
hey you kid over there; yea you with the pants falling off your ass. Here's a belt that will hold all that gold nuggets you have in your pants that are making them sag all the way down past your knee caps. Grab one of these and keep those nuggets close!
Good belt, strong and stylish, although sometimes the buckle is tough to get started, the end of the belt is almost exactly the same size as the entrance of the buckle. Not that big of a deal, I'd recommend it
Great belt and all, but the buckle tends to fall off a lot. It's not the end of the world, it's just a bit of a hassle to keep reattaching it.