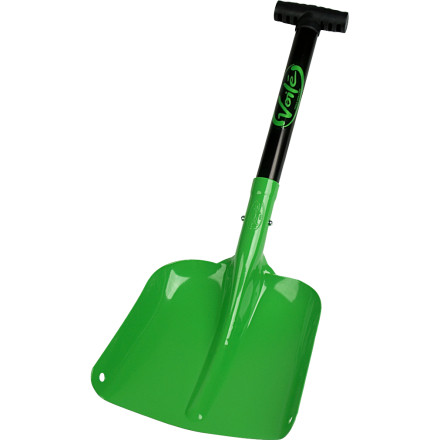 Community Images
Description
Now you don't have an excuse for not using a metal shovel—at one pound the Voile XLM won't even be noticed when it's on your back.
When Voile built the XLM shovel they shaved as much weight off as possible without compromising durability. The fixed shovel shaft and blade are made from lightweight 6000 series tempered aluminum, making the Voile XLM one of the lightest weight metal shovels on the market. If you carry a plastic shovel because of weight, now you can have the strength and reliability of a metal blade without being weighed down.
You can brag about it's weight savings
Familiarity:

I've used it several times
I don't notice the weight savings personally, but that's definitely because this is my first and only bc shovel and I can't compare it to heavier metal ones. This shovel is a shovel. It gets the job done plain and simple. No gimmicks, no durability issues. Don't feel ashamed when you see your friends playing with their fancy shoves that either cost a lot more, or will not always be there when needed. Digging with it during drills and practice will get you in shape because the handle can't extend to increase the lever arm, but so what. If the time comes that you actually need it in a life or death situation, adrenaline will kick in and that won't matter. If you ever have to use it to dig up a friend, make sure to let them know that your shovel is light and durable and it they should thank it, maybe give it a kiss too.
I love this shovel. Its super strong and lightweight and fits in my pack easily. I was a little concerned that the handle doesnt extend, but after using it a few times it was really not an issue for me at 5'8". If you're significantly taller it might start to feel like a shovel for ants. This little shovel really excels though in digging snow pits. Its nice flat back makes good plum cuts without having to refine with a saw, which is nice. Some shovels have more grooves on the back or are more scoop-y and that can be a pain.
A SHOVEL!!!!
Familiarity:

I've used it once or twice and have initial impressions
It's a Voile shovel, so it won't break and won't kill your friends! Hooray! Independent tests have shown lighter shovels from other manufacturer's to consistently break digging avalanche snow. Voile makes the strongest shovels on the market. It's light to carry, hooray! It is short to dig with, but fine if you are not a wuss. As a shovel goes, it's a good one. The puke green color is a mild bummer.
light, cheap
Familiarity:

I've used it several times
light and cheap. handle is a little short for tall ppl (above 5'9?), but otherwise ok.
Best lightweight shovel I've used
Familiarity:

I've used it several times
First, the weight specs on my scale:



Blade: 11.95oz (339g)

Handle: 5.7oz (161g)

Total: 17.65oz (500g)



Compare to B-1, Deploy 3 or 7, and the other top 6061-T6 aluminum shovels and you'll find the same thing. My B-1 weighed 19.5 oz and it's shorter by more than 2 inches, with a much smaller scoop (90 square inches vs the XLM's 135). Next closest competitor is the Deploy 3, with a half inch longer length but a smaller (119 sq inch) scoop, which weighs in at over 20 oz for me. Personal preference but I don't like the handle design on the Deploy 3 or 7 because it takes up an awkward space in your pack.



One more thing to note -- the shovel shaft/handle is closed at the end with a plastic cap so you can't get snow stuck down it. Just thought you should know.
Gets the job done.
Familiarity:

I've used it several times
As far as shovels go this one will do the trick in an emergency scenario. I have only owned it for one season, but it feels durable and long lasting. Shoveling without an extendable handle creates more work for yourself, while this definitely is a solid piece of equipment, it may be worth it to buy a shovel with an extendable handle.



That being said it packs well and is light weight, for those casual backcountry skiers who ski low angle slopes, this is a great choice for a safety shovel. If you ski more risky terrain, or plan on using this shovel for other means than just wearing on your back in case of an avi, get a shovel with an extendable handle.
Having a sturdy shovel like this in your vehicle, especially during winter, could be the difference between an epic and an inconvenience.
Does the XML fit into the Kode 30?
Does the XML fit into the Kode 30?
Yes this shovel will fit inside the Kode 30 once it's broken down into it's two pieces.
T6 aluminum in a small package
Familiarity:

I've used it several times
I'm a minimalist when it comes my snowboard pack (I wish I didn't need one in the backcountry). This shovel is T6 aluminum and received a passing grade on the Austrian Alpine Club's "Shovel's that span the divide between heaven and hell" testing. Google it. When buying a shovel this is a must read and tells about all the failings of other shovels. This shovel probably won't be as comfortable for digging as my D-handle voile, but at least the blade shouldn't bend. It also fits in my BCA Float 22 shovel pocket real nice.
I am looking for a new shovel for my Kode...
I am looking for a new shovel for my Kode 30 backpack. I have it narrowed down between the Voile Mini and the Voile XLM. I was wondering if anyone could help me decide between the two? I am mostly sidecountry, thanks!
Best Answer
Hey Peska,

I personally have the Voile XLM shovel in my pack and it has been great for me. Last season I got into touring for the first time and liked a) how easily it packed down/fit into my pack and b) the big/wide mouth of the shovel.

The mini will fit into smaller packs but for me it is important to have a bigger mouthed shovel to do actual digging.
great shovel, use it in our snowmobiles & on touring outings
Light and sturdy
Gender:

Male

Familiarity:

I've put it through the wringer
I have had this shovel for several years and have used it to assist in building booters and digging out my car, and thankfully not to dig out any friends! I love how lightweight this shovel is and how easy it packs away. I don't even notice it when it's in my pack for the day.
Simple, Small, and Steady Ballin!
You can get all sorts of fancy with your shovel or you can just say who am I kidding and go fast, light,and steady.
Have not taken mine out yet. The shovel is real real light. Kinda small. I don't like the fact that the handle and the blade can't collaps "together"...you have to keep them apart...nothing beats the small size and the light weight...
Hey there-I have a Black Diamond Bandit-Avalung...
Hey there-I have a Black Diamond Bandit-Avalung pack, I'm wondering if this shovel will fit well. Any assistance would be fantastic, thanks!
The avalanche tool pocket should be roomy enough.
It will definitely fit, my friend puts this exact shovel in his pack just fine.
I bought this with the intention of using it on backcountry ski trips in the rare event we were forced to make camp in the snow. To justify the cost I thought "Well, it can always double as a car shovel" since I live in Philadelphia and its tough to find a parking spot let alone a clear one in the winter. It has a slight spade to it, which is nice for chopping up the igloo that forms around your car when you don't clear it right after a storm.

Oh, and if you were wondering who moved your chairs to park in your "reserved" spot, that was me.
Just got done using this shovel on a 3 day 2 night backpacking snow trip. It worked flawlessly, even in single digit temps the handle still came apart and went together no problem. I like the nice big surface area, light weight, and bright green color, makes it easy to find in the snow. The only thing that would make it even better would be a longer handle, but for the weight and price you can't beat this little shovel. As always great service from the gang at Backcountry.
I just tried this shovel out this last weekend 3-13-2010. Temps got down to single digits and we had 15" of snow one night. The shovel worked flawlessly, never froze up and everyone wanted to use it. I had a Snow Claw on the last trip but the shovel works better, although heavier its more versatile. I also like the bright green color goes with my pack, and is easy to find in low visibility conditions. The only con would be that it is a little short and the handle doesn't collapse into the shovel for storage, but for the weight and how it performs I really can't complain. LOVE THIS LITLE SHOVEL !!