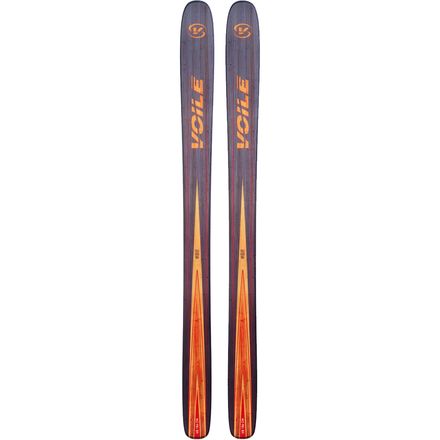 Description
A fuel-efficient monster.
Imagine if your pickup got 40mpg, drove like a sports car, and cost as much as a hatchback. That's basically what the Voile V8 Ski does, except, you know, it's a ski and not a car. It's a fat, powder-loving touring ski, with a waist that's well over 100mm, a wide tip, and a tapered tail that help you float over deep snow like you're not even trying. It has traditional camber underfoot to provide plenty of edge grip when you hit icy patches or spend a day crushing the resort, but a rockered tip that planes over soft snow effortlessly, working with the narrower tail to let you surf and slash your way down the mountain. The V8 has a pretty tight turning radius for such a large ski, so it's easy to handle when you're navigating through tight trees and down tight chutes without giving up the stability that a large-platform ski offers at speed.
It's surprisingly light, too—just eight pounds per pair in the 186—so your legs won't hate you if you need to haul it up a long approach. Voile's lively aspen core has been laminated with carbon and fiberglass to stay light and stiff, so you can push the V8's speed limit on the skin track and the descent without getting scared, but it isn't like skiing one of those "touring" skis with a sheet of metal in it. Voile's still a backcountry company through and through, so just because the V8 can charge doesn't mean it can't handle its own on the skin track, too.

Traditional camber underfoot with a rockered tip
Slightly raised tail
Aspen core
Carbon and fiberglass laminates
Wide shovel and tapered tail
Can't put a price on beating your.......
Familiarity:

I've put it through the wringer
firends up the mountain. Well you can and its about $650.00. After years of renting and buying used BC skis I bought my own setup last winter and got exactly what i wanted. I mounted these with the G3 ion binding and they are fast on the uphill and a blast on the downhill.

I am 5'11 170 lbs and decided to go with the 176 which is a bit shorter than I normally ski on but have no regrets. They float great in the deep stuff and turn really well in tight trees and i saved a pound or so on my feet.

The durability on these really impresed me as well. I had a day last spring where they got dragged through tree branches and over rocks and thought the top sheets were going to come out looking rough but they barely had a scratch. The bases also held up well when i hit a few landmines throughout the winter.

For the price I don't think you can beat this ski!
I'm new to BC skiing, and the V8's were recommended to me for use here in the NE as a a great all around ski. I'm on the bigger side, 5'11" 215, and in the intermediate+ to Expert- skill range. I plan to mount Marker KingPin 13's on them as I'll still be resort skiing 50% of the time (location, grrrr). Can I get away with 186's, or do I need to go 196? Or am I crazy and need 176's? Weight doesn't worry me, maneuverability does in the BC. Thanks!
I think you can definitely get away with the 186cm. Since you intend to use them backcountry skiing in the East you will enjoy the shorter length, they wont be as stable at high speeds on the groomers in bounds but, they will be awesome for those tighter trees.
Sick!
Familiarity:

I've put it through the wringer
I ski on the 186, this ski has been insane. Handles every condition I have thrown at it. Torsional stability is great, don't feel the ski rolling under my foot. Super light weight makes long walks effortless. This ski is a monster
V-Great
Familiarity:

I've put it through the wringer
This has been my go-to ski for the Wasatch Mountains for the past two seasons. Voile really nailed it with this ski! It'll turn tight in the trees, you can open them up to high speed and the weight won't tear your legs off from touring them around all day in the BC. If you're looking for a fresh snow ski this baby excels at it in any depth.
Getting into backcountry skiing, and I'm looking for a ski that can grow with me. I'm relatively new to the sport, but feel confident in progressing. I currently ride Volkl Kikus 162, which I feel are on the short side. I'm 5'3", 140 lbs. Will the 176 be too much to handle too soon? Any advice would help :)
Tough call Chelsea. That's a big leap in size. The V-8 does turn quickly for it's length, but honestly I would just go with the 165cm.


Solid All Around Ski
Familiarity:

I've used it several times
This is a sweet ski if you are looking for something that is pretty light, has a forgiving design and is decently wide under foot. They tour well and are tons of fun in powder. 5'9" 160 lbs and the 186 is definitely the ski for me.
What size/width of skin would be best to buy for the 176 V8?
Hey SkiVT592315,



A skin width of about 130mm would be a great fit for these skis!



Hit me up and we can chat!



Ben



1-800-409-4502 ext. 4767

brabinowitz@backcountry.com
I'm looking for guidance on the right size V8 to buy. I'm an expert (ex-racer) female skier. I'm 5'8" and 138 lbs. I ski primarily in the woods in VT. My day-to-day ski is a Blizzard Samba, 173 cm. I'm torn between the 165 and 176 cm V8. My primary use of the V8's will be in the VT backcountry. The trees are tight, but I'm afraid the 165 cm will be too short. Is the rocker sufficient on the 176 to make them maneurverable enough in the VT woods?
I am male 5'10" and 185lbs I ski the 186 mounted tele and it is fantastically fast turning! the swing weight and the liveliness makes it a super fun ski. I would say go with the bigger ski without worry!