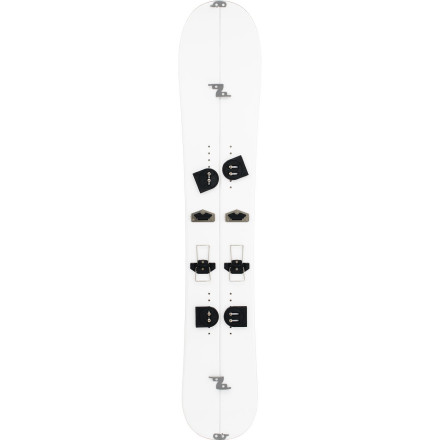 The Universal Splitboard Hardware Kit comes with everything you need to become your own char lift, so you can get fresh turns in the steep-and-deep while everybody else stands in line to hit the hardpack. the Universal kit comes with the pucks, the climbing wires, and nose and tail clips. This kit does not include climbing skins.
Compatible with the Voile Light Rail and other splitboard-specific bindings
Splitboard 101: Pucks, Bindings, Skins.
This video shows how to mount Voile pucks onto a splitboard, and setup your bindings (the Tesla system) by Spark R&D. Then learn how to cut and fit new skins (with tail clips by G3/Black Diamond/Spark R&D) to your board.



Starring Byron Bagwell. Filmed and edited by Dylan Hart. www.dylanhart.com
I originally had a splitboard withe Voile hardware that included binding plates for attaching regular snowboard binding. After a season, I decided on spending the extra money and going with a splitboard that was less weight and actual splitboard bindings. I had to get this hardware kit since the splitboard didn't already come with it like last time. It was super easy to put together and didn't take much time at all.
Great splitboard hardware. I use voile hardware with sparks bindings on my rig. Voile created the industry standard for splitboard hardware.
is this a cheap diy kit? based on pic and...
is this a cheap diy kit? based on pic and description it seems like it could be. voile website lists same product for factory split so...
No, their picture and description is wrong. It is actually the hardware for splitboard specific bindings with a factory splitboard. I ordered it and it does not come with the metal sliders or pins to connect regular bindings to the board.
Unanswered Question
Do these parts fit directly on to the old...
Do these parts fit directly on to the old burton style split set-up or is some adjustment needed. I'm looking to upgrade from the old Burton system as it's not very reliable.