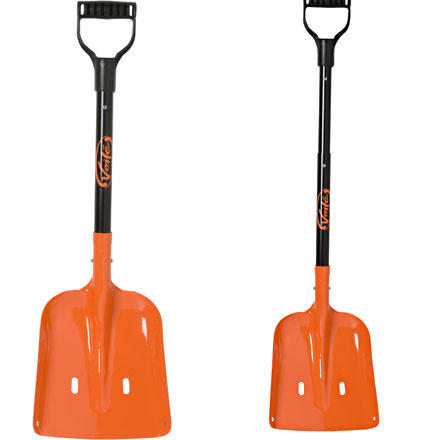 Community Images
Description
Backcountry pros choose the Telepro.
The Voile Telepro is a preferred shovel among patrollers and avalanche professionals the world over. The stout nylon D-shaped handle fits comfortably in the hand as you move piles and piles of snow. Tele- means the shaft is extendable (or telescoping) for greater leverage. Excellent strength-to-weight ratio.
Wont FIT a BD Jetforce 11!
Familiarity:

I returned this product before using it
I don't personally own this item. Just be aware this shovel is not going to fit a Black Diamond JetForce 11. The smaller storage of that pack just doesn't cut it for this bad boy here.
dig yourself out of any situation
Familiarity:

I've put it through the wringer
if you are willing to lug it around it will get you out of many sticky or deep situations, it is by no means the most compact shovel on the market but it does the job as a car shovel or a BC shovel, it can tackle whatever you put in front of it.
Telepro shovel pros and cons
Familiarity:

I've put it through the wringer
I really like this shovel and the digging it can accomplish. I specifically chose it after reading extensive reviews on Utah Avalanche's newsletter. It is relatively lightweight, collapsible, and has a nice squarish top for digging. My one compliant is the curvature of the shovel itself. Pit digging is a bit difficult because your blade always wants to make things concave, not straight and it is nearly impossible to make it perfectly straight. Also, it is slightly challenging to fit in a backpack for the same reason, so it requires more space that in should. That being said, it is quick to put together and could certainly dig your friend out of an avalanche just fine. Only don't buy this shovel on my account if you're a prissy snow science nerd like me, otherwise, its a great brand and great value.
20 inches of snow, snow plows encasing car in a skirt of Ice....no problem..
Great Shovel!
Familiarity:

I've used it several times
This is an awesome shovel. High Quality shovel. So high Quality in fact that i doubt that I will ever need to buy another shovel again. The only down side is that its not the most compact able but that not a huge deal because my ski pack holds the handle perfectly. The shovel head is a good size, not to big or small. I mainly use this shovel to make kickers in the side country and then keep it in my car just in case when I'm not snowboarding. Love how it is simply and the handle extends nicely.
Very sturdy, light, (not so compact?)
Gender:

Male

Familiarity:

I've used it several times
Not sure what I was expecting (and this is my first backcountry shovel purchase..) but I guess I imagined it would pack a little smaller. It fits quite easily into my Arcteryx Quintic 28 though..



That aside, it's a very well made piece of kit. I don't imagine babying it, nor will I regret carrying it since it is nice and light.



Great D handle, good length, and a nice bright color. And the price was right too



*** Update: I've been beating the crap outta this thing for a little while now and it's not even letting go of its paint. Very impressive. ***
Sweet Shovel
Familiarity:

I've used it several times
This is a really good shovel for a really good price. The extendable handle is a handy feature making it a full length shovel and the handle of the shovel is detachable so we can fit two in one pack (our Arc'teryx Quintic pack) Very sturdy while shoveling snow.
Excellent Shovel
Familiarity:

I've put it through the wringer
Not only is this one of the cheapest shovels out there, it's also one of the best. Even the CAIC agrees - this was the highest rated shovel for durability and ease of use in an independent study they did a few years back. A lot of avalanche shovels feel like toys. Not the case here. It is on the heavy side, but I don't think that potentially life-saving gear is any place to shave off ounces, especially when the extra weight means a more useful piece of gear.



Fully extended, the shovel is surprisingly large and substantial. The D-grip is large enough to accommodate gloved hands and easy to get a good hold on - just like the one on the shovel you use for your driveway. The extra leverage provided by the telescoping handle really makes a big difference when you're moving a lot of snow. I've tried this shovel side by side with light-weight, short handled shovels doing digging drills and the difference is really night and day. No doubt about it - this is what I want in my hands if I have to dig my buddy out.



Buy one for yourself and one for anyone that might have to dig you out when the brown hits the fan.
Unanswered Question
Will this shovel fit in osprey kode 22 pack? Thanks


Patroller's choice
Gender:

Male

Familiarity:

I've put it through the wringer
I have been using this shovel since 2009 and it has never let me down. The durable construction is rock solid even when digging through concrete-like debris. The D-grip extendable handle is excellent for prolonged digging and offers much appreciated leverage. You can assemble and deploy this shovel in less then 5 seconds and it moves snow like a rabid wolverine. Will be keeping this item in my backcountry kit and patrol pack forever.
Does the job
Familiarity:

I've used it once or twice and have initial impressions
it does the job to get me out of the parking lot. Pretty good. only used once this winter to dig me out of the parking lot.
Can this shovel be used for sand. I need...
Can this shovel be used for sand. I need one to go 4wheeling and thought it would also be handy to have in my truck in the winter.

Thanks
Best Answer
Hey pJbp.



I had the Black Diamond Deploy 3 shovel and once had the misfortune of getting a minivan stuck in the salt flats here in Utah. Let me just say, we would have been COMPLETELY and totally screwed if I hadn't had my shovel. The soil was extremely wet, damp and sandy in composition and the shovel handled absolutely fine (though it did become absolutely filthy). Salt flat soil is not a weak foe...



Based on this experience, I would say this will suit your needs.

It sucked because the Deploy 3 has a pretty small blade and shaft, so I would say this Voile shovel will be a much more reliable tool since both the blade and shaft are larger.



Not sure if this experience of mine is applicable to what you need, but I thought it couldn't hurt to share!



Minivans don't belong on salt flats...so remember that.
Bomber
Familiarity:

I've used it several times
Might be a bit heavier than others, but the extendable handle is nice... Comforting to know this thing will do it's job if I ever need it.
Good shovel
Familiarity:

I've put it through the wringer
A very nice shovel. I had a deploy 3 but wanted something a little bigger. I would suggest the same for anyone else you want a good size blade on your shovel and the Black diamond deploy line just doesn't cut it! . It goes together very easily and fits nicely in my kode 42. Great for snow pits!
Would buy another but doubt Ill need to
Familiarity:

I've put it through the wringer
I love this shovel. Its nothing fancy but it doesn't need to be to be honest. It did well in all uses from digging pits to building jumps and I hope I never have to but I dont doubt it will perform should I ever need to dig a buddy out. Hardly feels like anything in my pack, its not super light but Id rather a bit of weight if its more sturdy. The telescopic handle is pretty handy too.



It fits just fine in my Deuter Freerider Pro too...
Unanswered Question
Does this shovel fit inside dakine poachers...
Does this shovel fit inside dakine poachers dedicated pocket?
Prime shovel
Familiarity:

I've put it through the wringer
It is the perfect size and weight. Easy to pack and relatively light for the amount of snow you can scoop. It works great for digging pits and various other activities (sledding etc.) but I have thankfully not yet had to use it to dig anybody out of an avy. Perfect for any adult (small or big, weak or strong). Love the handle!
Recommended by avy professionals, burly!
Familiarity:

I've put it through the wringer
I bought this shovel because it came highly recommended by a number of ski patrollers I know. They use it as their day-to-day work shovel, and many of them also use it as their go-to touring shovel. I used one of the jingus Lexan-bladed Lifelink shovels until I got serious about my touring and realized that metal blades are the only way to go.



That was about 5 years ago. Since then, I've used this shovel on every tour for digging pits, caves on multi-day outings, excavating tent platforms, etc... and have had absolutely no complaints. The handle and blade have always fit together nicely, even when covered in ice and snow, and the telescoping handle has never not worked. Yes, the shovel is on the heavy side compared to others in its class, but honestly that feels more like an attribute when you consider its potential to help save your buddy's life. I use the D-handle model, which accommodates bulky gloves very well.