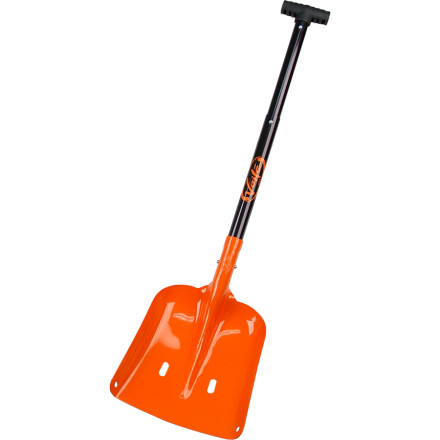 Community Images
Description
The Voile Telepack is one of the best T-grip shovels on the market.
The Voile Telepack Shovel features a T grip handle that is easy to get your hands on and makes for easier packing than D-grip handles. It also has a telescoping shaft that collapses to 27 inches and extends to 35 ¼ inches. The Voile Telepack shovel is perfect for snow study, building kickers or to digging your car out if need be.
Paul,

The Voile Telepack Shovel has a collapsed length of 68cm and an extended length of 90cm. The blade itself is 25cm wide and 38cm in length.
Great shovel!
Familiarity:

I've put it through the wringer
This is an awesome little shovel. Great size and weight, and really sturdy. I have used it for countless hours building kickers and practicing rescues in the last four years.



It is starting to show signs of wear and it has a little more play between the handle and the scoop than I would like, so I am going to retire it after this season, but it certainly doesn't owe me anything.
Sweet shovel!
Familiarity:

I've put it through the wringer
Absolutely awesome shovel. I've used it for digging snow trenches, and even for digging my car out. Aluminum shovels, although they may weigh a bit more than a plastic shovel, are awesome, because you can handle large loads of snow, and can also help you move a lot of snow quickly, vital when seconds count. I love the telescoping handle. My only beef is the neck of the shovel, which can make you have to adjust the way you pack, because I keep my shovel in my pack, so it can be a bit of a pain to have to pack around the neck of the shovel, or to access items near the shovel, however, with the neck, it makes it super easy to find, because you can find it by feel, which is a good idea, so I think that it is a double edged sword, but works to one's advantage.
Would this blade fit in the DaKine Heli...
Would this blade fit in the DaKine Heli Pro shovel pocket?
I'm trying to decide between the Voile Telepack T6 and Voile Mini TelePro Shovel T6. Any thoughts?
Best Answer
Hi Jin- Yes both will fit in the DaKine pack without issues... I prefer the Mini TelePro T6 because the scoop/shovel size is smaller/lighter and the handle is a D shape instead of a T handle (easier to hold with gloves). Go with the larger shovel scoop blades only if you need to move a lot of snow...
Telepack scoop=15x10in/38x25cm
TelePro scoop=13.5x10in/34x25cm
Unlike most people who probably buy this shovel for packing on trips or for avy-safety, etc., I purchased this shovel for everyday use. I have tendinitis in both hands so I need a lightweight shovel and this is perfect. The only reason I gave it a four instead of a five is because the bucket is very slick and sometimes when shoveling the snow flies off before I can throw it. I have gotten used to it now, so it doesn't bother me...Who would have ever thought someone would complain of the snow not sticking to the shovel???haha
My first snow shovel used it for years, still have it.But I use a different brand now.
Durable, large but not obtrusive
The shovel is longer with a bigger blade than most would take backcountry skiing, making it a little less packable. I had no problems though, and when winter camping alone, the extra size and leverage made clearing out snow and leveling out the campsite a quicker and easier.
i have had mine for 8 years so its a great shovel that lasts, good size blade unlike alot of the backcountry shovels but still fits in my heli pack easy
I keep this shovel in the back of my SUV for those off road adventures that you sometimes just cant help. Its a great size for your trunk or backpack and very sturdy. I was worried that the telescopic shaft would be flimsy, but it is not. I havent had to use this thing too much because we have not had TONS of snow to go 4x4 in, but its a hoss for its size and I would trust it anywhere. Gotta love the T-grip as well!
I work in the snow and this is the smallest shovel I will ever carry with me. It has saved a life in a 5' deep burial. There are smaller lighter and more manageable shovels out there however this one is the best all around tool. I have used it in New Hampshire to build quincies, snow caves in Tahoe, backcountry booters in the Wasatch, used it as a sled for an emergency 3,000' vertical descent in the Pacific Northwest even dug my car out after a sandboarding session in Mojave. It's beat up used more then I ever expected and still has plenty of life left in it. Oh yeah the telescoping T handle is more practical than the D handle for use and in-pack storage.
Solid shovel but curved neck an issue
This shovel has served its purpose well. Its burly and relaiable but the neck has now become a problem. If you plan to place the shovel on the inside of your pack (truely the safest place as a avy slide would rip externally placed gear right off in an instant) then you may want to consider the G3. G3 is one of the very few who have removed the neck of the blade. For my BCA Stash pack the neck protrudes inward or outward and interferrs with other gear. Once I buy the G3 it will solve the problem but in the mean time I am always bothered by the inconvenience of the neck. See picture for example of problem
This shovel is durable and light for the price. The telescoping handle makes it easy to dig with and even easier to carry on your back or in your pack. The pre-drilled holes and slats in the grip make setting up webbing straps a piece of cake. The shovel has held up through drills, dog holes, snow pits, and deck projects. I've had a couple issues with the spring pins in the handle getting jammed a few times, but not where it hooks to the blade.
Unanswered Question
Detached the handle is 27 in. That seems...
Detached the handle is 27 in. That seems a little big to fit into a backpack. Has anyone had problems with that?
Could this fit into a 32L backpack?
Could this fit into a 32L backpack?
Yes. You would have to collapse the shovel handle or take it off, but it would definitely fit into a 32L pack.
Best Answer
This shovel says it will shrink down to 24in. The blade is 15in. wide, so I would say sure, but that cramps up some room for anything else. You could strap it to the outside maybe. Those holes in bottom of the shovel, could use those for strapping.
What is the difference with the T6/orange...
What is the difference with the T6/orange one verses the blue and yellow? It has different holes in the blade? What does one size refer to? Thanks
The holes in the blade are so you can run webbing through it and wear it independently instead of having to fold it up in a pack. One size refers to that all three colors have the same dimensions which are listed in the tech specs on the right side.
You can also run webbing through the holes and use the shovel as a deadman anchor for self rescue. Also the T6 has 6000 series tempered aluminum shovel head meant for heavy use.
No it's a fake 15" blade. Of course it's real, why do you think they would say 15" if it wasn't?Because I have order a few different ones and they are not what they say they are.
15 inches long, its only 10 inches wide.
Is the handle de-tachable?
Is the handle de-tachable?
Yes, the shaft is detachable as well as telescopic.
This shovel is amazing, it's the perfect size to fit my dakine pack, and it cuts through the snow/ice better than anyone elses shovel in my krew, so it takes most of the beating building the kickers as it's everyones favorite. I recomend it to anyone.
I love this shovel, dependable day after day. I prefer the t grip as it fits into my pack better-less overall length. The telescoping length makes pits and rescue much easier. Full size blade is great for these applications as well.