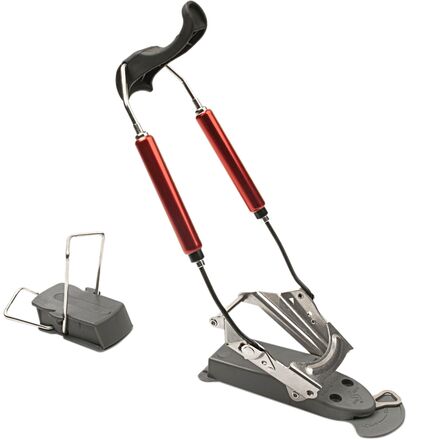 Colors

Community Images
Description
Tour more efficiently, rip on the way down with the Voile Switchback Telemark Ski.
The free pivoting Voile Switchback Telemark Ski Binding has a separate tour and ski mode, enabling tour with zero heel resistance, then switch back into ski mode and rip down hill. In free pivot mode, the Switchback provides an easier, more efficient stride, and your tips won't dive when breaking trail. Included heel elevators and a light-weight design further help conserve energy on the up-track. When you get to the top, you'll appreciate that this telemark binding's enclosed design eliminates ice buildup the 25mm stand height helps transfer your energy to your edge.
Voilé Switchback Telemark Binding
Unanswered Question
I have a Black Diamond O1 that I would...
I have a Black Diamond O1 that I would like to replace with the Switchback. Are the drill hole patterns the same?
Has anyone used a soft boot with switchback...
Has anyone used a soft boot with switchback bindings?
Yes, I paired them with the Fischer BCX and Voile Switchback bindings on Karhu Guides and it turned weird fast. It was great on the uphill, of course--I had tons of kick and glide and it was really comfortable and free feeling. But when I headed down, the BCX were just not enough to drive the ski. I think that whatever you pair this with, soft boots are going to be more comfortable but not enough to drive a setup on anything steeper than 25%.
Great deal, great binding
I've been using this binding for 3 years and I'm totally satisfied with it. Very simple, reliable and durable. I have had no major problems with them. Every once in a while they get clogged w/ hard snow/ice such that they won't lock down. That said, a quick swipe with a ski pole tip easily removes the junk and it locks down fine. They perform really well in ski mode. These things will serve you well. A great all-around binding.
do these bindings have the same mounting...
do these bindings have the same mounting pattern as the g3 targa?
Yes it is the same pattern.
Replacing my Voile 3-Pin Cable bindings...
Replacing my Voile 3-Pin Cable bindings with a set of these, are the binding mounting holes in the same position?
Yes, they have the same "standard four hole mounting position."
Write your question here...What's the...
Write your question here...What's the difference between the men's and women's versions of the switchback?
The women's version has a lower climbing bar (85mm vs 100mm). I'm guessing, but can't confirm, that the spring tension is different as well.
And that's the Switchback X2,
The Switchback family of bindings are the best Telemark Touring binding you can get low on weight most of the binding stays with the ski on your stride and ever since Voile switch to the Heat-treated 410 stainless steel on the toe plates there bullet proof. Get the Switchback if your turn is Medium to high and get the Switchback X2 if you rip as low as a boot will let you go.
I have a mens size 8 scarpa boot do i need...
I have a mens size 8 scarpa boot do i need the sort or regular size
Mens size 8 is 26 mondo, right? That would put you in the short rod group. Good luck!
I have a mens size 8 scarpa boot do i need...
I have a mens size 8 scarpa boot do i need the sort or regular size
I am looking at upgrading from 3 pin...
I am looking at upgrading from 3 pin bindings and boots to the switchback. I have leather 3 pins boots and Garmont tele boots. Until I get a pair of touring boots, do you think either one will fit in this binding? .
Best Answer
Any 75mm boots should be compatible.
I really like how simple and light these bindings are. The free pivot is great. The mechanism that switches between ski and tour mode is kind of wimpy. I guess that's why they're light but I am always afraid it will break. I haven't had the durability issues that some reviewers have mentioned, but know folks who have had them, and they've had some pretty major breakdowns. But, Voile and BC.com are always happy to replace. I have a newer set (purchased in 2011) and the heel throw is a lot beefier and made of black plastic. It looks like the metal cut outs on the toebox have gotten a lot smaller than a pair I had that were a year older. I have the short rod version and it fits my 23 Scarpa T-Races with the right amount of pre-load. I like how these ski for the most part. I don't mind where the pivot is because I have such a small boot. I ski these and 22 Designs Axls.
Dunno how I got around before these. Way lighter than my old Hammerheads. The touring mode rules and allows you to break trail easy in the deepest of snow... your tips always flip up. The best bindings I've tried.
Voile did well with the Switchback binding. It tours well with my Scarpa T2 and TRace boots. I have these on my lighter skinny skis 110 underfoot and 22Designs Axl under my heavy larger skis. Never had a problem with Voile and I have used the Hardwires, Hardwire 3pin and 3pin mountaineers.
Favorite binding thus far.
I skied the Axl's and snapped them in half after a month, the Bomber Bishop which looked like it would de indestructible snapped like a twig, the G3 Targa broke more times then I can count and I can't stand the Bdel binding. I have skied every binding on the market and broken every binding on the market. My favorite binding by far is the Voile Switchback, It is a light easy to use binding that skis great on the descent. I have certainly broken this binding many many time but I keep going back to it because I love the feel and flex of this binding. If you want just a resort binding I would definitely go with the SX (same binding minus the tour mode). Another huge factor for me is the fantastic customer service at Voile, they are very quick to get replacement part to me and are actually concerned about their product and satisfaction of their customers (this is quite unusual for a company). If you want an amazing touring binding look no further then the Switchback. If you want just a resort binding Look at the Voile SX. You will not be disappointed!
Can I use a men's short cartridge size 24+...
Can I use a men's short cartridge size 24+ mondo if I am a size 23 for the sx? It doesn't seem to come in a "women's" version.
Yeah, the short rods will work for you.
I recently mounted up my second pair of Voile Switchbacks. There was no other choice for my new skis. I purchased my first pair in 08 ( see below). In 3 years, the bindings show no sign of wear or fatigue. I have never switched to tour mode while skiing. Maybe 2 or 3 times they did not immediately lock when i switched to ski mode, but 1 stomp down did the trick. The only nit picky thing i can think of is the tall bar is TALL. One of these years I will get around to buying a medium one.
Does the switchback have the same hole...
Does the switchback have the same hole pattern as the BD O3?
I want to switch out my bindings and want to see if I can avoid drilling holes.
Yes. This is the same pattern as all the BD bindings have.
Best cable binding for true backcountry skiing
I use this binding on my lighter 84 waist touring setup with Scarpa T3's. This is the lightest cable binding currently avalable, is simple, sturdy, has tour mode, has 2 different climbing bale heights, and holds the boot solidly. Not as "active", in other words the flex point in the boot sole is more forward than say, BD bindings. With softer boots like T3 this isn't much a performance issue. With stiffer boots, especially on hardpack, you might want more active that some of the heavier, more expensive bindings have. For serious backcountry, like trans Sierra trips or major peakbagging, the light weight and simplicity make this a clear choice. The shortest climbing bale is a slight hassle to pull up and could be redesigned, but that's a rather insignificant point. Have not had the "switch from downhill to tour mode" problem as some have, but if there is snow build up under the binding when you switch back to DH mode, I can see that it might not fully engage and with a big, stiff boot, it might be forced out of position.