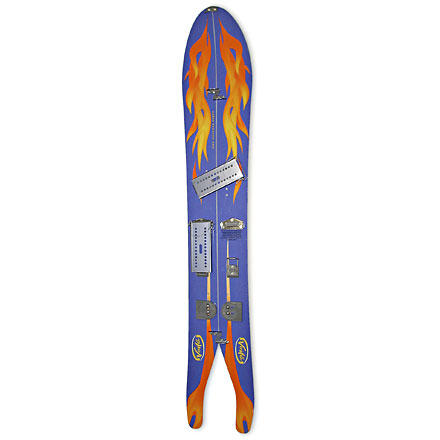 If you're lucky enough to get your hands on one of these, you won't be disappointed. The construction, geometry and ride of this board are incredible. A million miles away from where Voile started with these. You could ride it inbounds and not really notice a difference. Juicy sidecut for quick turns and a great nose and tail shapes. Although Burton's split is a bit lighter and has a different flex pattern (softer with more camber), I like the overall geometry of the Voile much more. The price on these is a great deal. You'll spend much more on a full Burton, Prior or Winterstick set up.
I'm a better snowboarder than skier and the skiers were having all the fun off piste. This board makes it possible to enjoy the same off piste skiing easier. The system is super simple to set up and after a while it really doesn't take you that much more time to set up. Just make sure your paying attention and you don't set the bindings in tour mode backwards. The super wide platforms for the skins is all so awesome at going straight up stuff others can't. Performs well and love touring on it.
Mixing Cross-country ski/snowboard
Makes cross-country run possible with skier in a much easier way than it used to with rackets (experience made in Swiss/French Alps). Although do not spare you money on crampons: buy them! In my opinion they should come with the board... Cross-country apart, I have been impressed how well the board behaves on hard snow (pists) with aggressive radius which compares to my old Scott "Radius" 1.54cm although my Voilé board is 1.73cm !
This is a great board with well designed hardware. The middle edge does protrude downward slightly and when it is super sharp, can make it a bit tricky on flat hard-pack. I just slightly chamfered the edge and it is fine now. When I stomp the snow off before getting on a chair (which isn't too often since I use this board mostly in the backcountry) the rear clip will sometimes come undone. Not a huge problem, just something to watch out for. Overall, I am very impressed with the board and hardware.
Jim
Works great. The pins are a little too easy to bend, but you can just bend them back. Kicks the snowshoer's butt up the mountain.
I love my new Split Board. It rides like a dream through powder. However, because the board is significantly heavier than my normal board, it is hard to ride in heavy, sun-baked snow. The board is a little tedious to put together. Skinning up is easy and so much better than snow shoes! Use your heels, stand upright, and keep your skis flat while skinning- this helps a lot. The system is really easy to take apart and put back together.