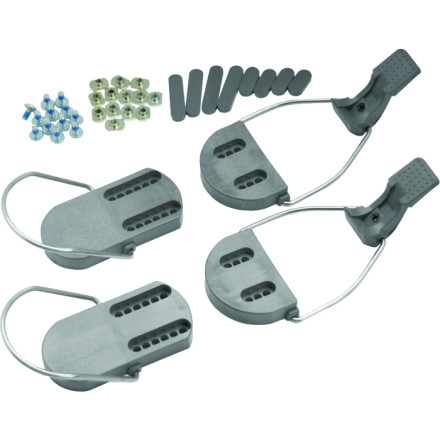 The Voile Splitboard Mountain Plate Kit is for split boarders who like to wear hard boots. This kit is compatible with AT boots, alpine ski boots and most hardshell mountaineering boots. Just mount the toe and heel pieces to your split board's existing slider tracks and you're ready to go. The Plate Kit's tough construction and simple design mean that you'll get out more and get more tracks than ever before.
Like Voile's webpage claims, Simple and Solid... Definitely enjoying the simplicity and weight saving of going to this binder + Scarpa F3 boot... The adjustability is time consuming to get the right fit, but for just over fifty bills what do you want.
Unanswered Question
Does anyone know what is the lenght and...
Does anyone know what is the lenght and the width of the front plastic plate?
I have been split boarding for three seasons using snowboard bindings. I found them to be large and annoying. Too many parts to break when out in the backcountry. I tried these bindings with Garmont touring boots and fell in love. Much better response and balance in ski boots and riding down was a blast. I will never go back, a great purchase well worth the money.
What is the distance (in cm) from left to...
What is the distance (in cm) from left to right between the holes on each binding?
If you are referring to the slider plate mounting holes, the distance between is approximately 38 mm / 1.5". If you are referring to the adjustment distance options, the distance (fore/aft)between holes in the plastic plate binding is approximately 6.35 mm / .25".
Had these for three seasons now and using tele boots. Sometimes a bit hard to get the clamp down but they've worked. Also the sliding is a bit tight so I have used a file to take just a smig off of the side for a more smooth entry.
This year I'm on to try AT boots. More to come...
Would Garmont telemark boots fit on these? I...
Would Garmont telemark boots fit on these?

I would put permanent fixes in he middle, and those hard boots where you would put snowboard boots. Telemark boots provide much more front flex for absorbing. Any other product out there for tele boots?
Garmont ntn boots will work but if the boot has a duckbill i wouldn't imagine it working very well.


Again, another great Voile Product
For those that prefer a hard boot on the way down, this is the only way to go. Allows for more combinations of crampons to use on the uphill.
using AT boots with these bindings also seems to boost skinning performing - more power transfer, much easier edging on hard snow, more stiffness = less effort. getting at the pin to release the slider plate is much easier with these as well.
May not ever go back to soft boots...
I got these bindings recently, along with a pair of Scarpa Matrix AT boots, and I love this setup. Like others have said, there's no loosening of the bindings, like with straps, there's much better power transfer, and the bindings weigh half as much as my strap bindings, which were on the low-end of the weight scale. Much faster and easier to get in and out of bindings, and dramatically speed up transition times. Ski boots are great for booting up coulies, are much warmer, and work better with crampons. Though ski boots weigh more than snowboard boots, just remember that you're likely to carry your board on your pack, but your boots stay on your feet...
1.lb. 5oz./0.60kg is the weight of the bindings alone.
easy to set up now all i wish i had was a nice boot to use with these. A lot of people seem to make their own check out splitboard.com and the forums for more info.
Started using these on my splitboard mountaineering endeavors and they work great. Solid hold of the boots to the binding interface. Do not loosen up and easy to use in cold weather.