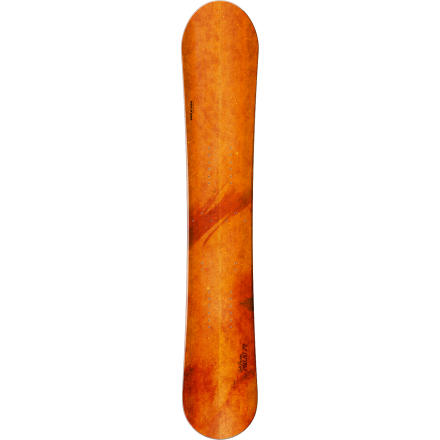 Detail Images

Community Images
Hello! I would like to know if the offer...
Hello! I would like to know if the offer for this splitboard already includes the skins, tracks, pucks and the rest of hardwear. Thanks in advance.
Regards.
Yes! It comes with everything!!
I rode the 161 all winter and had the best time. I have snowboarded for about 15 years but splitboarding in the backcountry is a totally different thing that opens up a whole new world of possibilities.

The Mojo is the only split I ever tried so I don't know how it compares to others. What I liked about it is that it came with the whole kit and set up instructions to have your gear ready to hit the backcountry in no time. The skins are very good and offer impressive traction. The switching system from ski to board is very efficient and simple although it takes a little practice and time to efficiently and rapidly do all the manipulations - fellow skiers always take a fraction of the time.

The board itself is good, but I would not say outstanding. I think it is a little bit too narrow esp. for deep fluffy powder in not so angled slopes which I ride do a lot due to the high level of avalanche risks in the area where I live - Kazakhstan. Overall the board rides particularly well in not so deep powder, corn snow or older snow, including slush. The construction of the board is made for the lightest possible so the risks of damaging the top layer / delamination is relatively high. The board is pretty stiff and responsive. It is true that with all the gear mounted on the board, including the skins, the whole thing gets a bit heavy but I did not find that it slowed my movements or ascents at all since the whole thing just glides on the ground as opposed, for exemple walking or snowshoeing where you have to raise your legs to make steps.

What I do not like about this board is that some screws and bolts sometimes become loose and if you don't regularly check the gear you can lose some parts (happened to me). Also, if you are not carefull while moving around with the ski/skins set up, you can hit the little hook parts of the skis at the very front and back of the skis and that really damages them quickly - If they end up completely breaking then it would be quite disastrous. As mentioned earlier, I think the board is a bit too narrow and limits its versatily in regards to snow conditions.

Overall, this is an excellent option for guys like me who are not immensely rich and have limited split board knowledge since putting the gear together is super easy and fast. In this regards, guys that are impatient or lazy will love this all inclusive and ready to go formula.
I am 5'7" 155lbs. I ride a 157 board. I...
I am 5'7" 155lbs. I ride a 157 board. I really like the feel of the 157 in the powder. What board size would you recommend? The 154 or 161.
Get the 161... Don't even think about the 154... The extra length will help in all things, float, crud, and more traction while skinning.... Several of my buddies are your height and ride Venture 162's and love them...
thinkin bout investing in a split. currently...
thinkin bout investing in a split. currently ridin custom X 156, weigh 68kg/170cm tall(short), love the pow. should i be angling for the 161 or the 154 ?? also, whats the deal with this cap construction/de-lam malarky...anything to worry about ??
The Voile's de-lam all the time... They do stand behind their product though and their warranty policy is top notch.... I would buy a Prior or Venture though... They are the two best companies who produce Splits.... I'm on my second Prior Backcountry and it's the bomb.... Especially with the hybrid rocker!!!!!
Get the JONES solution... www.jonessnowboards.com
A few years ago I snowshoed a day in the backcountry with skiers. It was such a slog I vowed never to repeat the outing. Well, I repeated the outing this year and bought a Mojo 161 the next week, truly vowing not to snowshoe again.

I've been out 5 times with the Mojo so far and have bagged three different peaks with mostly powder conditions - the board handles very nicely in deep powder, way better than my Custom.

Don't look back, get a splitty...the experience is awesome and I'm usually ready at transitions before my skiing partners (mostly because I'm on a mission to be fast).

Be careful of the topsheets when you are skinning! If you cross skis at all you will likely damage the very sensitive sheet. I'm not sure this is entirely avoidable - I have a few decent scrapes on the sheet - but caution and practice should prevail as the skis are wide and following a real ski track makes the fat splitty planks want to push in toward each other.

I also second the comment regarding the straps on Burton bindings: they will fall out given a chance during transitions or in ski mode. For this reason I always connect the straps when I step out of the bindings, especially if I have to boot pack with the skis attached to my pack.
I have three months on the Mojo 161 and so far so good. The ride is smooth and transition is easy after you find a system. If you're still slogging in slowshoes, make the investment and never give a skier a reason to complain.

I have found that when I switch between my Burton Custom and the Mojo, it takes a few turns to get used to the added weight of the Mojo. It may be the lightest split on the market, but it's still pretty darn heavy. Make no mistake, a split WILL ride differently than your resort board. Less snap, less responsive, more like driving a F-350 than a Porsche. But when the Mojo gets going in the pow, watch out! It's got serious powder power!

Final note: Out of the box, I had a problem with my skins not being sticky enough. Wrote a letter to Voile and they sent me a new, extra-sticky pair, no questions asked. Great customer service.
I'm 5'5" and 130 and live in Utah. ...
I'm 5'5" and 130 and live in Utah. Intermediate to advanced rider, and a backcountry dabbler--but trying to ride more backcountry. What size split board would I get? My regular board is somewhere around a 153.
I would recommend around a 160. You'll appreciate the float in deeper powder and stability in variable conditions and steeps. It's only 3 inches longer than your 153.
How does the split board transition times...
How does the split board transition times compare to using a snowshoe set-up or to ski-touirng?

Granted these are for powder in the backcountry, but how does it perform on spring crust or those long piste runs back to the carpark?

I really want to stop carrying my board on my back!
Best Answer
"I really want to stop carrying my board on my back!"

That's exactly why you should by a splitty and don't worry about the transition times. There are tons of guys using this board in the sierra where the seasons go 6 months long and the conditions range from powder to (particularly in the spring) icy in the am to corn in the pm. So yeah, guys (and girls!) are riding these things and traveling on them in all conditions.

Transition time vs. skiers...a bit slower. Practice speeds it up though and if you just get to the transition area a minute before your skier friend you'll mititgate the difference anyway. It's minor..unless you're out trying to keep up with some rando racers, you'll be fine.

I've yet to meet a splitter who would ever go back to snow shoes unless it's a coolie straight up without any approach, even then, most will skin the apron and switch to boots.
I broke the cable that holds the pin to...
I broke the cable that holds the pin to my bindings. Anyway I can buy this separately? Can I buy any spare parts seperatly?
, ☃bcs_badge_alumni_label☃
Spare parts are available at:
http://www.voile-usa.com/Merchant2/merchant.mvc?Screen=CTGY&Store_Code=VEOS&Category_Code=PSB
spare parts at voile, like Cory said, but you don't need to buy that piece, just tie a loop of shock-cord around the pin and girth hitch to your binding. The cables suck anyway. Shockcord should be inspected from time to time, but it holds up a long time and is a cheap easy fix.
The good:
I just got my new 166 mojo this season. It is awesome! I rode a much older voile splitboard for 7 years and finally retired it. They have been much improved. Weight, quality of the board, pucks and plates, ease of configuration. The board comes with all you need but bindings and boots. I currently use the flow m-11 bindings and like the quick release for avalanche considerations. Cheat sheets are a must. Skinning on this light machine is simple and smooth.

The bad:
There is a lot of hardware on these things. I suggest using a more permanent substance to hold the screws/etc in place once you get it dialed. Otherwise, check it a few times during a day of riding and every morning before you head back out. You do NOT want to lose a pin or have your setup falling apart way out in the backcountry. I suggest some spare parts: pins, screws, etc.

Well worth the price if you want a great powder board that is capable of getting you back into the untouched. Highly recommended!
Great board, had to cut skins.
Rode the Mojo 166 all last season and in spite of the upside down snow year we had it was a lot fun.

The Mojo is likely the lightest splitter on the market due to it's cap construction, BUT its also a candidate for unrepairable top sheet damage due to it's cap construction. So longevity may be a problem. Particularly if it delams.

The Voile's are also by far the most affordable option, being priced lower than any other splitter out there (and most others don't come with the all the parts!) This and Voile's service is known to be really good.

Overall a great entry point for someone wanting to get into splitting without going the DIY route.
Will the new Fuse from Spark R&D fit right...
Will the new Fuse from Spark R&D fit right onto what is included in the 895 price? If not, what addition kits will I need?
Yes, you'll actually have left over pieces that you won't need with the fuse. This includes the slider plates and pins.
are bindings included with the 895...
are bindings included with the 895 price?
, ☃bcs_badge_alumni_label☃
No, bindings are sold separate. This includes board, skins and hardware (hooks, tracks, pucks, and touring heels).
Could I use my Ride bindings from my solid board? They're about 5 years old.
You can use your ride (or any other bindings) with this splitboard. They come with slider pucks and plates. These are plates that you attach your standard bindings to which then slide on and off of the board to allow you to switch from ride mode to tour and back. The way to go is with the Spark R&D fuse or ignitions. Check out splitboard.com for lots more info.
Yes mte3312653... I have some super old Ride clickers that I have used on past split boards. You can basically connect any snowboard binding to the plates that are included with the mojo. Good luck and pray for snow!
careful using Burton bindings since the toe strap can fallout when switching from touring to boarding mode
Unanswered Question
Write your question here...are bindings...
Write your question here...are bindings included in the price?