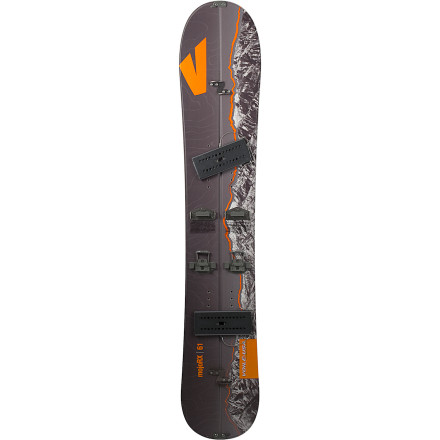 Detail Images

Community Images
If you're still bootpacking into the backcountry, you're using the wrong tool for the job. Pick up Voile's Mojo RX Split Snowboard, and save your legs for the ride down. This board includes skins and hardware???just mount up any pair of traditional four-hole-compatible bindings and you'll have everything you need to efficiently ascend to your favorite untracked zones.
New hybrid, tapered shape features camber under your feet for edge control and a rockered nose for awesome float in deep snow
Includes hardware and skins???mount any four-hole bindings and you're all set
Hardware updates include lighter touring brackets, more durable slider tracks, and an improved binding shim for better support while skinning uphill
Triaxial fiberglass/carbon layout delivers a responsive, snappy flex
Rubber foil near edges dampens vibration and reduces chatter
Backcountry snowboarding is dangerous. Don't be an idiot. Get avy certified, wear your beacon, and always ride with friends who do the same.
So glad I got this set up!
So far I've only done two trips with this and am really stoked on doing some more. Its been pretty easy switching between touring mode and snowboarding (just remember to carry the little de-icing tool it came with just in case there is ice caked around the pucks). The slider plates can be a little grueling to get off sometimes. Skinning feels great. I got the 154 since its the smallest size this model comes in. I'm a small lady (my normal boards for resorts run from 140-145). This thing plows through powder and even the bumpy cruddy stuff. Took a little while to get use to the added weight. Don't know if it'll make a different, but might get some lighter bindings (plastic) for these since I'm currently using the Ride bindings that are aluminum. I like that there are edges on both sides when touring since I already found myself in situations where I had to do some slight downhill "skiing." Really happy I got this as my intro to the splitboarding world.
I snowboard and I ski, but I never used a...
I snowboard and I ski, but I never used a split board. Im interested in the Mojo, however I had a few questions.

Can I use mountaineering or cross country boots with the split board? If not, what kind of boots are normally used with these boards?

Are the bindings and other hardware included with the board? If not, what else do I need to purchase to be ready to ride?

Thanks,
Martin
People generally use snowboard boots with splitboards. You'll need your own bindings with the board, as well. There are snowboard bindings specifically designed for splitboards, but the Voile kit works with most normal bindings. It won't work with Burton 3-hole bindings.

The kit comes with pre-cut skins, so boots and bindings and you'll be ready to ride. I'd also suggest some poles for the hike up.
This board does come with everything you will need EXCEPT bindings. you can mount bindings you have to the plates, a lower profile will be better because of the height of the binding plate. I use the voile light rail for 2 reasons, the straps are easy to adjust on the fly and my mountaineering boots work in them! I can't speak for cross country boots but Mountaineering boots will work. I prefer them when I know crampons will be involved and the approach is going to be long.
Anyone know what the base and edge bevels...
Anyone know what the base and edge bevels are on the Mojo? And whether they've changed in the last while? I have an 01...
Hey there, 0 or 90 on the edge, 1 or 89 on the base...
which size board for rider 75kg without...
which size board for rider 75kg without gear and size 10 boot
I have a few different versions of the Mojo. The RX is much better than the mojo of a few years ago. The board is really light, turns well, is stable, and has a fair amount of pop. More importantly it skins like a dream. For the price it's hard to beat Voile. Some people give voile a hard time but they are the reason splitboarding is where it is today and they are made in the USA not tunisia or some other weird place. durable cap construction and a thin, light core help save weight and your legs on big uphills.
Voile MojoRX 161