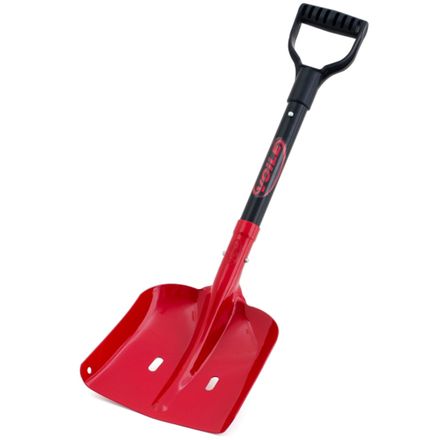 Detail Images

Community Images
Description
The Voile Mini TelePro T6 shovel proves that the best things come in small packages.
The Voile Mini TelePro T6 Shovel packs professional grades quality and features into a lightweight, compact package. This mini-sized scooper has a telescoping shaft topped off with a burly D-grip handle for extended reach and a comfortable feel for moving tons of snow. Voile made this shovel's scoop out of pro-grade, ultra durable 6061-T6 heat-treated aluminum and added a bomber coating that's guaranteed not to flake or chip. The shovel blade has deadman holes for emergency use as an anchor or for rescue sled construction.
Great shovel!
Familiarity:

I've put it through the wringer
I have toured all over the Wasatch with this shovel and it is a champ. Need to dig a pit to see what is going on underneath? No problem. Need to dig out the yurt? Its got you covered. It is light and easy to put together. I am happy to have this in my touring pack!
Voile Mini Tele Pro T6
Familiarity:

I've put it through the wringer
Love this shovel. Nicely light weight .

The metalic red anodising is actually kind of pretty ,too.

The short length is perfect for digging out snow caves and making avi accessment pits. And the extended length works great when starting off digging , whilst still having room around yourself.

strong edge and top of shovel blade make chopping hard snow to bits a breeze..

The d-handle allows a good grip even with mitts on.



1 thing that has given me cause for checking for wear is -

the loose fitting of the shove blade into the handle pipe.

I fixed it by wraping some electrical tape around the very end of the handle - the part that goes into the blade.

While chopping hard snow , there is a clanking sound as the hole in the shovel blade hits the spring loaded locking button in the shaft. Wonder how long it will last ... .



The blade is a bit short - i might get the Tele -pro -

for the extra 4 cm length.



Can never have enough shovels :P
Upgraded from the standard Voile Telepro and can't believe it took me so long to do so. This shovel is just as beefy, but fits way better inside my pack. There is no reason why anyone should not travel without one.
I got this after using a Black Diamond shovel that was very much like the regular Telepro and wanting something a little more packable but still totally functional.

I've used it in the backcountry for a week straight, digging snow pits to sit around, melting snow for water, for bathroom breaks, as a tent anchor and as a flat surface for my stove and its been flawless.

It's long enough to comfortably move a lot of snow quick when its fully telescoped, and strong enough to jump on or jab into very hard snowpack.

Can't comment on the exact weight but I wouldn't be comfortable with my partner carrying anything much lighter or shorter.

The buttons work well with gloves, the D handle works MUCH better for me than a T handle, especially with gloves or mitts. I like that the end of the shovel that inserts in the handle is capped so snow can't pack in and prevent the buttons from working.

Functional, durable, packable, light. This is the best combination I've seen in a shovel yet.
What does everyone think about the size...
What does everyone think about the size comparison to the normal T6?
The Mini is small enough to carry everyday, but big enough to get the job done. Honestly, unless you're an avy professional, the regular T6 is too big to use on a daily basis.
Dave nailed it. Bigger is nice, but I wouldn't wanna pack anything larger around considering how effective the T6 is.
The weight to work ratio of this shovel is fantastic. The D handle enables you to really dig in and move some snow around without your hands slipping around on the handle like most of the cheesy t-handle avy shovels. The blade of this shovel is a little shorter than one would expect, but to have such solid and durable tool in the backcountry, I'll take a little less surface area on the blade to keep it light. This is an excellent tool for any backcountry pack.
is this a good shovel for a backpack? i'm...
is this a good shovel for a backpack? i'm trying to buy my husband an 'avalanche' kit and am not sure which shovel to get him.. please advise asap if possible. thanks!
Good solid construction, I am sure it performs well. I prefer the "T" handle because I wear an XL mitten and find the "D" handles sometimes too small for un-inhibited shoveling. Nevertheless, Voile has a great reputation, and this shovel should fit easily in a pack.
Excellent Balance of Size & Weight
Voile strikes a perfect balance with this shovel: among the lightest shovels on the market, yet has a long telescoping shaft with a D-grip. Very effective blade shape for moving snow.
What's not to like? Well, you could go lighter by foregoing a telescoping shaft (for a fixed-length shaft) and/or foregoing the D-grip for a T-grip. Also, the blade is a bit too curvy to be optimal for compression tests in a snowpit.
But overall, this is an excellent shovel, period.
What width is the blade on this shovel?
What width is the blade on this shovel?
It's about 9.25 inches high and 9.5 inches wide at the tip.
Replaces my larger Telepro shovel. The telescoping shaft was a must for me as I do use this shovel quite often for digging profile pits. Although not as light as some of the other shovels it combines durability and size to make a very usable but packable shovel.