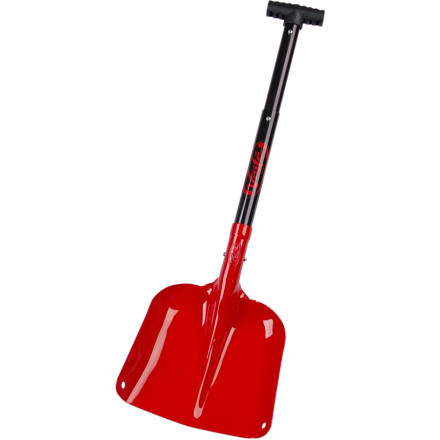 Detail Images
Description
If you're a MINImalist who prefers touring with a smaller pack (and smaller everything!), this is the shovel for you.
The Mini is the most compact shovel Voile offers and stores conveniently in your backcountry pack. Bigger shovels often hog up space inside your pack or don't even fit in a pack's external shovel pocket at all. The Mini, with its telescoping handle for extended reach and leverage, collapses into a tight little package, 23" tall and 24oz. Why choose a plastic shovel when you can get the strength of metal in the Mini? [Available in red only.]
Great! Does exactly what it needs to do
Familiarity:

I've used it once or twice and have initial impressions
This is a great little shovel, and really does the job it's intended for: Moving snow. I used it over the past weekend, and it easily fit into the front pocket of my small-ish ultralight hiking pack, and at one point, I disconnected the handle and stored both parts inside the bag itself. The ability to assemble/disassemble the shovel seems like it would help any kind of configuration you might be thinking of. It's pretty solid but not ridiculously heavy either.
Hi, what shovel would fit best in DANKINE...
Hi, what shovel would fit best in DANKINE Heli Pro DLX 20L??
I have been using the Voile XLM shovel in my Heli Pro DLX 20L pack and it fits just fine. I disconnect the handle and strap it on the side in the "ice tool" area and stick the shovel mouth in the outer pocker. This shovel here: http://www.backcountry.com/voile-xlm-shovel
Is nice and small and easy to use. Does a great job moving snow!!
Solid construction, lightweight, and quick to assemble. It cuts through solid snow and debris like any good avy shovel should.

I am six foot tall, and its just a little short for my liking. I noticed it when our digging got below two feet down, and trying to lift up heavy snow blocks was a bit more work. Nothing major. Just something I noticed.
Had a chance to use this shovel on a trip to Island Park ID snowmobiling. Great product and fast shipping
Fast, quick, and easy, it sure gets the job done when needed. It fits into my backpack so its on hand when needed.
This shovel fit nicely on my pack. Even though I didn't have to use it much on my first trip, I'm glad I had it. I'm sure I'll get much more use of this handy little shovel on future snowcamping trips.
Edit: oops, this review should be for the D-handle version!

While I haven't yet used this one, I have used the full-sized model and found the D-handle was better for me than the G3 D-handle (the G3 cramped my hands: too bulky). The shaft on the full-sized version felt too long when digging, so this shorter length should work better. I've read that a bigger blade doesn't necessarily equate to moving more snow if one doesn't have the strength to move that much snow and that a smaller blade could mean that you move smaller amounts of snow faster, so I'm not concerned about the smaller blade size.Oh, it packs better into my Osprey Switch (26?) backpack (shorter shaft).Relevant information about me: height: 158cm/5'2" hand size: small
Traded in a BD Deploy 3 shovel for this and was much happier. It's small, but the handle is long enough for digging pits, and the blade is big enough for quick snow-moving when it's critical. Simple, easy, time tested design. Great shovel.
Lightweight and very strong. Easy to adjust. Curved shovel takes a little practice to cut straight edges for your pit, but doable once you get the hang of it. Able to chop through icy layers, and move lots of snow quickly.
My girlfriend and I mostly ski in the Sierra. If you don't ski the sierra, let me tell you, Snow here is HEAVY. Avy debris and consolidated snow is therefore also heavy and heavier than, oh, say, Utah or Wyoming.

I bought my girlfriend this shovel, because she is 5'3 and thought a smaller shovel would work better for her (allow her to more quickly dig my a-- out of an avalanche without hurting her back). I am now a convert, and downsized to a BD transfer 3 shovel, but I really like her Mini's shape better. Digs great snow caves, dug out my car three times with it. If you live in a place with a heavy snowpack, give this and other smaller shovels a serious though. This is one of those pieces of gear that when you need it most, it performs best.
what would be the best shovel that would...
what would be the best shovel that would fit in the dakine heli pro 16L shovel pocket.
big shovels come in little packages
this shovel was surprisingly strong for it's compact size. i personally don't think you would need more unless you were planning on using it to build igloos every day. i own a landscape company and I'm rather picky about tool quality and this is a nice piece that's very light. it also fits great into an arc'teryx quiver bag that i purchased here once you remove the handle. great value!
I use this in the backcountry for patrol. You could always have a burlier shovel, but this one does the trick. Sturdy metal if you need to break ice or anything, yet super light.
This is a badass shovel- It is super light and compact- yet can move snow like the bigger voile shovels. The shovel head is tough enough to take on any type of snow!! Great Buy!!! recommend to anyone who wants to shed the lbs for a shovel. I would prefer to have a "D" shaped handle so that I can grip it better with mittens or gloves... other than that.. great buy!!!
I'd just like to say that I've been impressed with this shovel but I have a couple of important quibbles with it. Cutting snow out for avalanche tests, a very important function of a back country shovel, would be made much easier by the cutting area and base of the scoop being flat. The concavity of this shovel and the trough running along most of its base made cutting the snow flat very awkward, and compression tests difficult and painful enough to be unreliable. This is a big design flaw but not insurmountable. I hope to see a redesign on the market soon as it is potentially a very good product.
The mini shovel can handle anything a bigger metal shovel can with ease. The super sturdy construction makes it vastly superior to a lexan blade for cutting through ice and debris, and the smaller size won't tax your back when lifting dense snowpack. I find I dig faster with this unit than with a full size blade which is the most important factor when trying to save your buddy. Killer Shovel!!!