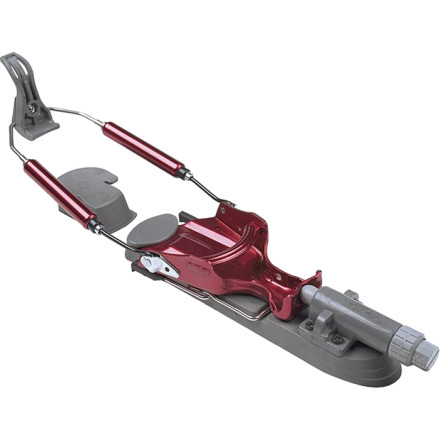 The Voile hardwire CRB Telemark Binding combines the unreal control of Hardwire technology and the real protection of a releasable binding. Voile has put their in house CAD/CAM system and production facility to work in building a super safe, laterally stiff binding. Carving control and turning stability are enhanced by replacing a normal cable with rigid Hardwire connecting rods. These rods have a brass pivot point for plush movement and are mounted to an unbreakable, heat-treated aluminum toe box. The CRB is built on the 20mm V-tech riser platform for spot on turn initiation and are shaped to match the natural rocker of a tele boot's sole. Common tele related injuries can be avoided as this is the only tele binding that will release during a backwards fall. If you do fall, the V-tech equipped CRB is 50% easier to get back into than any of its predecessors; letting you get back to making turns.
Great binding
Familiarity:

I've put it through the wringer
I wish they had not discontinued the CRB. I purchased this binding from Backcountry.com last year for use on Fischer Sbound-98, with fischer BCX 685 boots. The three work great together. The binding provides plenty of stiffness and support for downhills while not being overly cumbersome (and provides a release for safety). Just what I was looking for.
I have been using Voile hardwires and earlier Voile release models for many years. Sure there are beefier brands and models out there for those that want to bomb everything or just like to be seen with the latest gear. The bottom line is, that these things release when required. I have had several really nasty twisting crashes where the bindings did the job.
I have had friends say release bindings are for those that are "soft". I would rather be called "soft"and being able to ski, than sitting inside with a blown knee and missing an epic powder day or season! Learn how to use your equipment and understand how it works, rather than trying to figure it out on a steep slope. I admit, I made that mistake and since then I know what to do after a release. A good product with good back up and service.
What width binding should I get for the...
What width binding should I get for the Salomon Lord (87mm underfoot)?

The Voile website says that the 'Alpine' width is for skis 75 to 85mm and the 'x-wide' width is for 90-100mm. The Backcountry.com sizing chart says the 'Alpine' is for skis up to 80mm and the 'x-wide' is for 80-90mm.

Anyone mounted these bindings on the Lords or any other ski with an 87mm waist?
So I bought the alpine width binding, they arrived in a box marked x-wide and when I gave them to the ski shop to fit, they didn't bat an eye. If the brake is too narrow, they said, we'll replace it with a wider one, we have plenty of spares out the back. And, of course, this is the answer. Any decent ski shop will be able to fit the binding to your skis even if it's a bit out.
Our inventory features the "X-Wide" brake which accommodates 90-100mm waist width skis.
Released as designed, easy to place back on if first removed from boot
Love the design. My Voile CRB releasable bindings worked as designed after I survived a somewhat mild biff 2 weekends ago. It wasn't as bad as it sounds b/c visibility was great with the sun being out and it happened on a fairly flat spot where my ski's just happen to cross (I'm a beginner tele w/a strong snowboarding background). The ski brakes worked as designed so it stopped the one ski from escaping me down the hill. It took me about 5 minutes to come to the conclusion that if I completely remove the binding that was still stuck on my boot (as designed when released), it's easier just to place the bindings back onto the ski's without the boot -- rather than try to force the entire boot WITH bindings back onto the ski.
I am on my 3rd set of Voile releasables. I am a big guy... 6' 230 lbs. and I have to crank the screw almost all the way in so they don't pre-release. My newest pair are easier to get back in after a release than the first two. That being said, they are still difficult to put back in - in powder, but so are the 7tm's. These bindings have released every time I needed them to, and they've never pre-released since I figured out the proper adjustment. I trust them to work, and they do. I highly recommend them to anyone who wants a releasable binding.
Unanswered Question
I wear an old pair od Oslo Extremes. I...
I wear an old pair od Oslo Extremes. I am looking for an ungraded bunding that will work with this old school boot. Any suggestions?
I'm considering buying these but I'm a...
I'm considering buying these but I'm a little concerned about them being sturdy enough. I'd be mounting them on the 09 HellBents so there's the issue of the break width as well. Do they make a brake wide enouth for that ski (122mm under foot)? I switch between alpine and telemark but ski mostly telemark. This setup will be mostly for hard charging in-bounds and slackcountry. I'm 6' 190 lift weights just so I can ski harder, and I'm a little nervous that I'd have to tighten these enough to keep me in that they wouldn't release when they need to. It seems like most of the reviewers are of the "take it easy" type. I'm just wondering if anyone is charging hard with these and seeing the benefit of this binding.

Thanks.

Mark
Best Answer
Weak sauce. This binding has too much weakness in the sauce to throw those Hellbents around the way they need to be pushed. I would only suggest going with 22 Designs Axl (for touring/resort) or Hammerhead (for primarily resort.) 22 Designs bindings offer more control than any other binding on the market. They're affordable, reliable, and made in Teton Valley, USA. Great customer service, and great bindings.
If you're looking for a releasable binding, you should look into the NTN from Rottefella.
Voile bindings are ingeniously designed, lightweight, and also USA made with great customer service, however, I've never seen anyone or been able to myself, throw down and kill it. You're pretty much right, though, that these binders pretty much are bought by the "easy skiers."
I can't say enough good about 22 Designs bindings. The hardest charging guys out there use them. 6 hole mount is better than 4. Fewer parts, means fewer parts to fail. Unchanged design means that it's perfect.
PS: There was a guy in Mammoth making universal release kits for tele bindings...I'll see if I can find a link for that.
Anyway, go for the Axl or Hammerhead.
Thanks for the great advice Jack! I'll check out the 22 Designs. Otherwise I'm thinking it will be the hammerheads. I definitely need something that will let me throw these big skis around. I'd love to do the NTN setup but that's going to be a big investment. Maybe next year...
I ski these hard at 4.5 out of 5 turns of the spring. To answer your question: I can only feel some slight movement when I ski bad, i.e. over-rotate in difficult wind-packed snow, etc.
Keep your tips pointed downhill like you should be doing proper tele-style and you won`t notice any difference to the HH´s
Thanks for the help JW. I have looked at...
Thanks for the help JW. I have looked at the lite dogs but can't get much info. No heels? No release? They look light and simple, but ......
Also are therte differences in the crb 3 pin hardwires. I see some on sale cheap and some at full price. Were there improvements made to these bindings during the last two years?
The X Terrains are not a ski meant for great downhill performance. They go both up the hill and down fairly well, but are what I would consider to be a "utility ski." This means, you can go up the hill on them, cut down a Xmas tree, and haul it down. Or, for cutting wood around the yurt/cabin. Meadow skipping, golf courses, pastures, and parks are good terrain for this ski. Since you won't be cranking huge, fast turns, a cable binding is not the best option. Chances are, you're not going to get those X Terrains up to enough speed to have them eject. The step-in ease of the Lite Dogz will make your ski easier to use, and will still offer enough action to allow you to make good turns when you want. As far as changes in the CRB, they say it's easier to get back into after ejecting, but I don't have any beta to back that up. I personally feel that the Lite Dogz would be a much better option for the skis you're talking about. The new heel attachment on the telebulldog makes the dogs even better. Check out http://www.burntmtn.com/main.html Hope that helps. Good luck!
I am an advanced downhill skier. I want...
I am an advanced downhill skier. I want to get set up for a backcountry touring package. I will mostly be touring but want to be able to play on the hills. I like the alpina x-terrain ski and the garmont excursion boots. What binding would be light enough to tour on. Stable enough to make turns with, and Easy to use. Releasing would be cool too. Is there such a beast? Help!
Best Answer
For a light ski like the X Terrain, a CRB Three Pin Hardwire would be the best bet. It's the same as the Hardwire CRB, but it has the option of releasing the heel assembly and attaching the boot by the toes,
giving similar touring performance to that of a free pivot binding. 22 Designs Lite Dogs would be another excellent choice, and are much simpler to use. Enjoy.
Looking into buying these, but some of the...
Looking into buying these, but some of the options aren't listed. The brake isn't mentioned. Do these come with a brake system, or is that extra? I wear a 10.5 boot so some sites say I need and extra wide brake. That option isn't listed here. Will these work with a wider boot (I use a Garmont) or do I need to find a place that sells these with the wide brake option?

Thanks
Best Answer
Boot size does not affect brake width. With a 10.5 boot you'll need the standard rod, and yes, the brake system is included.
I'm a 48 year old beginner, who's been snowboarding exclusively the last 10 years. I wanted to try tele for something new, and didn't want to rip up my knees during the first few days falling down.The other reviews are spot on: They release when they should during a major beef; the ski stays up hill on it's brakes; and yes, they are a bit of a pain in the ass to get back on unless you're on a flat spot of hard-pack. I'll happily take the releasablity and knee safety, for the minor pain getting them back on.I've got 4 days on them, and I'm carving blue and green, and surviving the blacks. For beginners, find a gear head to tell you how tight to make the spring tubes, my set up was way too loose the first day, but didn't know any better.Also, the gear head from New England Telemark suggested putting leashes on them anyway. If the rear boot clip comes off, your boot will slide out of the binding, and the brakes won't engage. The leash goes between the release plate and your boot, so if you release normally, it doesn't have any negative impact. I thought it was a good idea.
I have no ACL in my Right knee, and almost gave up freeheeling because my old bindings didn't release, and any crash sent me home with a swollen knee. Discovered these last year, (with leather Garmont boots!). I agree with everything that has been posted. Leather boots don't work. Period. Regarding the release: If the Din Setting was right, they released. If it was too high- they didn't. Are they a pain in the butt to get back into, yes. However, I prefer to fidget with the binding than pay a surgeon an ungodly figure to replace my knee! I just got rid of the leathers and am happy with my new Scarpa T2's. So, until I get the bucks to get the NTN setup (read bindings and boots at least another $700!), I will stick with these. (I gave 4 stars, not 5, for the pain in the ass factor.)
Do these bindings come with all of the...
Do these bindings come with all of the mounting hardware or do I need to order voile hardware?
You will get all the mounting screws for a standard, no insert, mount job. If you have K2 skis with inserts, you'll ned the longer insert screws. Enjoy!
I have Voile 3-pin cable bindings mounted...
I have Voile 3-pin cable bindings mounted on Karhu XCD Guides which I use for back country touring. Would I be able to mount these in the holes for the 3 pins or does it get more complex....
Best Answer
The 3 Pin Cable binding uses a three hole mounting pattern. The hardwire uses the "standard" 4 hole mount. If your 3 Pin Cable binders are on a Voile riser, which uses the 4 hole mount, then you will be able to transfer the Hardwires. If your 3 Pin Cables are mounted directly to the ski, however, you will have to drill new holes for the new CRB's. This shouldn't be too complex, though; just another mount after you fill the old holes. If these were my skis, though, I'd mount them up with 22 Designs Lite Dog bindings. Step-in, releasable, no heel through, and have a brake. That's just my personal preference, though. The CRB's a cheaper, and would be an excellent choice, as well.
Good luck and happy turns.
I've skied both the CRBs and the 7tms, and while both are reliable release systems, the CRBs are lighter and cheaper. I've come out of the CRBs numerous times (not the greatest skier ;), and have yet to have a problem getting back in, even in powdery steeps like Alyeska's North Face. Backcountry skiers might prefer the 3-pin model for uphill touring, but for a resort only releasable binding, the CRB is the bee's knees (and could save yours).
Voile release system sucks
In all honesty, I haven't skied this particular model of Voile, so my review is strictly on their release system, which blows. Oh, it'll release all right, don't worry about that--your legs are safe in these bindings. The problem is that unless you're on hardpack (and who wants to tele on hardpack?), you'll NEVER get back into them. I once had to traverse, on one ski, a half mile BACK INTO A SKI AREA in order to get the F*#$!ers back on. In order to keep from pre-releasing, you have to tighten the screw way down, and then you have to exert the same force to get back in that you had to exert to get out--creating those forces is hard to do when you're not jumping off a cliff or skiing 60 mph, which are both tough while putting your ski back on. What a stupid design.

Update: I find it interesting that this review has gotten negative feedback from others. I'd appreciate a comment explaining what the problem is. I honestly hate the Voile release system, and I've had it on several pairs of skis in every condition over a period of many years (I still have a pair of rock skis with Voile releaseables on them). In any case, I'm standing by my review no matter how many Voile fans give it a thumbs down, because potential buyers deserve to know what they're getting into. On a completely different note, I lived in Salt Lake City for years, and found Voile to be a fantastic company to deal with--I could walk into their shop with broken gear and they'd hand me replacement parts over the counter, no questions asked. Most of their stuff is incredible and innovative, and their customer service rocks. I just hate this release system.
Do they make climbing bars for the Voile...
Do they make climbing bars for the Voile Hardwire CRB Telemark Binding?
Yup, they sure do. See the little groove on the side of the heel piece in the picture--presto, that's where it goes. But don't buy these bindings. Seriously. (See my review)
will these bindings work with my older...
will these bindings work with my older leather Alico boots with the 3 pin system?
Best Answer
If it has a 75 mm duck bill on front and a ridge for the back of the binding to latch onto when you engage the "throw" (rear of the binding) then yes, your crappy not-stiff-at-all boots will work with this very stiff new binding.--aside from deleting the unnecessary slam on your intelligence that one of the previous responders threw in for no good reason, I've got to agree with James/Robert's answer, but it bears more explaining. This binding is way beefier than the old Voile's, and leather boots will have a hard time controlling it. In fact, your leather boots will have a hard time controlling any "modern" binding out there, and in all reality even old three-pin bindings won't make the leather boot any more effective--face it, you've got gear that should go the way of the dinosaurs. There is a very good reason nobody in their right mind skis on leathers anymore, just as there's a good reason nobody in their right mind skis on 210 cm, straight-ass skis (the setup that I learned on, oh, 15 years ago). GET SOME NEW GEAR! Seriously. You'll be happy you did, because plastic boots, shapely skis, and bomber bindings will give you CONTROL. Wow, can you imagine how much fun that will be?