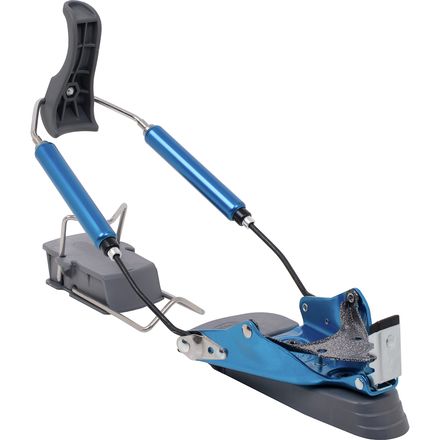 Colors
Description
Tough, versatile, 3-Pin bindings with amazing touring capabilities.
Secure your backcountry-hungry boards to your tele boots with the Voile Hardwire 3-Pin Telemark Ski Bindings, and go break trail. The unique heel assembly locks to the heel plate so you can tour with only your toe attached to the Hardwire's durable aluminum 3-pin toe box. That means zero uphill resistance for quick strides up the skin track.
Tempered-stainless-steel connecting rods deliver excellent edge-to-edge performance in crud and variable snow
Durable nylon V-120 riser features a sloping design to accommodate your telemark boots' shape
Climbing wire (sold separately) fits into heel platform to provide easy uphill strides
Unanswered Question
I am new to telemark, would these be good bindings for a beginner? Also, I have a pair of Garmond Gara Firepower boots. Are these compatible?
Cheers!
I would like to use this binding with the Madshus Annum and Scarpa T4s. Based on the reviews and Q&As below this would be a good setup, correct? Also under the comments associated with Andy and Brad Mellotte's video there is mention of making this binding releasable. Do you carry the releasable binding plates?
Hey Jonathan,



I agree that the Voile Hardwire 3-Pin bindings, Madshus Annum and Scarpa T4 boots would be a good touring set-up. Where will you be skiing primarily? Unfortunately we do not sell the releasable binding plates. Feel free to contact me directly with any more questions about telemark bindings or if you are interested in setting up an order.



Kyle

Expert Gearhead

klivingston@backcountry.com

801-736-4337
Voilé Hardwire 3 Pin Telemark Binding
How would these pair up with Alpina Explorer 75 boots and Madshus Annum Skis? Would they be overkill or good to go? Debating between these or the Voile 3-pin Cable
probably a good match. I just switched to these from the 3pin cable on my similar skis (fischer S98), though personally, I would use a stouter boot. I use Scarpa T-4's or T-2's unless it's super flat and the snow's soft.
What binding should I get? I'm mainly...
What binding should I get? I'm mainly skiing lifts and groomers, but I like to ski glades whenever I can. Should I get this binding? or maybe HD mountaineer or normal 3-pin. I have the Garmont syner-g
If your area skiing you may want to beef up a bit. G3 Targa ascent would be my recommendation with those boots.
We use the releasable version of this binding. We are posting this comment here because BC must be out of them for the year. I (Brad) took a mountaineering class taught by Central Washington Mountain Rescue and the main teacher, a gnarly alpinist told the group he teles with a releasable binding now after breaking his leg on a moderate inbound and groomed run. We wondered if the release would cause the binding to lose is rigidity, but don't believe it does. We are sure the release has saved Brad from another ACL surgery. When it is adjusted correctly, it has never released when we did not want it to. So, if the releasable version of this binding is solid, this binding has to be. Brad never thought much of the three pin addition until it ripped out and bent a hardwire useless on a bomber snag. The three pins got him back down the hill, and it was actually kind of fun. Thee three pins also allow more of a pivot function allowing your tips to ride a little higher over drifts than when the binding is locked down with the hardwire bail when going up hill. Video of an exhausted Andy M. cutting a line after hours on Mach V, a black diamond at White Pass, WA in semi heavy Cascade powder covering the usual icy, rutted moguls.
Great for the up and the down
Had these set up with Madshus Epochs and the Fischer BCX 875 boot, recently transferred them to Voile Vectors and am using the Garmont Excursions. Use them mostly for cruising around looking for mellow downhills and running laps on east coast tree stashes. Have also had them out at the local resort a time or two and they worked fine. Really solid binding, easy to align the pins, great to have the free heel option while touring and the heel lock provides a nice amount of stability for the down. Would recommend picking up a pair of heel lifts right off the bat to avoid having to either remove the heel plate or mangle yourself with a flat head screwdriver trying to slip them on a heel plate that is already installed (http://www.backcountry.com/voile-climbing-bars-wire-only). Go with the "Tall"/75mm height due to the already high pad.
How do I lock the heel assembly to the...
How do I lock the heel assembly to the heel plate?
If the heel plate is positioned properly you should be able to drop the heel lock over the pad/plate and lock it down using the same motion you would to "unlock" it from your boot heel. Shown in one of the detail pics above. If the heel plate is not in the right spot it may not work as well.
Asnes Ingstad & Voile Hardware 3-pin
Gender:

Male

Familiarity:

I've used it several times
I have mounted Voile Hardware 3-pin to my Asnes Ingstad skies. I love it and it is great together i mountain in Greenland.

Greenland is very extreme, therefore are these product is great to use in backcountry and Telemarking



Ski:

Asnes Ingstad is a very lightweight and rugged mountain skis with steel edges and the whole entire 22 mm sidecut. It is equipped with tension and lubricant pocket. The ski is the same as Combat Nato, developed for special departments of defense, with both walking and driving characteristics. The ultimate mountain ski that are suitable for the challenges the mountain has to offer.



http://www.asnes.com/index.php?mapping=55&&maingroup=SKI&brand=ASNES&itemno=540189&subgroup=MNT



http://www.asnes.com/index.php?mapping=45&nyhet=34



Greenland:

http://www.greenland.com/en/things-to-do/outdoor-aktiviteter/ski-i-groenland.aspx


Unanswered Question
what are the dimensions for the screws and...
what are the dimensions for the screws and plates on these bindings?
Do these bindings fit any tele boot? I...
Do these bindings fit any tele boot? I am looking for a binding that will work in the back country on my new Alpine lite terrain skiis in Vermont with both my old Asolo 3 pin boots (almost 30 yrs old!) and my Scarpa tele boots. I don't plan to use these at ski areas at all.
If your Scarpa tele boots have pin holes in the duckbill, the Hardwire 3-pins will work. If not, they won't.
Unanswered Question
my boots are a 22.5...this says the smallest...
my boots are a 22.5...this says the smallest it will fit is a 24. will it be possible for me to use this binding??
This binding rocks. I like the solid feel of the hardwire, while the spring cartridges contribute a nice giving feel when you jump from crud to powder. These bindings are so simple, I have never had a problem with breaking parts or missing pieces. Overall, these bindings are great. The only part i don't care for, though, is the problem with trying to match your boot holes with the 3 pins.