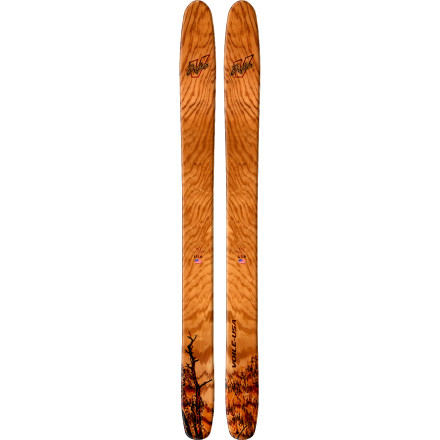 Detail Images
Share your thoughts
What do you think of the
Voile
Drifter Hybrid Rocker Ski
? Share a...
In my work as a pro ski/avalanche instr. in northern Norway ... They just make my days in the mountains better. Also great on piste. Tele Carve nice with NTN. With the Rocker .. ride hard.
Voile Drifter Hybrid Rocker Ski
I mounted these up for my wife for Christmas this year. She patrols up at Park City Mountain Resort in Park City, Utah. They are super light for the size of the ski and tour really well. But they really shin in the steep and deep! They turn without effort and float and cut crud really well. On the hard pack and groomed runs (even pulling a toboggan) they hold edge well for the size of the ski, they do have a bit of normal camber under foot for harder snow. They are a sick light weight touring powder ski for those really deep days in the back country or even a good side country ski for the resorts.
i am choosing between voile drifter and...
i am choosing between voile drifter and the bd justice for telemark heli-skiing. have demoed justices, but not in powder conditions. liked them but would prefer a bit smaller turn radius for trees. have not had a chance to ski the drifters. wondering if anyone has any thoughts about the drifters. thanks.
I wouldn't recommend either ski for heli skiing. Both are light and built more for touring. The Drifters are a much more nimble ski than the Justice. It has a tighter turn radius, but can still lay out straight lines and float well in powder. If you're going to be ripping big, super steep lines, then the Drifter might be a little light. The Drifter is more of a powder specific board for touring. Voile skis tend to be a lot lighter than competition, and to me, that means the ski will have a mind of it's own. The Drifter is stiff for a powder ski, too, and coupled with the light weight, means that you'll have to finesse it more than a heavier ski such as the Justice or the Armada JJ.
I think that the JJ is a better choice than the Drifter, even though it is narrower. The JJ would give you that shorter turn radius than the Justice, but have more heft and flex than the Drifter. Remember, too, that the Drifter is in it's freshman year, and may have some design changes down the road, and may be tweaked later. Voile does some great beta testing, and their other skis have not changed, but you never know.
Another great ski along those lines, is the Bluehouse Maestro. I have a pair mounted with Bishop tele bindings, and they're killer. They're about half the price, too. They're not too heavy, but have enough weight that they're predictable and burly.
I too, was trying to decide between the Justice, Drifter, and JJ, but the Maestro ended up being more flexible and had the dimensions I wanted.
For Heli skiing, I would recommend a heavier ski than the Drifter, but if you want that tighter turn radius, check out the Rossi System, too.
Happy turns.
According to Voile's website (and their...
According to Voile's website (and their customer service), the flat-deck Drifter is not recommended for mounting with Telemark bindings. They are quite explicit that the flat-deck is for AT bindings only, and that the 4-hole insert version should be used for Telemark.

The product description for this item should make this clear.

That said, do Backcountry.com plan to stock the 4-hole insert version?
You can put your telemark bindings on the flat deck version. If I were to choose between the inserts and the flat deck, I would choose the flat deck. I do not alpine ski. I use Hammerheads, which use a 6 hole mounting pattern that the inserts do not accommodate. There is a insert adapter for the HH, but I don't want to pay $60 for it.
It's not that telemark bindings can't be mounted on the flat deck, it's that AT bindings can't be mounted on the insert decks.
My personal feeling about inserts, is that they can come loose, causing the screws to not be removed and/or tightened, and inserts don't have the pullout strength that you'd get mounting wide-thread screws into the ski. K2 tele skis with inserts are notorious for these issues. But despite those words, I have had bindings rip out of wood core skis that don't have metal in them, as well. It was off of a big drop going fast, but that just proves that no mounting is 100% guaranteed to never come out. Telemark bindings tend to have a lot more torque put on the back two screws, so that is always something to bear in mind.
Can't tell you what BC.com will have, so maybe Alexander K. can give you an answer for that. Hope that provides some level of insight and help.
Happy turns.
In response to Jack Wizo: On the contrary -- inserts are much stronger (in terms of pull-out strength) than "wide-thread" screws. The difference is huge. The factory-installed inserts have a wide plate on the underside of the ski. See here for photos: http://www.skibuilders.com/howto/skicon/inserts.shtml

Bindings mounted to K2 inserts may be coming loose because the machine screws are the wrong length (a big problem with Switchbacks, for example, which need a longer screw) or wrong size; because threadlock is not applied; when screws are overtightened (stripping thread of insert) etc.

I'm not necessarily arguing in favor of inserts. They have their own disadvantages. But under optimum circumstances, they're substantially stronger.
So after about 8 Days on this ski, I think I am ready to give a little insight!
First of these skis are light, they weigh 6 ounces less than my ladies Pandora 162 mounted with the same bindings. Mine are 182s. That being said for a ski this size and weight they are the perfect amount of stiffness for me 6'1" 180' clothed, without accompanying ski gear. I know stiffness is subjective across the board but this ski does pretty much everything except groomers/hardpacks. It floats over the top of crud really well perhaps due to its rocker or perhaps its girth. On powder, on powder is where these things rule! Its like water skiing, the float is amazing and they turn with ease. The feeling is pretty awesome.
The rocker in the tip seems to pull these up top pretty quickly and keep them there.
They have done surprisingly well in the goaty type lines picking down through threes in chutes. Perhaps not in a situation where a fall would be terrible but in the "safe" steeps.
That is all for now until I get some real time on these doing some touring.
I'm 5'3" and 110 lbs and a fairly advanced...
I'm 5'3" and 110 lbs and a fairly advanced backcountry tele skier and I'm wondering if these skis will work for me. I'm currently skiing the Atomic Kailas 163 and was hoping to go with a shorter ski, but the shortest Voile Drifter is 162cm. I'm also considering the Voile Insane (161cm) and the Icelantic Nomad SFT 156cm. Are there any short, light wt women out there that have skied the Drifters or any of the other skis I've mentioned. My preference is a responsive/turny ski.
The Drifters would be good for you, if you're going to be skiing mostly backcountry. I think they're the lightest rockered/wide ski available. I was at first unsure if the lightness would cause them to be deflected in crud, but if you're going to be skiing mostly untracked snow, they'd be great. They're stiff and responsive, but the early rise/early taper tip gives them a forgiving feel.
Also, because of the early rise, the running length is shorter. This will allow you to ski a longer stick than you normally would. I'd consider even a 172! The early taper and early rise cuts down on effective edge, too, so this ski will surely ski shorter than expected.
The Drifter won't want to carve very much, but that's not to say that it can't, but the 'turnyness' of this ski is more in it's ability to stay on top of the (deep) snow, and whip around quickly. It will be nimble and agile, and responsive.
The Insane and the Nomad will be more traditional in their skiing. They will both handle variable conditions better, and they both have a shorter turn radius. Both are fairly light, and versatile, but I think if you're going to be skiing fresh and deep mostly, the Drifters would be the best choice. The longer length will let you go faster, too.
I've been reading about all the twin tip...
I've been reading about all the twin tip powder rocker skis on the market. I'm looking for a new powder ski to mount a set of Fritschi Freerides for back country. The Drifters are touted as "light" but from what I can find, all the top powder twins are between 8.5 and 9.5 Ibs. Why would you go with a Drifter if you can get a Rossi S7 or Armada ARG for nearly the same weight? These skis get fantastic reviews.
If you are looking for a powder ski and don't mind the extra pound or two then those skis would be great. If you are looking for a touring/backcountry ski, then two pounds makes a big difference on the up. I bought these drifters after spending a long time looking for an all-backcountry ski that will kill in the powder. The short list consisted of Coombacks, Black Diamond Justices, and the Drifter. I noticed that the Drifter was stiffer and lighter then both of those other skis. The Justices seemed too soft for me. I have only taken these out once so far this year (pre-season Alta hike on hardpack) and really like them. They were super responsive and easy to ski, I imagine they will kill in the powder too judging by how fat they are. The ARG is probably better in the powder so go for that if you are looking for a powder-only ski, but I like a ski I can ski anything on. I mounted these with some Dynafit Bindings, now I just have to try to find a brake that will fit.
Just to add: Maybe the weight is similar and flex is close but the price is a bit off. With the drifter you get a solid rockered ski for a killer price!