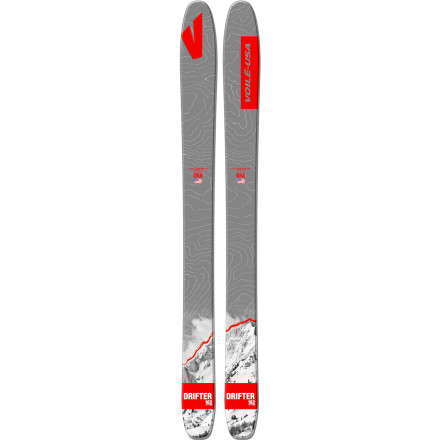 Detail Images

Community Images
Serving as the quintessential weight-conscious powder ski, the Voile Drifter Hybrid Rocker Ski craves backcountry outings as much as you do. Cuddle it in bed all night and then caress its rockered tip as you listen to the morning avy report. Yessir, the Drifter is eager to dominate the softest open powder slopes and perfectly willing to chauffeur you over exposed wind buff, too.
Rockered tip and tail along with some traditional camber underfoot gives you stable edge control with a surfy feel in deep snow
Wood core keeps keeps the ski lightweight for long sidecountry walks and an extra snappy feel turning through the treeline
Sandwich construction strengthens torsional rigidity for powerful carving
I'm 182cm and weigh 88kg, which length...
I'm 182cm and weigh 88kg, which length should I go for?
Voile suggests that the 172 is acceptable up to 88kg (195lbs). The 182 and 192 are recommended for 68kg+ (150lbs+) and 73kg+ (160lbs+) respectively.

Your best choice depends on your skill level and potential terrain selection. The better you are, the bigger you go. If you like trees, go shorter. If you're a big mountain powder-hound, go longer.
The Drifters ski pretty short. I'm 172cm / 59kg and have 182's that are great. I was a bit worried at going too long initially but haven't had any trouble despite typically skiing 165-175's. 192 won't be too much ski.

As Dave points out, let the terrain dictate the length.
Soft Core, Ripped out Axl binding on 4th day - Aggressive skier
I looove this ski. It's light, it has a great shape, and it performs well in powder and on piste. And it is agile for how wide it is under foot, very maneuverable. However, i'm in Hokkaido Japan and I ripped my axl binding out of the core on the 4th day skiing and I'm left without a fat powder ski for the rest of the month :( sad karl.
If you're skiing this ski on dynafit or any other AT setup I think you'll be very happy. My friend is an aggressive skier and has the same setup with dynafit and loves it. BUT if you are an aggressive telemark skier (t-race boots and axl bindings) you may want to consider a stiffer core ski or re-enforce the ski with a metal plate or something or you could find yourself sitting in the lodge while it's dumping buckets. and nobody wants that.
When touring deep powder is your main course then there's no other ski that fits the bill. With a 120mm underfoot you'll float like a pontoon boat on a glass pond. My drifters are my first choice when it's deep. The rocker tip really makes a difference when breaking skin track as opposed to a traditional cambered ski.
Superior on an April Powder Day
Skiing Superior on my drifters