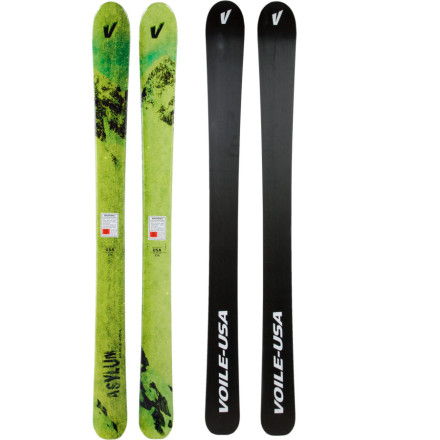 Detail Images
Unanswered Question
Are these 185's that you have left in stock...
Are these 185's that you have left in stock OK to mount with tele bindings? (do they have an insert?) Or are they only AT binding mountable?
I love these skis. They are very light on the way up, and ski real well on the way down. They handle hardpack and ice pretty well for such a wide ski. In softer snow they are awesome. This is a great ski!
6 foot even and 145 lbs, I'm leaning towards...
6 foot even and 145 lbs, I'm leaning towards the 175's. Good Idea?
That would be a good length for you. You're tall, so you with a backpack full of gear, that might weigh you down enough to go for a 185, but most of the guys I know who use this ski are much heavier, and still ski the 175. I think it would be a good idea. Happy turns.
Wondering where people are mounting their...
Wondering where people are mounting their AT bindings on the Asylums? I mounted mine on the recommended line, but feel like they are way too far forward (and compared to my regular alpine set up, they are at least 3 cm forward). Seems a shame to redrill them so soon, but I think I might have to. Wondering if anyone else has been mounting back a bit?
Keep them forward. That's how skis ride these days. The Asylums have an insanely fat shovel, so you don't have to worry about going over the handlebars- plus, your AT skiing, so that's not a concern anyway! Forward is good. It will keep you in a more aggressive position and you'll be more on top of your skis for landings, and bounding through powder. They might take some getting use to, but I'm sure you'll love the forward mount once you've gotten a better feel for it.
I noticed theres a warning on these skis...
I noticed theres a warning on these skis saying to only At bindings. Can you mount alpine bindings?
Yes, alpine bindings would be fine. They're warning against mounting telemark bindings (which put more pressure on fewer screws and tend to rip out). They have a version with inserts for tele bindings, but it's not sold here.
, ☃bcs_badge_alumni_label☃
Great Ski
My brother works at Voile and he hooked me up with a pair of these for the weekend. I toured on them for about 3 hours uphill using a Fritschi A/T binding. The ski is incredibly light for its width. It felt the same as my skinny A/T setup. One note though: if you cut your skins to fit this ski precisely, you'll experience some serious forward drag (due to the huge surface area). You may want to cut your skins more narrow than the ski.

Downhill was nice in spite of the narrow icy trail. This ski turns nicely and the light weight makes it very maneuverable. The trail was a little rocky. Sorry Voile for scratching up your nice loaner skis! There was no fresh snow to ski on, so I could only imagine what a wide ski like this can do in the pow.

I believe this ski is the same as the previous year's (2008) model--only the color and graphic is different. Last year, they had different colors for the different lengths. This year, they all come in the same green color.

Voile makes all their skis by hand (read: my brother's hands) in their U.S. factory. They don't produce a lot, but some serious love goes into these babies. I agree with the previous reviewer--it's amazing these skis haven't gotten more publicity yet. I'm sure Voile doesn't have the same marketing budget as other brands.
I have no idea why these skis aren't very public yet. Anyways I think this is the first year they have come out with this line and they are the same shape as the insanes but just overall fatter. Before I got these skis I was also looking at getting the BD Megawatts however chose to get these instead for a couple of reasons. The first major reason was because of weight. If the Megawatts have a weak point its their weight. They are made to be able to take backcountry skiing however they weigh 10 lbs. I paired these Asylums with the dynafit tlt classics and my entire setup is probably 9. In fact, the first thing I noticed when I got on the lift with these puppies was that it felt like there was nothing hanging off my legs! The only other difference is these have more of a sidecut which allows you to make sharper turns. However, I must say that these babies love to make huge GS turns in the pow. They also aren't rockered but don't need to be as their surface area is so large. I find that they are more maneuverable compared to other fat skis also because of their weight. These skis are not meant for the groomers but when on powder I prefer nothing else.
Asylum 175 Telemark with inserts: and:...
Asylum 175 Telemark with inserts:
and: Voile Switchback Telemark Ski Binding.

can i have a closer look onto the shape of the rocker ? what is it similar to ?
(...perhaps to Megawatt´s BD)
do these ski have a kind of twin tip ??? I´m 172 tall and my weight is 73kg, what size would you recommend, 175 or 185 ???
How much does it cost (in euro) incl. shipping, tax etc.
-to deliver it to germany ??
There is no rocker. Only a partial twin tip, too. The new Drifter has rocker, and is kind of like the Megawatt, but lighter and less rocker.