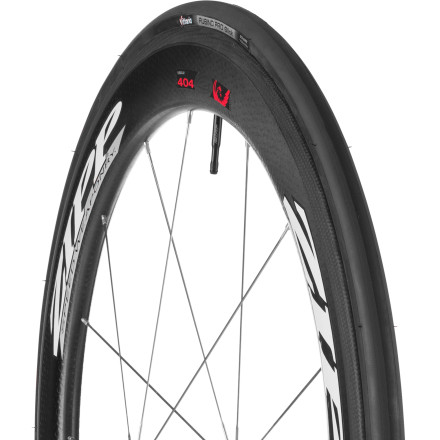 We don't have anything against tubulars, but changing one roadside, 50 miles from home isn't our idea of a good time. Simply put, you can't beat the ease-of-use that a clincher provides, and with tires like the Vittoria Rubino Pro Slick Clincher Tire offering a parallel level of speed and stability to our favorite tubies, we find it hard to justify the headache of tubulars.
The Vittoria Rubino Pro Slick clincher tire expresses a versatility that you'll enjoy on race day as much as you will during training miles. At a max tire pressure of 145 psi, the Rubino Pro Slick offers most of the advantages of a tubular tire while still allowing effortless road-side tube changes. The tire features a two-tone color scheme that accentuates the Twin Tread, 150 tpi nylon casing. This tread pattern features a hard tread in the center for driving sprints and a softer, gummy tread on the shoulders for blistering speed through corners. Vittoria has also taken puncture precautions by adding the under-tread Intrepid PRB system. Now, you can ride worry-free of glass and thorns without riding a bulky, slow tire.
The Vittoria Rubino Pro Slick Clincher Tire is available in the size 700c x 23mm and in the color Anthracite. This tire is available as a foldable clincher only.
What do you think about this product?
Have questions about this product?
Excellent tire, I grabbed another before they sold out.
Vittoria Rubino Pro - Excellent tire
Smooth rolling and a nice supple feel even at 120 psi. Good grip in the corners. A quality tire that provides safety and confidence to put the hammer down!
Any other tire this good would cost twice as much!