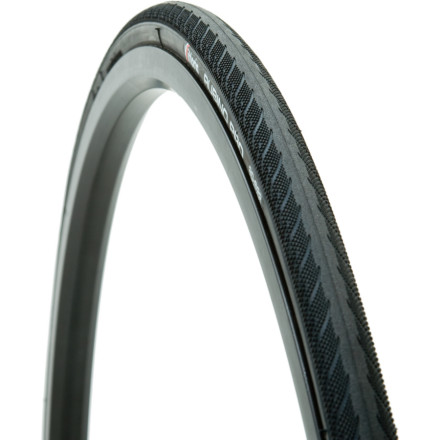 You don???t need to sacrifice performance to get a durable training tire. Case in point? The Vittoria Rubino Pro 3 Tire. 150 TPI casing provides a solid road feel while the PRB puncture-resistant belting wards off frustrating flats. The updated tread pattern ensures tarmac grip even in the rain, making the Rubino Pro 3 Tire as versatile as Fabian Cancellara.
KEVLAR?? Endura 3D compound increases tread life while enhancing grip

Mithril cut-resistant polymer weaved sidewalls for added strength and durability

Recommended PSI 100-145 (5-7 bar)

What do you think about this product?
Have questions about this product?
Have only done couple hundred miles on it so far but 1st impression is good. Tire rides smoother than what came original on bike. Cornering grip does seem better too but have not tested it to the limit yet. Have not had chance to determine it's resistance to puncture yet but the higher TPI does seem to make a difference. Also got this cheaper than what lbs is selling(not in stock but have to order in). Like them so far and have no complains.