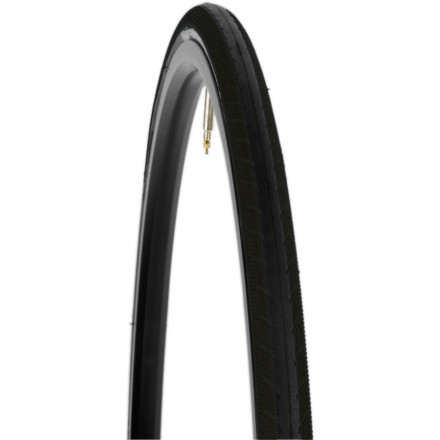 Detail Images

Community Images
Description
Keep on rolling.
Get your road ride on with the Vittoria Rubino Pro 3 Tire. Built to tear through high-mileage training and endurance road events, this tire will keep your ride cozy and minimize pesky flats for everything from a local training ride to a coast-to-coast adventure. With its updated tire tread, the Pro 3 will even handle the occasional rainy day with ease compared to its tread-free counterparts.
150TPI nylon casing
Technical tread pattern
Nylon anti-puncture belt
Available in 700x23mm and 700x25mm
The reviews were right
Familiarity:

I've used it several times
I was looking for a tire to replace the vredestein fortezzas , since they no longer came in yellow. These Vitoria Rubino Pro 3s are better. Grip, responsiveness, and the feeling of lighter weight ( although actually slightly heavier) give the bike a sharper, more controlled feel. And the yellow is spot on!
My new favorite tire
Familiarity:

I've used it several times
I love this tires they're so comfortable!! I decided to purchase them because of the Great review and did not disappoint me they feel great and not to mention that when they go on sale at competitive cyclist you can grab them for almost half the price.
Standing out
Familiarity:

I've used it several times
Got these tires just before I rode the Salt to saints, WOW, these were great and smooth. I also got the yellow ones, yes you could see me coming.
Great all around
Familiarity:

I've put it through the wringer
Stock tires on my CAAD10 were aweful replaced them with these after my first ride. Bought these because of the good reviews as an all around tire and they have lived up to the hype. Rolls smooth handles well and looks great comparable to gp4000s' but cost less and in my experience more durable
All Around Solid Tire
Familiarity:

I've put it through the wringer
I've had Vittoria Rubino tires for three seasons, driven on Utah bike paths and traffic-congested, potholed roads in Boston. Husband and I both have rubino tires on our bikes and have had no slipping and zero flat tires in three years! They look awesome and are very dependable. Great road tire, definitely worth investing in.
They see me rollin'
Familiarity:

I've put it through the wringer
These are my workhorse tires. They were OEM on my bike, and I have had no reason to switch them out. The roll good, have good grip in the corner, and the green matches the green accents on my bike.

Buy them on sale and hang on to them for when you need to change them out.
My training tire of choice
Familiarity:

I've put it through the wringer
When you get sick of sidewall cuts on your revered GP4000s then make the change over to this fantastic tire.

I made the switch in 2013 and have yet to retire one due to cuts, only wear. Mind you, this isn't my race day tire but I have raced on it on rainy days and some races with questionable roads and/or gravel and I don't feel like I gave up any advantage.

Plenty supple for training and long rides and even hooked up enough for racing.
Great looking, smooth roller
Familiarity:

I've used it several times
Two things, OK three, led me to this tire. First, I'm a big fan of Gatorskins but just felt that I could get a better roll out of a different tire. So, my first requirement was a durable tire with better rolling characteristics. Check #1. Second, my Pinarello Razha has orange accents and after replacing the bar tape with Cinelli Orange bar tape (yep, got that here too!) I focused on the tires. This tire was available with Orange stripes. Check #2. Third, well sort of, I was hoping these might drop in price a little (though regular price wasn't bad). Every day during the TdF I'd watch for the daily specials here. Bingo!!! They went on sale and I snagged them! I had no issues putting them on my bike and they roll great. Though they can take 140 PSI I have only been able to get my floor pump up to 120 PSI. Time for a new pump?! Nonetheless, very happy with these tires and am now "Oranged Out!"
solid training tyre that is race-able
Familiarity:

I've put it through the wringer
This tyre is durable and light but not the most durable or the most light. It is very very raceable but frankly not the most tacky. It fits in that rare, "every tyre" category but doesn't shine anywhere in particular.
Great tire
Familiarity:

I've put it through the wringer
I purchased a set of these to replace stock Bontrager R3s and the different is night and day. After a week of riding on the R3s there were several cuts from general road riding. I replaced them with a set of green Rubinos and have put 3000 miles on them. They handle well in all road conditions from smooth pavement to chip sealed roads. I unfortunately had to replace one due to running over a piece of glass that would've taken out a car tire but have no complaints with these tires!
What is the difference from a 700c and 700 tire?


Where the Rubber Meets the Road
Familiarity:

I've put it through the wringer
Overall this tire meets my expectations in three areas: price, comfort, and performance. Great handling in the mountains along with good rolling resistance makes this a great tire at this price point. Wear and tear is right up there with the best of the best as far as durability and flat protection are concerned, not to mention that it comes in several colors to spice up your bike...try a pair, you'll be glad you did and let me know how they feel
Love these tires.
Familiarity:

I've used it several times
I have 1400 miles on these so far, average 200 miles per week mostly on asphalt roads and bikeways. The mix of performance, style and durability is very good for my riding habits. So far I find the optimal pressure for me is 130 psi. and I am 200 lbs. The color options on the folding tire allow me to use a tire that looks great on my bike and carry a spare on long trips just in case.
Love 'em!!!
Familiarity:

I've put it through the wringer
I rode Conti Gatorskins for years as my go-to trainer. I'm 1,000 miles into my first set of Rubino III's and I won't go back to Gators. They roll better, smoother ride, better handling. I rotated after 500 & again at 1,000 and I really can't see much wear. I've ridden smooth roads, roads hammered by construction, CO mountain roads, cobbled asphalt, and so far (knock wood) zero flats!
Add some spice to your ride
Rubino Pro adding some flare to a vintage ride
Good all-around trainer tires!
Familiarity:

I've put it through the wringer
I put this tire slightly above Continental Gatorskin for Training rides. They are quick, fairly supple, wear very well and handle nicely, and have good puncture resistance. Also if needed, like the Gatorskin, for Max Toughness they come in the Tech Edition which has sidewall reinforcement just like the Gatorskin.
The name says Black Fold, but the tech...
The name says Black Fold, but the tech specs say wire bead, not foldable. Which is it?

Thanks
I think that's an error. I've ridden the 2s and 3s and both were folding and came in a box identical in size to open corsa evos. There is a rubino (non pro) that is a wire bead but it's only 60 tpi and costs less $. CC needs to correct the spec.


Grippy
Familiarity:

I've used it once or twice and have initial impressions
These tires stick to the road, and handle the toughest roads i ride on. I have not had a flat yet, and are leaps and bounds better than the stock tires my bike came with. I am still wondering when i will get a flat!
One of the best training tires
Familiarity:

I've put it through the wringer
Vittoria has been manufacturing pro-level bike tires for 60 years. It shows. Their range and R&D is pretty amazing.

Overall, the Vittoria Rubino Pro 3 is my favorite fast riding and training tire (though the Continental Grand Prix 4000 S II is a really good fast riding/training tire too). Rubino Pro 3's strengths are excellent grip and handling, good wear, very good puncture protection (much better than dedicated racing tires); and excellent suppleness and road "feel." The latter sets these Rubino Pro's apart for me.

I would certainly use these tires for a century or half century ride, but the Rubino Pro 3 is not a "pure" racing tire. That is what the awesome, light, supple, and sticky Vittoria "Corsa" line of racing tires are for (or another great racing tire like Michelin Pro 4s). But racing tires wear much faster and have less puncture resistance. I don't want to puncture 20-30 miles out on a training ride (or a century ride), do you?

So, I use race tires in 23 mm size for race or timed runs on clean, dry, smooth roads. Otherwise, I use these Rubino Pro 3's in the 25mm size (only 235 g) for everything else -especially well matched mounted on the latest trend to wider rims by Zipp, Hed, Reynolds, Mavic (the new Ksyrium Elite), and those coming soon from Campy/Fulcrum and Shimano (reportedly in 2016). Lastly, personally, I use Rubino Pro 3's in the 28mm size (245g) for training in the wet/winter months on the wet and rough (chip & seal) roads in my area. 28mm tires provide much better traction, braking, and handling in these conditions; yet still roll fast and are relatively light.

Rubino Pro 3's are great tires! And a great value.