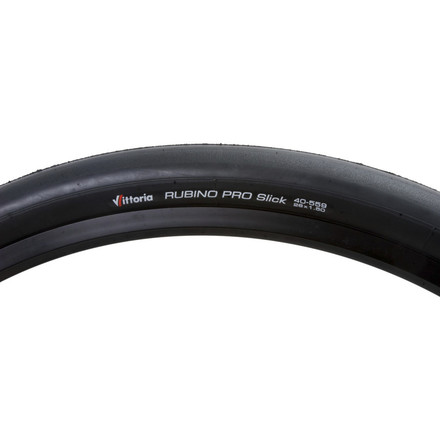 Detail Images
Mount up a set of Vittoria Rubino Pro 3 Slick Clincher Tires and ride with corner-gripping traction, speed-enhancing low rolling resistance, and comfort-boosting suppleness.
What's not to like?
Familiarity:

I've used it once or twice and have initial impressions
I only have 40 miles on them, but I have to say I'm impressed. Huge difference in rolling resistance over my old Gatorskins, and seem durable. Hit a few pieces of road debris and small rocks - no cuts to be found. Very smooth riding tires. They're easy to install and a great price too. If they last a reasonable amount of miles, I will definitely buy these again.
Exactly what you would expect
Familiarity:

I've put it through the wringer
Durable enough to train, supple enough to race, light enough to climb. It's a good all around tyre that doesn't excel anywhere but doesn't have any shortcomings either.
Smooth Rollers
Familiarity:

I've used it several times
I use these tires as my training on my Tri bike. I previously had Michelin Pro 3 Service Course. I selected the Rubino Pro 3 Slick based on the wear, puncture protection, cost and rolling resistance. These tires are slightly more supple than the Pro 3 SCs and they definitely roll much easier. I can really tell that the effort required is less than before. The cost is right near the Pro SC, and these have a higher level of flat protection. They are wearing well after a few hundred miles. I will use Open Corsa Slicks for my race tire next year, but in the meantime, these Rubino Pro 3 Slick will log many more miles.
Great all around tire
Gender:

Male

Familiarity:

I've put it through the wringer
My previous bike had Continental Ultra GatorSkins and Specialized Armadillos because I sought maximum puncture protection --- I dreaded getting flats because I didn't really know how to fix them and wanted to avoid them at all cost.



These tires gave new life to my bike --- it removed a lot of the "dead weight" feel of the ride. They roll smoother, corner pretty well, and do great even in wet conditions. Puncture protection is decent for California roads. The only flats I've had are due to running over things that no tire would protect against.



I get about 4,000 miles on the front and 2,000 miles on the rear. I don't rotate my tires (too lazy). These are comparable to Michelin Pro4 Service Course tires, and between the two, I'd be hard-pressed to tell the difference. The Michelins tend to show "squaring off" when they're approaching their end-of-life for me, whereas it's harder to spot on the Rubinos.
Lots of experience commuting on this tire
I've been commuting to downtown Chicago from the western suburbs for 20 years, which amounts to something like 30,000 miles. I consider a kevlar belted tire a must on city streets, and I've tried several brands over the years. But I've been using the Vittoria Rubino Pro for many years now, and it's been better than any other tire I've ever tried. It's not unusual for me go an entire season without a puncture, and unlike some other tires, the Vittoria is light, has a nice supple road feel and excellent adhesion on wet roads.
These came stock on my Felt F85. They've worn really well. I've got almost 2,000 miles on mine and still haven't rotated them. I've only had a couple of flats, one in the front and one in the rear. I'm just biding my time till I can purchase a set of red/black ones. I would definitely recommend these.