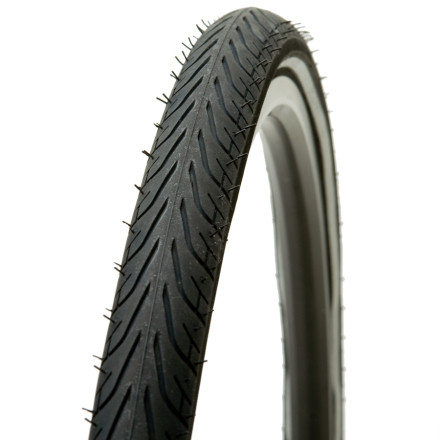 Detail Images

Community Images
Include the Vittoria Randonneur Hyper Road Bike Tires on your gear list for your upcoming long-distance ride or use these tires for commuting. Vittoria???s elite Randonneur Hyper provides supple road feel, solid grip on wet and dry pavement, and puncture resistance without obliterating your bank account.
KEVLAR?? SiO2 3D compound enhances grip and reduces rolling resistance

Triple Shielding belting protects your tire from flats

Aquaflow tread design sheds water for enhanced traction

120 TPI casing provides a fast, supple ride at a great value

, ☃bcs_badge_alumni_label☃
Tread detail
I'm not sure what the previous reviewer was doing -possibly super low pressure, given that many pinch flats, but I've had nothing but positive experience with these tires. The only struggle I had was actually mounting the tire initially, it was one of those tire/rim combinations that just didn't agree. Lots of miles, few flats, and smooth. If I'm nitpicking, I would probably lean towards the Fyxation Session 700 tires because they roll a little faster and the tread is a little more substantial, but I'd be perfectly happy with either one.
In 20 miles had four rim-pinch type punctures total front and back. At first I blamed it on riding over a few yards of 1 inch road gravel on a hard dirt road with fresh loose gravel. The next two occured on regular suburban roads, with one occuring when climbing a curb-rode home another mile or 2, found the tire flat next day. I'll accept that one was my fault. Positively the most flat prone tires I have owned-the beat up heavy tread skinwall Continentals I used before these on the same bike had no more than one flat a year on the same courses.
The tread design has very thin rubber in the bottom of the rain grooves on the road face, so I expect thorn and glass punctures too. The slick face offers poor traction on grass, etc.
Bought these because of their claim of triple shielding. They are beautifully made.
, ☃bcs_badge_alumni_label☃