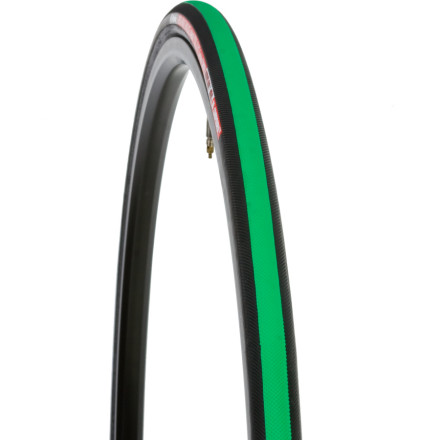 Detail Images
The Open Pavé Evo CG Clincher Tire uses Vittoria's finest casing for extreme road conditions, the Corespun K 320 tpi high-density casing. It's a polyester/cotton blend with 20% Kevlar for added puncture protection and strength. This is what gives it the supremely comfortable ride qualities and fast rolling performance we know it for as well as the toughness to handle any road surface. And perhaps the best part for your "spring classics" out on gravel strewn roads is that it has an extra belt of aramid puncture resistant material under the tread to give you extra flat protection.
For countless years, the Vittoria Pavé series of tires was available only with tubular construction. Now, the Vittoria Open Pavé EVO CG Tire gives you the chance to ride a clincher version of what virtually every pro chooses for the sloppy roads and sick cobbles of the Spring Classics season. It's made in a beefy 700x24 size, and it provides you with an unmatched combination of wet-weather traction, puncture-resistance, and low rolling resistance.
Vittoria uses their Twin Tread technology to give you a harder center strip for effortless cruising at high speeds, but when you lay your bike into a turn, you can be sure that the softer rubber on the shoulders will afford the kind of grip you're looking for at speed. The Kevlar SiO2 compound blends these grippy, hardwearing characteristics with the durability necessary for riding often on harsh roads.
The Vittoria Open Pavé EVO CG Clincher Tire is available in 700 x 24c only. It has a Green center strip with Black shoulders on the tread and black sidewalls.
PRB 2.0 puncture-resistant properties increase flat-prevention properties up to 40%
KEVLAR® Si02 3D Compound with added silica for improved grip in wet conditions
High-density 320 TPI for supple road feel
85-115 recommended PSI for low rolling resistance
I love these tires. I use these exclusively from Oct to June. Bomber, yet nice ride quality and suitable for all conditions. These are also the tyres I have on my rig when I slip into into my "if I was a PRO spring classics specialist" 3 or 4 times a day. Seriously though - for a bomber all round clincher, this is the way to go.
This tire was highly recommended by a...
This tire was highly recommended by a friend, but the green color doesn't work with my bike. Can it be ordered in black and if so, is the black also 320 tpi? If not, can you recommend a similar Vittoria tire? Thanks!
The black ones are pretty rare, but if you are persistent in your search, you can find 'em.
Wears better than many other "race" tires and is superb in the wet. Rode these in the Gran Fondo San Diego in 2010...the wet and cold one. They held up to numerous cuts that should have caused a puncture. Tough to stomach the cost though.
Hi, I normally use a 700x23 tire, Can I...
Hi,

I normally use a 700x23 tire, Can I use the 700x24 as well?

Thanks
Yes a millimeter is not going to matter.
Is this the new 320tpi version? The picture...
Is this the new 320tpi version? The picture is of the 290tpi version. If it's the 320, is the color all black, not black and green?

Thanks