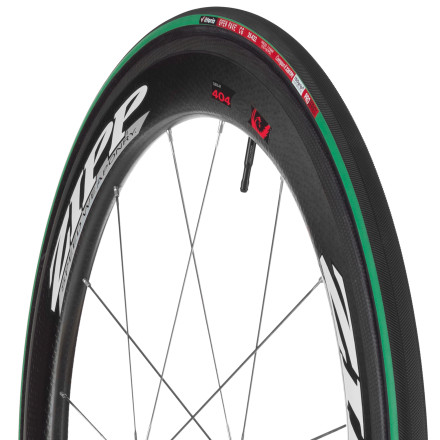 Colors
Description
The green is the giveaway.
Look at photos of most races, and you'll see a sea of all-black tires. Look at Roubaix, Flanders, or any of the other cobbled classics, and you'll see a lot more earth tones popping up. There are a few tire manufacturers capable of producing tires for one of the most difficult sporting events on the planet, and Vittoria is one of them. The Open Pave EVO CG III is the latest in a long line of ultra-supple tires designed to take the edge off the cobblestones.
320 TPI
ISO Grip rubber compound
Unanswered Question
These tires look like the ticket. Does anyone know how wide the 700x25c is when mounted on a 700 x 17c rim? I've got some tight clearance with front mech. Thanks!
Nice Riding Tire
Familiarity:

I've used it several times
I took the tires off that I normally ride and put these tires on to compare them. I ride on some pretty rough roads so I usually ride tires that are heavier and punture resistant. These tires are much more comfortable and seam to have less rolling resistance. I rode them for a week and then put my old tires back on. I decided to save the Vittoria's for special events and not use them for my day to day riding.
smooth
Familiarity:

I've put it through the wringer
I started using vittoria 25mm when conti 25mms started rubbing. I really like them, they are on the thin side of 25mm if you know what i mean, they are light and smooth. I have 2 sets on two different bikes. Did not get any punctures yet on both after maybe 800 miles or so.
Great training & racing tire
Familiarity:

I've put it through the wringer
I'm a long-time Open Pave fan. I have used several versions of the tire, the old 24 mm, 25 mm, and 27's. I like the 27's best -- they are almost a gravel tire, and I have ridden them fast on crushed stone and gravel trails as well as all kinds of pavement. I use these as a training tire, and fall-winter-spring tire. I've raced them in a half iron distance race with some rough pavement, where they were super comfortable. My current set up has the 27's on wide rims (Hed Belgium+). The Paves are on the narrower size for their listed widths, but still true to size (unlike some other brands' 25's that inflate to 28 mm). They are a go-anywhere tire that is fast, grips well, and holds up nicely. I have never flatted on them over thousands of miles. I recommend them to any serious rider.
Comfortable, no flat protection
I've had good luck with the corsa evo so I decided I'd give these a chance. They roll great and make awesome contact with the pavement but I experienced two flats on the second day of using them. One flat was in the morning, pulled out a tiny burr, second was at night, due to something in the bike lane. Nice supple tire, but pack a flat kit.
Smooth and Fast
Familiarity:

I've put it through the wringer
I have been riding on Vittoria Rubino Pro 25 mm's, but I wanted a bigger tires for an upcoming Gran Fondo, which is run over rough roads in Northern California. Years ago I had run Vittoria's Paris-Roubaix tubulars, which were fantastic and I figured these were as close as I could get in a clincher.



The tires were everything I could have hoped for on the Gran Fondo and I've put several hundred more miles on them since. At about 90 psi, these are smoother than any other clincher I have run, but they are also responsive and feel extremely planted in fast corners. The 320 thread count really shows it's superiority in feel and ride. They also have a very nice sound and promote confidence on all surfaces.



Don't know yet how they will be for durability, but at even half the mileage of lesser tires, the ride is worth it!
For 8 years Ive stuck with Contenental : Race 3 and 4 also Gatorskins. The Vittorias i purchased were the first high pressure tires- min. 115psi max 145 . I run them at 125psi seems good for my weight 195lbs. They feel wonderful ...make a different sound on pavement and grip turns as well as any Conti. I ridden. Ive only put 1k miles on them so dont know yet about flat resistance. The real payoff is their ease in changing. In swapping and changing them on 2 wheel sets they are very easy to change. One lever to break a tire loose .. back on its hands only with minimal effort. This means a lot to me after the hassel of stubborn tight tires on hot Georgia and S.C. roadways!
Sublime
Familiarity:

I've put it through the wringer
Vittoria has been manufacturing pro-level bicycle tires for 60 years. It shows. Their range and R&D is pretty amazing. These Pave EVO CG III's were specially designed to be used on the cobblestones (pave) in the hotly contested UCI Pro "Spring Classic" races in Europe like the Tour de Flanders and Paris-Roubaix.

This is one strong and tough tire. Yet with 320 tpi a very supple one! And, somehow, fairly light (257 g in size 25 mm) -especially given the strength and excellent puncture protection.

The grip, braking, cornering, and road "feel" is fantastic. The latter, especially, set these Pave III's apart for me.

I use Vittoria "Corsa" race tires in 23 mm size for race or timed runs on clean, dry, smooth roads. Otherwise, I use these Pave III's in the 25 mm size as my general fast training and riding tire (especially in the winter) because I have terrible roads in my area.

In summary: Great fast training/riding tire for the rough (chip & seal) roads in my area -and yours.

By the way, the puncture protection is really exceptional with these Pave's. In 6+ months of near daily use, on crappy roads strewn with glass and debris (in town), I have experienced exactly one flat! And that was from a large industrial staple. That would have flatted any tire.

Vittoria Pave CG III's are great tires!
A tyre made for the sussex roads
Familiarity:

I've put it through the wringer
Riding the roads of Sussex are what i call a training ground for the spring classics races, such as Paris-Roubaix. The roads are a heavy mix of rough tarmac, pot holes and gravel. Over the winter months i had been riding Conti GP 4 Seasons. Although they are great tyres for winter months of rain , i wanted something more supple for the rough roads. I was recommend the Open Pave tyres and what a difference i felt on even the first ride, Running them at 80psi. When riding through gravel i felt a massive difference in comfort. On wet tarmac the grip was excellent when committed to turns. All though i don't try and aim for the pot holes but when travelling speed and on a road less than familiar, they can creep up on you. Great thing though is that they held together, which set my confidence on these tyres to an all time high. With out doubt the best tyre i have used.
Sweet, sweet, ride!
Gender:

Male

Familiarity:

I've put it through the wringer
Just swapped out my Bontrager R4 25mm 220 tpi clinchers for these Vittoria 27mm tires. All I can say is what a great tire. I don't know if its the extra 2mm or the super high thread count, but I'm 175lbs and I ran these at 110 lbs and they were like riding a magic carpet. I could probably run them at 100lbs with no problem. I ride regular chip seal but in Colorado there are a lot of expansion cracks and hitting them can be bone jarring, even on my Domane. But with these they all but disappear...love em.
what size tubes for 27C ?
I just use the usual 23C tubes.
Rides nice, 25C Smaller than expected
Familiarity:

I've used it several times
The 27C tires roll smooth, feel great on chip seal roads and were confidence inspiring on a recent 12 mile winding descent in a surprise rain storm. The sizes are a bit funky. Bought the 25C first but it measured the same width casing as a 23C Corsa CX. Exchanged for the 27 C which was 4 mm wider than the 25C version. The 27C version weighs 247grams. Backcountry was great with the return. Over all very happy with the 27C version.