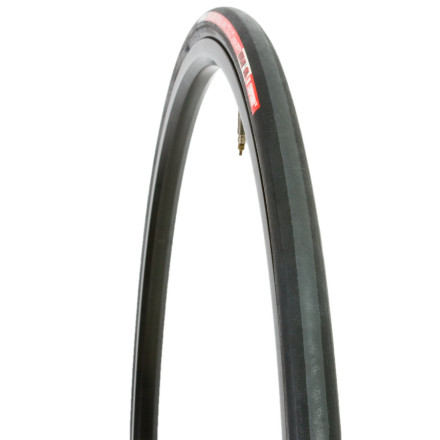 Detail Images
The Open Corsa Evo Slick Tire represents another step forward from the Vittoria, a recognized leader in tubular tire technology. Handmade for superior performance and comfort, the Corsa Evo Slick features a KEVLAR?? SiO2 compound with added silica for reduced rolling resistance; a 15 percent greater roughness on the side tread results in better cornering. A supple 320 TPI casing offers superior comfort and grip, and PRB 2.0 puncture-resistant belting under the tread and a special latex inner tube significantly boosts the tire???s durability. The performance Corsa Evo Slick will handle inflation up to 140psi for fantastic road feel.
What do you think about this product?
Have questions about this product?
If you are looking for a good clincher to race on that is low weight and has excellent ride quality, this tire is a good option. They do wear pretty quick, so I would save them for race day.
These tires are ideal for superfast cornering. I jused to ride criteriums with these Open Corsa's . They are defenately too precious to use for training rides!!
can the latex tube be used with tire...
can the latex tube be used with tire sealant?
Yes, there are specially designed sealants for tubular road tires that can be taken with you on the go