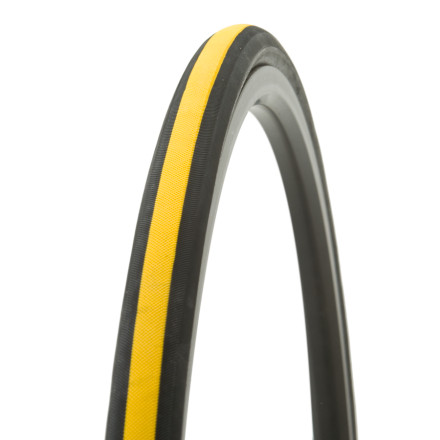 Detail Images
The Vittoria Open Corsa Evo CX clincher tire got a facelift thanks to its new 320 TPI Corespun K casing made from alternating Polycotton and Kevlar threads. More TPI means a more supple ride, no matter what PSI you prefer. Vittoria's Compressed Wrap makes use of the highest grade of Corespun casing cord and rubber compounds, resulting in a casing that allows the Polycotton and Kevlar threads to act independently, which reduces surface deflection and rolling resistance while maximizing puncture resistance.
The classic herringbone tread pattern on the Vittoria Open Corsa CX gives it an ideal combination of traction and rolling resistance, which is likely the reason that this our our best selling Vittoria tire. It's built with Twin Tread Technology where harder tread is placed in the center of the tire where the wear occurs, and a softer compound is used on the shoulder for better grip. A thin, lightweight PRB puncture resistant belt is placed immediately beneath the tread to provide maximum puncture protection while maintaining low rolling resistance. And the tread is built with a silica enhanced Kevlar Carbon 3D SiO2 compound to give their tires longer wear life and supreme grip. 700x23. Available in the following tread/sidewall combinations: Black/Black, Red/Black, and White/Black. 210g.
Corespun 320 TPI casing construction makes for an exceptionally lightweight, flexible tire KEVLAR?? SiO2 3D compound enhances grip and reduces rolling resistance
Puncture Resistant Belting (PRB 2.0) protects your tire from flats
Hard tread on the bottom and softer compound on sidewalls gives unparalleled cornering grip without sacrificing durability
Max psi of 200
Great for racing. Not so great for training. Not as long life as Conti's high end tires, but ride with what seems to be lower rolling resistance. Don't have the empirical data to back that claim up so take it for what it is. Buy 'em on sale.
Great Ride......Wish they lasted longer
Familiarity:

I've used it several times
I have ridden these tires for years. I will ride no other tire. Handling and rolling resistance are second to none other that i have tried. Luckly I have not had the flat problems others have experienced. I usually get about 1500 miles out of them. I seem to get flats when the top flattens out and the tire is not completely round anymore. I assume I get flats because a lot of the rubber is worn away. Until then I never get flats. I LOVE THESE TIRES!!!!
Great ride...but poor durability
I tried these in place of my usual Conti's and the ride difference was notable and impressive. These tires perform as advertised.

However they don't hold up to road debris very well. The tread cuts very easily and after a couple of weeks I had some serious "gashes" in both tires. The 320 TPI and Kevlar construction kept the casing intact (pristene even) but eventually a piece of grit or glass would work its way into the cut and at 120psi that meant a flat -- I estimated I was getting 1 flat per 200km.

I wanted these tires to work so I replaced the rear after it developed a really bad cut but the replacement went the same way after a couple of rides. I switched to a heavier duty tube and lowered the pressure to 100 psi and suffered till I could justify replacing them with Conti 4000s's. It was frustrating because the tread on the front wasn't worn after 1500km but I just couldn't deal with the flatting. On the bright side my flat fixing times dropped.

If you want a race tire, I would recommend them. If you want durability/reliability, look elsewhere.
Very bad luck with these tires. My ride ride and the rear tire was cutted by a glass. Good cornering.
Great tire but prone to flats
These are the best tires I ever used. Low rolling resistance. Great cornering. Only trouble is that I get a lot of flats with these tires. Can't have it all!
I save these for my "Big" Century rides or Crit racing. I can't believe how little the rolling resistance is compared to other tires. For me, at 350 watts on a level stretch of local roadway I was able to travel 27 mph. 350 watts with another brand on same stretch of road yielded only 24 mph. And the handling on downhill switchbacks/canyons has my bike riding like it's on rails. Great feel, absorbs road imperfections well-even at 127 psi. I havent flatted on these tires yet but being that I save them for special rides probably accounts for that.
Best tire I have ever bought
I bought these about a year ago and they have been the best. No flats at all. Road manners are awesome. The ride especially on a carbon bike is so smooooth. Worth every dollar. buy some and you won't be dissapointed.
I'm looking for a 700x23 clincher road...
I'm looking for a 700x23 clincher road tire with white sidewalls like Vittoria used to make. Now they have the white on the rolling surface and it turns black after a few rides so where is the virtue on even bothering with the white?
Try the Soma Everwear tires in whitewall. They look super tight
All around fantastic tire
Vittoria is one of very few tire manufacturers that exclusively builds bike tires; and the focus shows. They use the same technique to build these as their pro-level tubular tires (hence the 'Open' in the name) and this tire has one of the highest thread counts readily available (if not the) in a road clincher. Note- There are other tires on the market that publish a higher number- however if you dig into their literature you will find many of them are stacking multiple layers at a lower count and publishing that number (which is the equivalent of throwing a second 150 count sheet on your bed and saying you have 300 count sheets- it's bs).

This tire has a thinner and more durable casing thanks to the high TPI which translates to a very smooth ride and a tire that handles higher pressures (although the efficiency of tires running higher than 120psi on asphalt has been called into question). In my experience there is no increased chance of flatting due to the thinner casing (and in fact the only people i've dealt with that have had flat issues weren't properly inflating their tires before every ride and i suspect they were running these far below Vittoria's suggested minimum pressure of 120psi). I typically run mine in the 110-115 range through the grittiest and dirtiest times of winter with few problems from road debris.

As others have mentioned these tires excel in wet conditions as well as dry and the cornering is downright confidence inspiring.

If you want a durable, all conditions, performing tire it's hard to go wrong with an Open Corsa... Vittoria sits at the top of the class along with the likes of Vredestein, Dugast, and Challenge in their respective specialties.
No matter what type of weather conditions your riding in these tires handle great. Cornering is always awesome.
Great ride....but flatted on first day out, though I suppose few performance tires would have survived that industrial staple I inadvertently ran over.
Great all around clincher. Work really well in wet conditions. I dig em...but I wished they would last a bit longer.
Vittoria Open Corsa Evo CX Tire are tubular performance on a clincher diet.
If you race clinchers, these are your rubber. It has brought a whole new level of confidence to my riding. When you know your rubber will stick going Mach 3, elbow to elbow with your fellow crit racers, you start to get a little swagger as you approach those 90 degree turns. I am a believer.