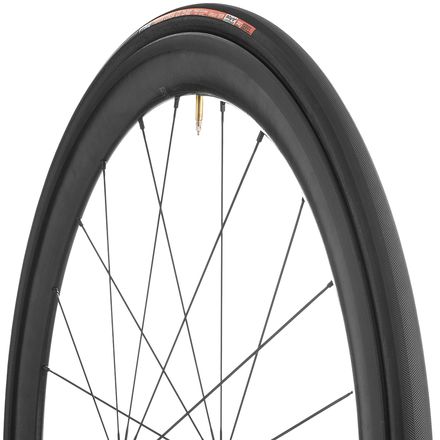 Colors
Description
About as perfect as clinchers get.
When it comes to helping customers pick out their ideal gear, there are few definitive answers. On the subject of tires, however, when customers are looking for a tire that can and will absolutely, positively improve their riding experience, there is a consistently correct answer in the vast majority of circumstances: The Vittoria Open Corsa EVO CX III.
The "III", of course, indicates that this is the third generation of the Open Corsa EVO CX that was a favorite already when it debuted. It's only gotten better now, and we can heartily recommend it for a number of reasons.
Of foremost importance is the fact that "Open" means - in Vittoria's parlance - that this is an open tubular tire. While a standard clincher is engineered from scratch, an open tubular is a clincher made by splitting open a tubular tire. You'd think this would mean some degree of compromise somewhere in the design, but not in this case, because while most open-tubulars are a notably heavier that standard clinchers, the CX IIIs weigh in at only 219 grams (23mm version), putting it only hairs above the lightest of the market's non-open-tubular clinchers.
So what advantages does being an open tubular bring to the table? First is amazingly smooth ride quality. The sky-high 320 threads-per-inch count of the CX IIIs translates into an incredibly supple tire, acting as a more pliable casing with higher shock absorbency then the usual 100-200TPI you'll find on the vast majority of clinchers out there. The high TPI rating increases cornering traction and speed, as well, by allowing the tire's shoulders to conform to the tarmac with greater fidelity, as opposed to a stiffer, less-compliant profile of a tire with a relatively more brittle casing.
Indeed, the Open Corsa is a "cotton" tire in the classic tradition, but it's also received some notable upgrades to make it more durable than the racing tires of yesteryear. Each of the tire's 320 threads-per-inch are actually individually spun around a filament fiber, creating a yarn strand and what's called Vittoria's Polycore layer. The result is a far more puncture-resistant casing than a traditional cotton tire normally does, so you can have the smooth speed and cornering of a classic tubular with the durability - and convenience - of a modern clincher. One last bonus of that high thread count: excellent air retention, so you won't need to add nearly as much air into the tires every day - although checking your pressure before every ride is something we still strongly recommend, regardless of which tire you choose.
The Vittoria Open Corsa EVO CX III Tire is sold individually in either 21, 23, or 25mm sizes, and in the colors Black, Blue, Red, White, and Yellow.
320tpi casing
Open Tubular design
Isogrip rubber for increased grip in all conditions
Share your thoughts
What do you think of the
Vittoria
Open Corsa EVO CX
? Share a...