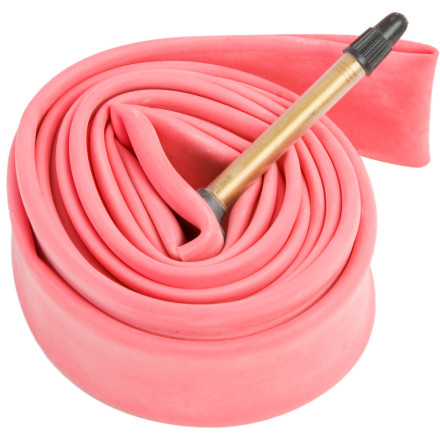 Colors
You probably don't think about the tubes you put inside your tires, but with Vittoria's Latex Road Tubes, you'll have a slight advantage when it comes to speed. In testing, latex tubes are smooth enough to reduce rolling resistance by a few watts. And while a few watts may not seem like much, when you add in that nearly 75 grams of weight are shed by switching to the Latex tubes, the seemingly innocuous tube starts to make a dent in your results. The lighter tubes mean quicker acceleration. In addition to being faster, latex tubes are also more elastic to increase puncture resistance.
Latex tubes
Removable valve stem
They just fell apart... no really
Familiarity:

I've put it through the wringer
OK some of what I ordered actually ended up making it onto the tyre but the majority fell apart in the box. Now, I do live in Panama (+90F 90% humidity) which is probably the route cause of the problem. So I guess if you live in the heat store them in the fridge.
held up better than expected
Familiarity:

I've used it several times
I kept reading how this type of tube looses air but I rarely have had to add any, no different than any other tubes I've run. As of yet I have really to feel any difference between these or the q tubes I've been using.
Only option if you want to go fast!!
Familiarity:

I've put it through the wringer
If you are running a high quality clincher tire you need to be using latex tubes, period. The rolling resistance numbers are often better than comparable tubular tires. There is real free speed on the table when switching to latex tubes. The vittoria's are well made and high quality. If you were going to get a flat on a standard tube it will probably flat the latex the same. Also you are not going to feel a difference, there is no real way to perceive a difference from a standard tube, but just because you can't feel a difference does not mean you are not getting an slight advantage.



Pro Tip: Don't let these sit in a hot car and be very careful not to pinch the tubes when installing.
Sticking with these tubes.
Familiarity:

I've put it through the wringer
I have put a good amount of miles on these tubes and have noticed a difference immediately. My bike has always been pretty harsh over bumps and cracks but this smooths it out. I raved about them and my friend put some on his bike and he says he doesn't notice too much of a difference. I didn't buy them to save weight but they are really light, kinda like a balloon. I'm 250lbs on a Cervelo S5/ Conti 4000GP
They're Fine
Familiarity:

I've used it once or twice and have initial impressions
I have no reason to doubt the reviews that state these tubes are more difficult to puncture or those that state latex tubes offer less rolling resistance. However, for those who are expecting a dramatic change when they install these, all I can provide are my initial impressions. And to sum them up, if I had not installed them myself I would not have known the tires had been switched from butyl to latex. I hope that the tubes are less prone to puncture (not that I've ever punctured a butyl tube, but my day is coming I imagine), and if they do offer less rolling resistance that's nice too. But if you're buying them because they'll "feel" different, you might be disappointed.
Great for Cyclocross racing
Familiarity:

I've put it through the wringer
I use these for racing cross because they are a little more forgiving than other tubes and they add an element of suspension to your ride. They have a removable core which I squirt 2 oz of Stans in during the fall when we get thorns. Usually I have to redo my Stans treatment in my tubeless mountain bike set up once a month because it dries up. In these tubes the Stans stayed viscous for over four months. Like all latex tubes you have to pump them up before every ride.
Next best thing to Tubulars
Familiarity:

I've put it through the wringer
These have been great. I have used the 23mm latex tubes and the 25 mm fitted with high quality 25mm tires offers a great ride quality and improves the bike for a fraction of other ways to acheive ride quality
These work very well! Totally awesome, last a long time, and repairable with regular vulcanizing patch/repair kits if need be ;)

Valve cores are removable, which make it nice to be able to use with deeper carbon rims. I like the fact that there is a 25mm version - as running 25mm tires pairs up well like pancakes and eggs :) Weight weenies say 76gms for the 23mm and 87gms respectively for the tubes. Compared to a Specialized Turbo Ultra Lite Tube in same valve length (cores not removable) and width - these are exactly the same weight +/- a gram or two - and unfortunately they retail for $17! So that said - get these, waaaaay better :)
You have to try a set!
Gender:

Male

Familiarity:

I've put it through the wringer
PROS: Softer ride, better contact with the pavement, decreased rolling resistance. This product makes the hassle of tubulars unnecessary. You need to have a set if only for race day.



CONS: You need to pump them up on rides >24 hours apart. They definitely do lose air faster than butyl tubes.



Four stars only because there is one drawback, as mentioned.
Love these tubes
Familiarity:

I've put it through the wringer
I purchased these after reading several articles on latex tubes. Very light and supposed to provide better feel and better rolling resistance (according to a few studies). Anyway, I've had zero problems. And no increased flats vs butyl tubes.

I've had exactly one flat in 6 months with these tubes (inside my Rubino Pro's or Open Pave's). I patched it with no problem (at all) with the classic Rema Tip-Top patch kit.

You -do- have to top off with air before every ride (I loose about 10-15 psi overnight). So, I top-off before I ride.

I pair these tubes with "Vittoria Rubino Pro 3" or "Vittoria Open Pave GG 3" tires (depending on weather and road conditions) for fast riding/training and with Vittoria Corsa tires for race and timed applications. Great combination!
Quality and Durability
Familiarity:

I've used it several times
These are awesome replacement tubes if you have a flat. They haven't given me any trouble and are holding up great, as I have used them many times. Keep in mind, you need to order two if you need two replacement tubes.
Save your money
Familiarity:

I've used it once or twice and have initial impressions
If you're spending this much on a tube don't you think you should just buy a set of tubulars?
Latex, and only latex...you know why?
Familiarity:

I've put it through the wringer
If one has a multi-thousand dollar bike, that rolls on high dollar wheels, shod with tires that cost more than those on your car, why would one run a cheap-ass butyl tubes? Seriously. I never understood it. Still don't...

If you run crap tires, again...why?, then a butyl tube is largely peeing into the breeze. If you are running a high TPI, performance oriented tire (Vitt OC, Conti 4000S, Veloflex, Challenge, etc.), then there's little reason NOT to run latex.

They improve ride quality, and lower rolling resistance. Don't shake your head, it's been proven...

As for the cost, swing by your LBS, and check out how much a lightweight, long valve butyl tube is going for. Yeah...$12-15. At that point, just spend the extra couple of bucks, and get Latex. Just buy a smaller cup of coffee for a few days to make up the difference!

I run these things in my Vitt OC CX, and OC SC tires. Like butter on a bald monkey....smoooooth.

And (knocks on wood), I seem to get less punctures, as the supple tire, mated with a supple tube, inflated to the correct pressure, just seems to roll OVER road debris, instead of picking it up. Yes, this has been proven too...

Sure, have a crappy butyl tube in your saddle bag, but only to get you home.




Pricey, but great ride quality
Pair these with a nice tire like Michelin Pro Race, Conti Grand Prix 4000S, or Vittoria Evo Corsa, and you'll get the closest ride quality to a tubular possible. The valve cores are removable, so I'm using Tufo valve extenders to run on deep section wheels. Unlike butyl tubes, these do not stretch so make sure you get the right size for your tires.
First time riding latex and i like it. Wouldn't say I feel too much of a difference as others have hyped about; but i like the fact that i have yet to pinch flat all summer! I re-inflate my tires every ride so pumping them up didn't bother me
I'm getting the vittoria open pave evo...
I'm getting the vittoria open pave evo clincher tires soon and they are a 700x24...

The latex tubes are available in either a 700x23 or 700-25 (yes, I know both offer a range, I am mentioning the max on one, and the min on the other).

I'm inclined to get the 23 so it stretches up to the 24, as opposed to having the larger tube with more weight.

Thoughts?
Don't bother. This looks like it is a little late but I've ran the Pave for a long time now and normal tubes are just fine. Vittoria tires are the best. No need to waist your money on a tube that may last you a week.
Best Answer
Huh...a week? Don't know where you got that info. I actually get FEWER flats with latex, as when paired with a high tpi tire, the combination is MORE supple, and tends to run over road debris, rather than having the debris get forced thru the tire, into the tube.

I actually DID have a flat a couple of weeks ago, and the latex tube leaked about half of it's air, then stopped. I rode 5 miles to the store stop on 50-60psi without issue. Never had a butyl tube do that. (Veloflex tire. It had a cut THRU the tread and casing)

And honestly, if one invests $5000 on a bike, and rides $1000+ wheels, and $75 tires, why would one use a $4 butyl tube?
Yes these do make a big difference!
After spending 6 months off the bike recovering from a herniated disc in my lower back, a friend recommended that I try latex tubes to soften up the ride. I thought he was crazy because there's no way a tube can make a difference in the ride quality, right? I was surely wrong because I could tell on my maiden voyage with the latex tubes the significant improvement! For one, the latex tubes feel as if they do a better job absorbing road vibrations. Secondly, and this could be my imagination, but there seemed to be a decrease in rolling resistance as well. Yes, it's true that you have to fill these up with air before every ride, which probably negates the benefit to my back, but overall this an inexpensive and great upgrade for your bike. I also rode with the same pair of tubes from August to December and did not get one flat (~1,500 miles). Bottom line is these are highly recommended and should be standard on everyone's bikes!
Vittoria Latex Tube is great
After blowing through multiple cheapy tubes I decided to try these out. The Vittoria Latex Tube holds air much better and handles much more of a beating than those other lame tubes. These are definitely worth a try if you have problems with your tubes leaking or popping easy.
I use the big ones for cyclocross since they are almost as large as the challenge tubes. I think they work better than the larger challenge tubes, which can be cumbersome to install. I run 35 psi and think 30-32 is doable. I weigh 160 lbs. I am amazed I haven't pinch flatted considering the abuse I've put these through. But the tubes have nice thick and supple walls and seem to take the hits in stride.
Get them, you will not be disappointed
Gender:

Male

Familiarity:

I've put it through the wringer
I don't often write reviews, but when I do you can be certain it was well worth my time.



The latex tube (irregardless of Mfr.) is one of the most under-appreciated additions any serious roadie should consider for their ride.



I mounted my race tires in March of this year with these exact tubes and a set of Continental Attack/Force tires for my CAAD9 race rig. Throughout an entire race season of 30+ races and all the training miles between ranging from crits, to full on road courses, these tubes have performed flawlessly. They lose about 10psi of air over the course of 24 hours, but if you are a dedicated cyclist, you should be checking your tire pressures daily anyway.



I have hit multiple potholes, rocks and debris that should have flatted my tires on the spot with nary an incident. Where I watched fellow racers and friends flat on courses, I kept racing and finishing strong. Since my initial purchase earlier this year, I have purchased two spares to keep in my seat bag and replaced only the rear Force tire from finally showing cord in the tread. I re-used the same tube and it is still running strong. They weigh 75 grams each which is inconsequential in the grand scheme of rolling resistance.



For the time that these tubes have lasted, I would have bought multiple butyl rubber tubes and spent the same amount of money, if not more. They pay for themselves over the course of a season.