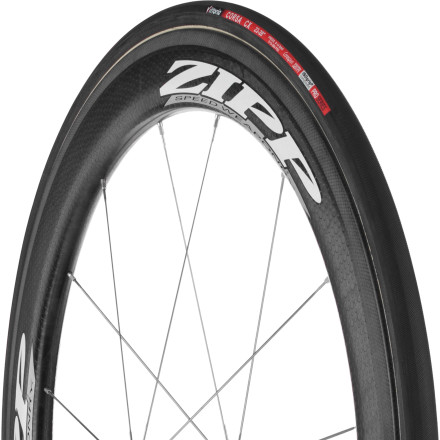 Detail Images

Community Images
The king of tubular tires, the Vittoria Corsa Evo CX, now comes with an unbelievable 320 TPI Corespun K casing made from alternating Polycotton and Kevlar threads. More TPI means a more supple ride, no matter what PSI you prefer. Vittoria's Compressed Wrap makes use of the highest grade of Corespun casing cord and rubber compounds, resulting in a casing that allows the Polycotton and Kevlar threads to act independently, which reduces surface deflection and rolling resistance while maximizing puncture resistance.
The victory list of the Corsa CX is spectacular, and folks who choose to race on tubies demand the CX more than any other tire we sell. Its herringbone tread pattern provides an ideal combination of traction and low rolling resistance thanks to its Twin Tread Technology where harder tread is placed in the center of the tire where the wear occurs, and a softer compound is used on the shoulder for better grip. A thin, lightweight PRB puncture resistant belt is placed immediately beneath the tread to achieve maximum puncture protection while maintaining low rolling resistance. A latex inner tube further adds to the puncture resistance and also lessens the rolling resistance over butyl rubber tubes. The tread is built with a silica enhanced Kevlar Carbon 3D SiO2 compound to give their tires longer wear life and supreme grip. It's available in 700x21c and 700x23c sizes and has a 42mm presta valve.
Corespun 320 TPI casing construction makes for an exceptionally lightweight, flexible tire KEVLAR?? SiO2 3D compound enhances grip and reduces rolling resistance
Puncture Resistant Belting (PRB 2.0) protects your tire from flats
Hard tread on the bottom and softer compound on sidewalls gives unparalleled cornering grip without sacrificing durability
Max psi of 200
Brilliant Tubulars
Familiarity:

I've put it through the wringer
I got these (21mm) when they were 50% off which makes them an absolutely killer deal. I do about 40 miles a day on them and they have held up for the last 600 miles. The grip and ride with these is phenomenal - just remember to run the pressures pretty low (70-90psi) and it will iron out most vibrations of a chip seal surface. Highly recommended, although they do seem to get small cuts quite easily.
Unanswered Question
Are Vittoria tires known to run narrower...
Are Vittoria tires known to run narrower or wider than their listed widths?
These tubulars are awesome! It is like being glued to the road when railing corners, and feel super-fast too! Can't recommend them enough.
There are a lot of factors when it comes to tires. These tires meet all the criteria. They're sticky and super fast at the same time. But what sets these tires apart is their reliability on wet roads. I know these tires will keep me upright in the rain. Period.
Do these have removable valve cores so...
Do these have removable valve cores so sealant can be used with them?
I think the older ones do, if the valve is the brass colour. If the valve is red, I believe they are not removable. You can contact one of the tech gurus and they will give you the info you need.
These are a very high-end race tubular, so I would not be inclined to put sealant in these, they are meant to stay as light as possible to limit resistance.
These do not have removable valve cores, but the ENTIRE VALVE is removable from the tire. To add sealant, have the tire off the rim, and remove the red valve completely from the tire. Super easy, and easy to replace the valve if you break it!
I've been told to get these in 700 X 20....
I've been told to get these in 700 X 20. Is that one of your options?
We have 21's but no 20's, 28x21 is the same size as 700x21.
Are these good for everyday usage?
Are these good for everyday usage?
Sure! Why not? It's a little more expensive than other options, but you'll have a great ride!
I use them every weekday about 20-25 miles on my Zipps.
Bought the Corsa Evo CX from Real Cyclist and it was at my door in Boulder a couple days later. Glued em on and raced in them the next week in a 70.3. Great tires and great service from Real Cyclists.
Write your question here...Where can you...
Write your question here...Where can you get the valve extenders for these tires?
http://www.realcyclist.com/roadbike/TUF0007/Tufo-Valve-Extenders.html


Thanks