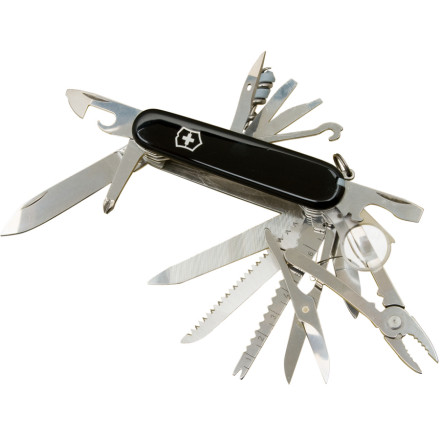 Champ isn't a moniker Victorinox throws out lightly, but the SwissChamp Swiss Army Knife deserves it. Whether you're shaping a multi-prong spear to catch a catfish lunch, or need to start a survival fire with a magnifying glass, this palm-sized winner has you covered.
Large blade, small blade
Can opener with small screwdriver, bottle opener with large screwdriver & wire stripper
Scissors, pliers with wire cutter, wood saw, metal saw with metal file & nail file
Fish scaler with hook disgorger & ruler
Magnifying glass, reamer with sewing eye
Phillips screwdriver, fine screwdriver, mini screwdriver
Corkscrew, hook, wood chisel, straight pin, toothpick, tweezers
Ball point pen, key ring
SwissChamp
Gender:

Male

Familiarity:

I've used it several times
The Swiss Army SwissChamp has everything most people are going to need in a multi-tool, knife combo. Keep this on you when doing indoor or outdoor projects, camping, hiking, etc.

Here is a place that has them in stock at a great price with super fast shipping!

http://bit.ly/SwissArmySwissChamp

https://premiumselectsupplies.com
All around Medium Duty Tool
Familiarity:

I've used it once or twice and have initial impressions
Excellent fit and finish and maximum versitility for medium duty jobs. For heavy duty pay more and go to a Multi tool.
Best Answer
It's heavy: 7.4 ounces (or, "half a pound!" as they say!)
A Wonderful tool!
Gender:

Male

Familiarity:

I've put it through the wringer
This is a BIG knife and has nearly everything you could ever want. It doesn't have a lawnmower or a portable generator, but you could definitely build one of each if you own this knife. You could then turn around and sign the patents for the things you created and keep the keys to your factory on the key ring.

In short, this is the most versatile and amazing tool I've ever encountered. Get it if you can!
Good warranty, I've had it for 26 years
I've carried this knife with me daily since 1986. It has given me many years of faithful service. However, compared to a letherman, the pliers are quite weak. I've broken the pliers maybe 5 or 6 times in the 26 years I've had the knife. The Warranty service is great though. They are very slow, but they fixed my pliers. They have even replaced the knife twice over the years. The Ballpoint pen feature is quite handy. And the instruction book gave a great tip--that you could use the corkscrew to untie knots. Overall the knife is halfway decent, but a Leatherman has better pliers and better knife cutting blades.
This is a HUGE knife. Although its got a bunch of neat-o stuff in it, I'm a bit unsure about it. Its typical Victorinox quality (which happens to be fantastic), and has tons of little ingenious things about it. When I first got it, I thought "When the heck am I ever going to use this little thingy," but as it turns out, I've used every tool in bunch, and been thankful I had it. The pen is handy, the straight pin is good for splinters, hook for tying knots with cold fingers, chisel for carving, reamer/leather sewing thingy for punching holes into just about anything including sheet metal (incidentally, I've never used it for sewing), and the list goes on and on. But the only issue about these are the pliers. Yeah, sure, they are useful and all, but they just aren't heavy duty enough to do any real around the house/shop work, and they make the knife so stinking big. Although they are GREAT for pulling hooks out of a fish, they just don't cut it compared to a Leatherman.

If you want a do everything tool, this is a good knife. I had mine for ten or fifteen years, and it was always handy and I loved it. However, when I lost it, I ended up getting a Champion Plus which is nearly the same but without the pliers. And although it doesn't have the pliers, I actually love it much much more. It fits in my hand better, it fits my pockets better, and it fits my pack better. And the pliers? Well, I don't really miss them much.

Like I said, if you need pliers, go with a Leatherman. If you don't need pliers, go with the Champion Plus (its also 1/3 the price!). If you want it all, then this is the closest thing you'll get, but you just won't get it all with this one.