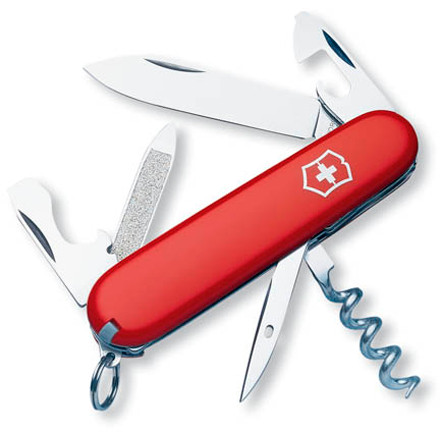 Community Images
Description
A small tool to help open life's small pleasures.
The Victorinox Sportsman Swiss Army Knife's large blade helps slice apples on your picnic dinner, while the corkscrew comes in handy for the wine bottle. Not into wine? The Sportsman Swiss Army Knife also has a bottle opener for your favorite brews. If your beverages are more of the cheap-but-plentiful-pack variety, the reamer on this knife helps you poke small holes in your buddy's aluminum can when he's not looking. Tweezers, a toothpick, and small and large screwdriver heads on the openers round out this Swiss Army Knife.
great little knife
Familiarity:

I've put it through the wringer
The only thing missing for me is a pair of scissors, otherwise it is a great little knife and I hardly notice its in my pocket. It has the standard Victorinox durability and still looks brand new after years of use.
Every boy scout's best friend
I've had mine for many a year now and has yet to fail me, the honest truth... you'll probably never use anything more than the knife blade and bottle opener but that's not the point! It's still awesome, and every boy scout of america should be equipped with one!