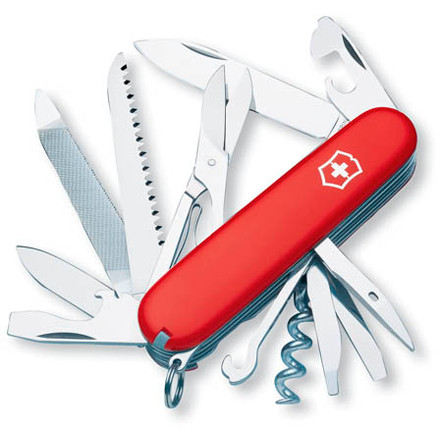 Community Images
Description
Live outside of the box.
The Victorinox Ranger Swiss Army Knife helps you get out of sticky situations, like when your ankles are tied together with rope and you're stuck in a thin metal box. Flip the wood saw out of the Ranger Knife and make quick work of the rope. Then stab a hole in the metal with the reamer and make the hole big enough for the tip of the Victorinox Knife's metal saw. If you have to squeeze out of the small opening you cut in the box, use the metal file on the side of the saw to take down the burrs. The scissors and knife blades quickly cut Duct tape.
best array of features for the price
Familiarity:

I've put it through the wringer
First off the blades are sharp and usable right out of the box, and this is probably my favorite Swiss Army Knife, its equal parts simple clean and functional. I have mine attached to my fly fishing chest pack by a segment of mil spec 550 cord. The cork screw is fantastic for untying wet or otherwise fouled up knots. The awl is great for field repairs on any canvas packs or tents. For anyone who still takes canned food into the back country certainly do a table top check at home to see if the can opener will in fact allow you to access the contents, some cannery crimping methods make this style of can opener frustratingly inefficient. The bottle opener and chisel both make for a small yet good pry bar. The included saw is of course a fine tool for processing small tinder. Of my two criticisms only one is a critique on the tools quality, the other is simply a mater of opinion. I have never cared much for the scissors on Victorinox gear the spring clip is weak and prone to failure. If you intend the scissors to be a primary function of this kit, Leatherman offers a myriad of choices with robust scissor assemblies. Lastly this tool can be difficult to use when you yourself are cold. Its a relatively small tool even by standards of folders and the close tolerance between tools can make it near impossible to use when you've lost finger dexterity.
simplicity
Familiarity:

I've put it through the wringer
The ultimate in simple classic swiss army knife. Don't expect it to do anything serious, that's what heavy fixed blades are for. But, for everything else it is great.
Versatile Victorinox
Familiarity:

I've used it several times
You will be hard-pressed to lack for a tool out in the backcountry if you happen to be toting this puppy around with you. I have yet to use nearly every tool, as situations have not (unfortunately) presented themselves to the point where I could bust it out and fix a problem or ameliorate some ill-fated scenario.

However, the opportunity to do those things, and so many more are made available the moment you stash this in your pack. Weighing in at less than 5 oz, it won't break your back, and your bank will be happy with you as well. If you can find it somewhere and need a good multitool to carry day-to-day, or while being a super rugged hoss-cat out in the middle of a forest, nab one of these...while you can.
First swiss army knife
Familiarity:

I've used it once or twice and have initial impressions
This was my first swiss army knife and it has all the fun little gadgets I could ever need. Definitely need some nails to pull the blades out. Be careful my little boy got a hold of it and cut his finger, blades are sharp!
The best swiss army knife
Familiarity:

I've put it through the wringer
My favorite swiss army knife! I've a version of this model for almost 30 years. Has every tool you need and few you didn't know you did. As with any swiss army knife, before careful opening and closing it when you first get it. The hinges are tight and the blades are sharp. Every time, I get a new one I seem to forget this and earn a new scar to show off. Great gift for your self or your friends. You would be surprised how many of your friends haven't had one since there teenage years.
I have one that I bought in Zermatt, Switzerland. Used it through dozens of survivex's in the army, carried in on 3 continents, through 2 conflicts and through 20 some-odd years camping in the Great Smoky Mountains National Park. I own several knives, fixed-blade and folders (about a dozen Victorinox's), and if I could only grab one to take with me into the bush it would be my venerable old Ranger. So take it from another venerable old Ranger - this knife will be the best $30 (or so) bucks you will ever spend. It will be for you what it has been for me - a trustworthy companion down through the years that only gets better with age.
I have one similar to this minus the two flatheads on the bottom, and the file and saw on top. There were other knives more similar but I wanted to make sure I reviewed one with the scissors, because they are just incredible. They were one of the main things I was looking for on my knife when I got it... in Interlaken, Switzerland. They cut through pretty much anything, nylon, rope, unreasonably thick plastic packaging, even 1/4" thick leather with no problem. I've had one with scissors on it practically my whole life, but I lost my small Swiss Army a year or so before going to Switzerland. Good reason to buy another :)

My point is, get a knife with scissors, they rock! everything else is top knotch on the knife also, I recently sharpened it (after three years going strong) and it's fresh again. I mean c'mon, I shouldn't have to say much, it's Victorinox, Swiss made products tend to be incomparable.
I've had this knife for around 6 years now and its still just as good as the day I bought it. Main knife is hair shaving sharp, small knife is hair splitting sharp. Use it everyday for anything from prying off plastic lids to building shelters out in the bush. The only thing I would omit from this knife is the corkscrew (not a wine drinker), other than that I have, and will continue to use every single function this knife has to offer on a daily basis. Only maitenance I've had to perform is periodically (twice a year) is drop it in a Ziploc bag with some oil in it, and sharpen the knives. Saws are still in excellent shape, although the wood saw has begun to dull near the tip. I tend to opt for the can opener even when electric ones are available. The metal saw works equally as well for stone and plastics. The scissors are adequate but a little small for anything substansial. Chisel is fine for small projects. Reamer is good for anything needing punctured. Parcel carrier is kinda worthless for parcels, but all the other functions more than makes up for it.
My primary arsenal of multitools consists of leatherman products, but you cant deny the simplicity, light weight and portability of the Ranger! The cork screw, scissors and tweezers were the core of my uses. The version I have is less the saw. I have had this knife for many years and have just recently passed it on to my son, who will hopefully not cut himself as the blades have remained sharp! These knives are made to last forever with little maintenace. And despite the (cool tools) on the market have remained a part of everyones outdoor expierence.
MacGyver eat your heart out
I have been using Swiss Army Knive for years and it has never failed me. All the special gadgets make me feel as if I can handle any situation. My Swiss Army Knive has accompanied me on all of my thru-hikes but I just recently found out about the tweezers and the toothpick. How cool is that to find 2 more great features on a knife full of great features..!! If MacGyver had this knife he would be unstopable..!!