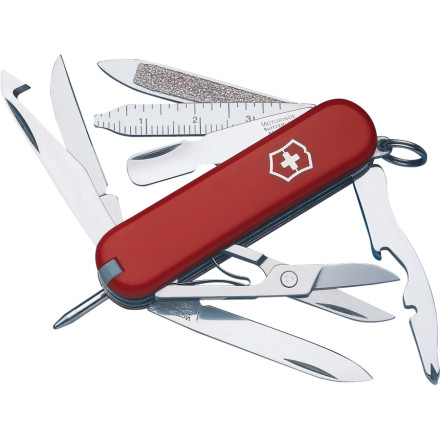 Videos
You???re never without a pen???or an orange peeler, or Phillips head screwdriver, among other things???when you carry the tiny but powerfully handy Victorinox Minichamp Swiss Army Knife. Small enough to carry around on your key ring, this feature-packed knife contains the tools you need to get through a busy day.
Tools include: Two blades, screwdriver with ruler, tweezers, scissors, cuticle pusher, nail file, bottle opener, wire stripper, Phillips screwdriver, pen
What do you think about this product?
Have questions about this product?
Everyday
Familiarity:

I've put it through the wringer
You wear jeans yeah? The ones with that little 5th pocket over your right pocket? Yeah, that's the one. Guess what?! This puppy fits in there real nice!

I carry this MiniChamp everyday in there. I actually forget it's in there.

Swiss army is easily the best pocket knife/tool to carry everyday (EDC). As stated by Mr. Roeber earlier. Victorinox really does have their quality control down to a T.

Their products are seriously the best!

Better than that... hmmm..what's that company? Leather... something with a dude... yeah Leatherm_n that company.. P.s. leatherman rusts.. unlike victorinox with that high shine.



It's weight:

Entire Knife: 44.8 grams

And for you crazy weight nuts...

Pen: 0.8 grams

Tweezers: 0.8grams



You know, if you REALLY want to shed some weight :)



Here's a picture of how the pen should be used in case you didn't know.

Pop the ruler out:




Victorinox Minichamp Swiss Army Knife
Good things really do come in small packages!
Love my minichamp. I carry it every day when I'm not carrying my Huntsman. Super useful, and has a lot of great features to help you through the day. Victorinox spends a lot of time in making their knives, and it truly shows. the craftsmanship is impeccable.