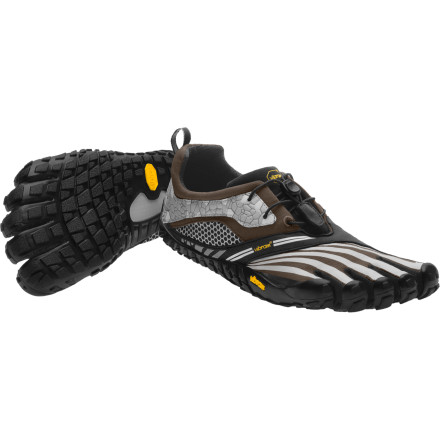 Detail Images
You joke about suffering at the hands of your parents. While they were actually pretty good grown-ups, they made you wear shoes and you hated that. The Vibram Men's Spyridon LS Trail Running Shoe makes it easy to get back to basics and enjoy the freedom of running through the woods barefoot. Well, not literally barefoot because that makes you bleed (turns out they were right about that), but in a barefoot-minimalist running shoe with a barely-there feel for a barefoot-like experience. With individual toe slots and aggressive tread, this trail-specific shoe protects your paws from rough terrain without compromising ground feedback.
With one quick pull, the speed-lacing system shapes the uppers to the specific silhouette of your foot for a custom fit. Nylon and mesh uppers let your foot breathe easy and help foot-sweat dissipate quickly. Each toe has its own home, promoting digit strength and overall balance and foot control. Toe bumpers protect your tootsies from rocks and tree roots you stumble across along the trail. The 3mm polyurethane insole is covered with antimicrobial Dri-Lex to keep your shoe smelling good and your foot feeling dry.
Trail running requires a firm footing on solid ground. Flip the Spyridon over for a close look at the 3.5mm-thick Vibram XSTrek rubber sole. This assertive sole grips the earth without hesitation, and it maximizes impact protection without adding a micrometer to the 0mm heel-toe drop. Molded nylon mesh in the midsole provides a "rock blast" effect. No, this isn't dynamite, but rather a whisper-light way of dispersing foot-strike impact over a wider area. The greater area for impact absorption, the less likely you are to feel the sharp prick of pointy scree or lance-like limbs that have fallen.
Nylon and stretch mesh upper
3mm polyurethane insole
Dri-Lex antimicrobial insole cover
Speed-lacing system,
0mm heel-toe drop
Vibram XS Trek rubber sole, 3.5mm
Machine washable, air dry
And these shoes should be worn by barefoot...
And these shoes should be worn by barefoot without socks?
Yes, these can be worn barefoot. The use of a foot powder or spray disinfectant will help keep your feet comfortable and any odd smells from being distributed. There are also a few companies who make toe socks like SmartWool and injinji which you can find these great sock choices at: http://www.backcountry.com/Store/catalog/search.jsp?q=toe+socks&s=u



Happy running and hiking!

Scooter
Normally the sizes of 41 and 42 are all...
Normally the sizes of 41 and 42 are all fit to me, now what size should I choose for this model? Thank you1
These are very true to size. One way to ensure that you're picking up the right size is to grab both and then send one back. I can help you out with this if you give me a call at ext. 4405 or ask for Scooter.

Love running barefoot, but as I matured protecting my feet were an issue, the FiveFingers have allowed me to enjoy it once again.
Versatile, Durable, Comfortable
Familiarity:

I've put it through the wringer

Fit:

True to size
Love these new VFF Spyridon's. Use for Trail run, hike and golf. Great Traction, and new nylon plate in sole protects from rock or sharp objects better then any other VFF I have had. Have 3 prs. Highly recommend these Spyridons for any on or off road use.
My fav Vibram Five Fingers to hike in
Familiarity:

I've put it through the wringer

Fit:

True to size
I use the Five Fingers Spyridon to hike / trail run in the Wasatch mountains of UT. I typically hike / trail run on dry conditions in Mountain trails of rock, packed dirt, and forest roots. The Spyridon is an able shoe for all I throw at it. The protective plate baked into the sole distributes pressure when I step on one particular stone or unexpected sharp edge. The mesh plate of the Spyridon gives me confidence and peace of mind that I won't go home with sore feet from too thin of a sole. Its a great blend of barefoot and protection.

I also take them for river crossings on backpacking adventures.