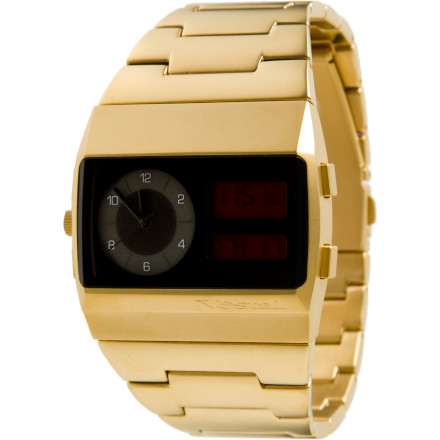 Take the opulent luxury of Monaco???s capital city: furs, sports cars, diamonds, and rows of neatly stacked chips waiting for the wheel to multiply their worth. Mix it with a little metal attitude???long hair, a shattered drumstick, and ear-bloodying decibel levels???and you end up with one bad-ass watch. Strap on this sophisticated watch and look great while you???re kicking ass.
What do you think about this product?
Have questions about this product?
Got this watch a while back when it first came out, straight from Vestal. It's a solid watch and the big face attracts a lot of attention. I get complimented on it A LOT. It is a little on the heavy side b/c of the big face, so I wouldn't recommend this as an everyday watch. Still a solid buy and great for a night out.
This watch is pretty good for the price. it's comparable to my Nixon Banks, Nixon Sentry, and Nixon Spencer. Good watch. Like the back light and has a stop watch. Band runs bigger than Nixons'.