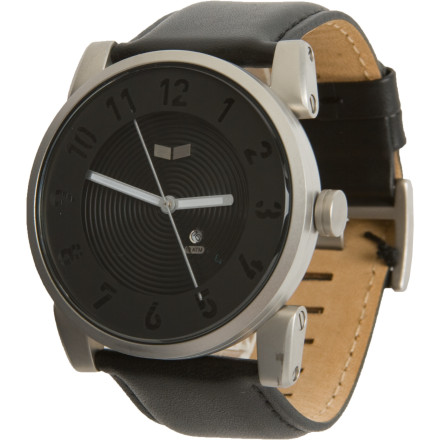 Detail Images
The Doppler Watch from Vestal will show you the time, and it also might hypnotize you into thinking you are a cat. A similar thing happened to you when you volunteered at a stage hypnotist show at the state fair, except, that time, the hypnotist had you convinced that you had grown a set of really great tits. Anyway, the Doppler's concentric rings and bold numbers are hip beyond belief and will have you in a trance the moment after you look at that watch face and slowly begin counting backwards from twelve, eleven, ten, nine, ei…
GREAT SHAPE, COLOURS AND CLEAN
I love this watch... It's my daily wear and I always get compliments on it. Whether you dress it up or down, it's a great accessory, has a great face, and a killer leather band. I travel extensively and this watch has been with me around the world. It's simple, clean and timeless.
Unanswered Question
how big is the face to this watch?
how big is the face to this watch?
I have really skinny wrists and this watch still works. This watch has some serious weight. Also the 4 corners of the band hinges actually have hinges too so this thing can fit on literally ANY wrist comfortably without any issues. The housing is pretty tall though, you can't really tell from the photos.