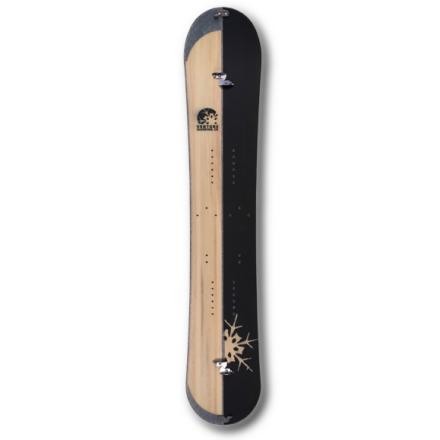 Detail Images
What do you think about this product?
Have questions about this product?
Picked up a divide (regular not the wide) and love it! Im 5-10, 155lbs and have been riding a 161cm. It handles great in the deep backcountry powder and super responsive through the trees, but is a little cumbersome on the groomers if your accessing backcountry from a resort. I set it up with sparks ignition II binders instead of the voile system and couldn't be happier. Switching from touring to riding is painless and the binders feel great on the board.
Rock solid performer -- up & down
With the "Manitoba Mauler" bearing down on us this past weekend (60+ inches in four days), I finally pulled the trigger on a splitter. After multiple climbs totaling some 10,000 vertical feet in tight-ass, steep woods over the last two days, the verdict is in on the Venture Divide: this board is the bomb in both ski mode and on the descent. Coming off my regular board, a Palmer Carbon Circle, I had become addicted to short-swing turns with plenty o' pop. So, I was concerned that the Divide, with the added weight of the Voile interface, would prove somewhat of a compromise. But, no effin' way! It slashes perfectly in all types of snow I encountered, from pow to wind-sculpted waves to the tracked-out trail down to the parking lot -- the flex and side-cut are dialed in. The construction looks impeccable and durable to boot (non-cap, of course). Score one of these and you will be one happy shredder. P.S. -- get the BD cheat sheets for the Voile skins, some skin wax, the long Voile bail for the burliest climbs, keep a scraper handy to help peel the tail of the skin when removing and to eliminate any ice on top of the board to prevent buildup (and more weight). For the woods of the East and at 180 lbs plus 30 pound pack, I'm on the 161 cm medium-width Divide with the front binding pucks all the way back and the rear one notch from all the way forward -- this brings your feet closer for dynamic, quick turns and gives you plenty of float/nose for the deep stuff -- in my opinion, anyway. Hope this helps. -- KM