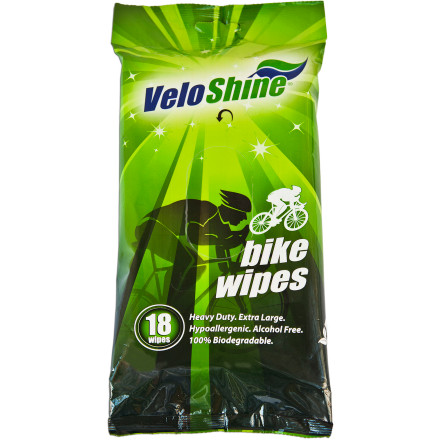 Description
Like TP for your bike, but better.
Let's face it, a clean bike is better than a dirty one. But how often does your bike truly need a full-on wash? Probably less often than you'd think. Most of the time, you'd be wise to simply clean the sweat and/or drink residue from the frame tubes and occasionally wipe the excess lube and grit from the chain.VeloShine Bike Wipes are a handy resource and are perfect for the quick touch-up cleaning job. Bike Wipes come in a package of 18 wipes. Each one is 8" x 11" and is moistened with all natural ingredients that won't harm the finish on your bike frame or components. In fact, they're hypo-allergenic, and you can use them on your skin if you find yourself in need of a touch-up after a race or ride. The wipes are bio-degradable and come in a re-sealable package.
Share your thoughts
What do you think of the
VeloShine
Wipes - 18-Pack
? Share a...
Gentle for bike and body
Familiarity:

I've put it through the wringer
VeloShines are excellent for wiping dirt, mud, and grime off your bike without worry about harsh chemicals or de-greasing agents. They cut through the muck, but are also gentle enough to use on your body for a quick trailside wipedown so you don't foul up your (buddy's) car...Also, VeloShines are a lot tougher and more durable than baby wipes. They don't tear easily if caught on bike components' sharp edges, and can be rinsed/squeezed out if you have fresh water handy and want to get another quick wipedown in lieu of a thorough cleaning...VeloShines aren't cheap on a per-wipe basis, but each wipe does a lot.
Piece o' cake
Familiarity:

I've used it once or twice and have initial impressions
Quick way to give your bike a wipe-down after a ride. Makes cleanup later easier.
Makes bike cleaning much simpler
Familiarity:

I've put it through the wringer
These are really useful for quickly cleaning a road bike or a mountain bike that isn't completely covered in muck.
Handy
Familiarity:

I've put it through the wringer
Wipes are large and heavy duty so I usually only need one to do the job. I like the resealable pop-up packaging, too. I keep a package in my car and one in my workbench drawer. Biodegradable and contain no harsh abrasives or chemicals that might damage my high-end frame. Best for quick clean-ups to remove dirt and grime from the frame and wheels but, as the manufacturer states, they don't remove grease so I don't use them on drivetrain components. I use Simple Green for those jobs.
I love these things!
Familiarity:

I've put it through the wringer
I live in an apartment and don't have the time or space to give my bike a good washdown. The Veloshine wipes do the trick just fine. They clean my bike and my hands. I can usually wipe down my entire bike with one piece. They're very tear resistant, smell good and stay moist forever. Every bike tool box should have a pack.
Velo Wipes
Familiarity:

I've put it through the wringer
Velo Shine Wipes come in handy when you have just ridden a century or metric mile ride and you are miles away from home. Riding conditions change from moment to moment here on the East Coast during the Summer and having these handy wipes available after a ride one gets caught in riding in and out of the rain or some of the roads have a gravel, dirt, or mud entrance to the rest areas. Being able to quickly wipe down your bike makes it easier to do once you've made it home to remove the grit and grime from your machine!
these are great!
Familiarity:

I've put it through the wringer
These things are great for a quick wipe of the bike. Not too big and they can also be used to wipe yourself down too. I've bought many packs of these and always keep a pack handy in my race bag.
Love these things!
Familiarity:

I've used it several times
I am very bad about cleaning my bikes after a dusty, wet or muddy ride. The VeloShine wipes make it much less of a chore, I keep them right by the work bench and can quickly wipe down a bike in about 20 seconds after a ride. Now I don't look like such a lazy bum when I hit the road or trail.

*Side note, I did buy them when they were on sale for $3 a pack.
Convenient, easy to use
Familiarity:

I've used it several times
I bought these on a whim, while they were on sale. One of the things I really like is how the cleaning wipes are packaged, convenient and packable.They do make cleaning the bike easier. No need to reach for separate spray cleaner and rags, or a hose. Yes, these can seem expensive by comparison, but you are paying for the convenience. The cleaner that the wipes are soaked in seems to do the job well and doesn't look to harm the paint. Since it's so convenient, the chances are better that I will wipe my bike down following a ride.
These are big and sturdy. Do a nice job wiping down a whole bike with even an above average amount of road grime. But at $0.50 per wipe, they are pretty expensive compared with smaller, flimsier disposable household cleaning cloths that I can pick up at the grocery store.
A Good Start For Bike Specific Wipes
I gave the VeloShine Wipes a shot as I know how important it is to keep the rigs clean and it met with positive results and a few complaints. The wipes did a really good job of cleaning away dirt and grime and even took off heavy grease with a bit of work.

I was surpirsed at how quickly the cleaning agent wore off though. I understand that when a bike has been left for a few rides for it to take a few wipes to get clean again. But even after one ride I was using at least 2 1/2 to get a full clean in. I've seen a few kitchen surface wipes that last longer.

I'll try re-wetting the parts that don't have grease in the future and see how long they last. Overall, a good solution to taking out the bucket and hose all the time, but could improve over time.
Good in dusty/dry weather
These work really well when it's dusty and dry, and you need a quick wipe to clean your bike off. Much more convenient than washing the bike. I'm guessing they'd be far less effective in damper climates where there is a lot of mud to deal with.
IF YOU LIKE YOUR TAINT TO BURN. Remember that this are for the bike, not your grundle.