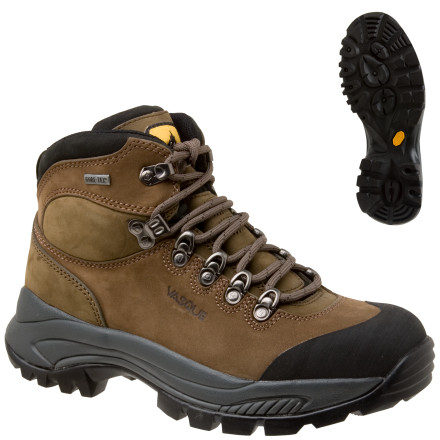 Detail Images

Community Images
The once-smooth trail has become three inches of mud, and the view stays obstructed by clouds, but your feet remain dry in the Vasque Women's Wasatch GTX Hiking Boots. Their Gore-Tex waterproof breathable inserts keep out the moisture all week, even though it rains every day. The gear in your pack weighs fifty pounds, but you carry it easily thanks to the support of the Wasatch GTX Hiking Boots' Flexframe 3 shanks. These Vasque boots weight only 2lb 12oz, so you don't feel like you have a pair of massive waffle stompers on your feet. *These boots come in a medium width only.
I work at a zoo so I've put a lot of mileage on these boots in all sorts of conditions. Rain, snow, mud, muck, gravel, and who knows what else. My first pair lasted a little over a year of constant use. I was in these 40 hours every week, sometimes more. The Gore-Tex waterproofing held up throughout that time and I couldn't be happier in that aspect. They are also very comfortable to wear and I found I needed no break-in period with them. They are decently warm with a pair of wool socks, but are not good on icy surfaces. The boot itself also started to break where you would bend your toes. I bought a second pair and had the same result of the boot splitting at the toe, but this time I was only in them for about 7 months. This crack was worse than the first since it ruined the waterproof integrity.



I suppose these would be good for light work, but they certainly do not hold up to extreme working conditions or constant use.
Comfortable, but not durable
I loved that these boots were comfortable right out of the box: they were very supportive without weighing a ton. There was no break-in period, none.



Unfortunately, neither the waterproofing nor the soles have lasted. They now wet through very quickly, and there is a crack across the sole at the ball of my right foot. I have had them for three years, but they've seen relatively little use in that time (the tread itself shows minimal wear).



As another reviewer said, if you don't plan to wear them often or for long hikes, they're probably fine, but if you plan to hike in them more often, I'd look elsewhere.
Not built to last
Gender:

Female

Familiarity:

I've put it through the wringer
I've had these boots for two years and wear them daily for fieldwork about 8 months of the year. I have to say that for the price, I am disappointed that they are coming apart. I expected sole wear (most of the tread is nearly gone and there are cracks) but the upper has also given up across the toe box (cracked). If you want a comfortable pair of sturdy boots that you only plan to wear 5 or 6 times a year - these are great. If you happen to want more from your money- spend it on something else.
Won't go the distance
Gender:

Female

Familiarity:

I've put it through the wringer
I have had these boots for less than two years and the sole of one just split across the ball of my foot. I guess if you are using it for light hiking on trails, they would be fine. But if you're hiking up and down mountains daily, it's a no go for this boot.
I'm returning these boots because my right ankle was killing me after wearing them for a 10-12 mile backpacking trek this past weekend. In all fairness though, I'd only worn them around the house a couple of days and on my elliptical for an hour and a half or so before this trek so I probably didn't properly break them in before putting them to the test. We hiked Clifty Falls State Park in Indiana and it was cold and muddy and it rained on us most of the time. I loved them for their durability and waterproofness! I am usually a 6.5 but I bought a size 7 because I knew I'd be wearing liner socks and thick wool hiking socks. I'm not sure why my ankle was so sore, there wasn't anything there rubbing on it. I can only figure it's because the boot was too big and not properly broken in. I'm still debating if I should order them again in my regular size or try a different boot.
Right away, I could feel that the sizing was good and the boots were comfortable. Did some all-day hikes, and at the end of the day, my feet were still happy. Stepped in some somewhat deep mud/slush/muck, and my feet stayed dry. Great boots!
should I buy a half size bigger than my...
should I buy a half size bigger than my regular shoe size?
I did and wore them with a liner and a thick wool sock and they were still too big for me. I'd recommend, for this specific boot at least, order your true size.
These boots were made for walkin'....
I am currently thru-hiking the Appalachian Trail, southbound. As boots are my means of transportation, I took my shopping very seriously.

My last pair of boots were made by Vasque, and they fit my feet much better than the Asolo and Zamberlain boots I tried on. They required basically no break-in time, though I have had problems with them rubbing my pinky toe, and my heels when they're wet.

Overall, I have been very satisfied with these boots, despite their current condition. As long as water doesn't enter from the top, they stay relatively dry (sweaty feet make them a tad moist naturally). If they do get wet, they take forever to dry. I hiked through Maine post Hurricane Irene, and had wet feet for the entire state. I have put 1,000 miles on them, and they are at the end of their usefulness. I've a 2 1/2'' crack on the ball of my foot, had my first piece of tread rip off, and now have water leaking into my boots. For the terrain and mileage I've put them through, I'm still pleased with them and plan on replacing them with the same boot.

I would definitely suggest this boot to anyone.
So I've had my boots for 3 years and used them A LOT for field work and hiking on weekends. They just started to really wear out on me. It took 3 seasons (6 months to 8 months) of wearing them everyday in all types of terrain (on trail, off trail, wet, muddy, talus, morraines, snow fields, pumice, etc.) for the tread to finally go. Not too heavy and the waterproofing is great! Always went straight through creek crossings, puddles, etc. as long as they weren't deep enough for the entire shoe to go in. Used them for snowshoeing also and they did great. They didn't take much at all to break in either. Though I did replace the footbeds with better insoles, but that's personal preference. Always felt steady when carrying a heavy back, usually up to 35 lbs the most for me. Only complaint was that these are not breathable at all. As soon as an opportunity allowed, I'd take them off to let my feet breathe. If you don't wear them as often as I did, these should last for a LONG time.
quality boots, great breaks. Easy to break in, super comfy with the right socks. I added green Super Feet in mine and it also made all the difference, but im sure theyre still great without. You wont be disappointed!
My wife use it for light trekking and trailling for 2 years. she tall me they soft. have good grip on all gruonds and have a good width for here foot.
Thay r not for havy backpacking!
I have a love / hate relationship with these boots. I absolutely love how they wear and feel. They are the most comfortable pair of boots I've owned. On the other hand after having them for 2 years and hiking in Patagonia in Argentina on a typical day (rain,snow, sun) day in Patagonia - my feet started to get wet. Didn't think too much of it, but wondered why. Next trip a couple months later wore them backpacking in Montana and hit snow / rain mix at 7000+ feet. They totally gave out. I had to ring the water out of my socks by the time I got back to camp. Not fun to wear wet boots and wet socks when backpacking and the weather is now cold. Brrr. Had to make a stop after that trip before hitting Glacier to buy another pair of boots.
Comfy? Yes. Able to withstand 100% slopes? Not so much. Within one month, the soles completely split on both boots, right across the ball of my foot, Not recommended for heavy off trail use.
These boots are simply amazing! I decided just weeks prior to my hike that I needed a new pair and decided on the Wasatch even though I "thought" I wanted something lighter in weight. I got them 2 days after I placed the order - shocked! They only got a little bit of wear on some small hikes before I headed up the long hike of Yosemite's Half Dome and performed beautifully!! They gripped the granite perfectly up the cables and just as well coming down. Superb ankle support along all that bumpy terrain and climbing of steps. With all the water coming off both of the falls, these boots never leaked water to the inside. No blisters, and it was a long hike. I LOVE THEM! My husband even purchased a pair in men's after I got home.
Wore these around the house for about a week, but they felt comfortable from day 1. Went on a couple of little hikes and snowshoe trips and they were lovely. We hiked the 5 mile, 5000 ft elevation gain up Mt. Rainier to Camp Muir last weekend and they rocked! Totally comfortable, no hot spots, the perfect fit. I actually had bought them without trying them on in a store first and bought based on the other reviews. They have been excellent. I'll likely buy a second pair to have when these ones wear out.
Comfortable, durable boot
For anyone that has doubts about this boot, don't sweat it. I actually bought my boots in an outdoor store, because I like to try them on first before I buy. I have a wide foot, so I was expecting my boot shopping to be a pain. In this outdoor store they only had the Vasque Wasatch for womens boots. I was leery that they would work. Anyway, I tried them on, and they fit "like a glove". I honestly have never had any kind of shoe fit me that well. I thought it was too good to be true.
Well, I've been wearing these boots from day one, because these are my working/hiking boots. I have worked long hours at a visitor information desk, and have abused my boots on countless miles of trails. I live in the southwest-in slickrock country- so the territory can be real harsh on shoes.
These boots really are meant to last. You can barely even tell the extorior upper portions are worn. The vibram soles are alittle worn, but that is to be expected, for all the use they have received.
And for wet conditions? I went snow shoeing in Mesa Verde NP, after a huge snowstorm, on a fresh foot + of snow. I expected some discomfort and wetness. Nope. Not a drop. And I'm now up in Bryce Canyon NP, where they still are seeing snow into late spring. My feet are staying nice, dry, and protected.
How about summer? I use to wear sandals, and thought that was most comfortable. But since my boots fit like a glove, I don't plan on going back to sandals for summer. The best option: go buy some lightwieght socks for summer wear. I've already done that, and yep, the boots do fine in warmer clims.
Bottom line: Not everyone has the same feet, but for me, these boots fit real well, are durable, are meant to last, and oh ya-make you look like a hip outdoor chick!
Your size chart does not specify width. ...
Your size chart does not specify width. Does this mean you only carry medium widths and no wide sizes?
Hey Jennifer,Sometimes they carry wide sizes but not too often. Generally they're all medium width. In this shoe there aren't any now, as you've seen. Jump on "live chat" and talk to those folks. They'll be able to help you out with more accurate info and a lot quicker.
My wife bought these one month before our trip after her pair of 10 year old Vasques blew out. We thought the softer leather would break in quicker. She loved them and with some gore-tex gaiters they kept out all the scree, dust, and mud the mountain could throw at us. She was warm on the summit at 0 degrees (f). I bought the sturdier all leather vasques 8 months before our climb and I think they were just getting broken in by the time of the trip.
My husband bought me these boots after His dog chewed up my Northface boots. I wasn't so sure about these boots at first. But let me tell you, we have had mountains of snow this winter. Really 9 feet of snow. I have shoveled so much snow I have the best arms in work out history. And these boots have been on my feet every inch of the way. Our drive way is half a football field long, I have shoveled it in these boots & my feet stay warm & dry. I have worn these boots on our icy roofs covered with 3 feet of snow, and my feet have stayed warm & dry. And, these boots are so comfortable. From day one I have not had one single blister or sore spot & I have put miles on these boots. I like them so much I just had to buy another pair as a back up. I don't want to be without my boots ever again.