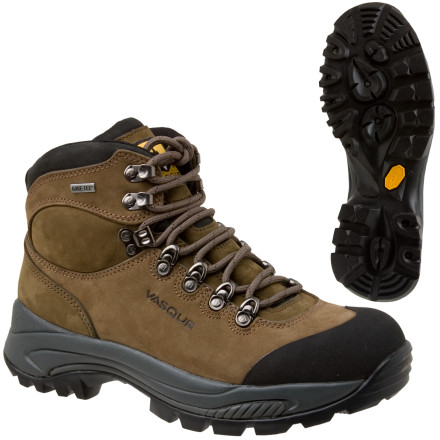 Community Images
Keep your feet dry and comfortable during a week of wet weather with the Vasque Men's Wasatch GTX Hiking Boots. Their waterproof breathable Gore-Tex inserts keeps all moisture outside where it belongs, even when the rain pours non stop and the trail becomes a mud trough. The Vibram Contact soles provide amazing traction in such sloppiness, and the leather uppers clean up nicely at the end of the trip. Vasque gave the Wasatch GTX Hiking Boots stiff Flexframe 3 shanks to help you support your pack's weight and to keep your feet as comfortable as possible.
Great Light Weight Boot but won't last.
Familiarity:

I've put it through the wringer

Fit:

Runs small
I had these for a little over a year and used them for occasional day hikes, no back-packing. They were a good fit and had good grip and were light enough to not aggravate my bad knee.

One of the eyelets tore out, no big deal. Then the other day I noticed that the sole on one of the boots had a deep crack and was about to come apart at the ball area. When I say deep crack, I mean the sole was about to be in two pieces.

I guess they are like everything else these days, designed to last a year or less, then you need look to China again for a replacement. I just wish I knew where to get a good pair of boots from Italy or USA that would last for years.

It was actually the Vibram soles that broke.The rest of the boot was pretty good except for that eyelet. I would not purchase another boot with vibram soles.
Delamination Delamination
Familiarity:

I've used it several times

Fit:

True to size
After minimal use (10 miles in moderate terrain) the rubber material across the toes (both boots) began to delaminate or tear away. This is the 2nd pr. that I've purchased with the similar boot type (Vasque). No complains with break in, sizing or comfort but will look to a different boot in the future.
Midsole is crumbling - AVOID!
Familiarity:

I've used it several times

Fit:

True to size
I've had these for a few years and put some decent mileage on them in the initial years. However, they have been in storage for the past year or so. When I eventually brought them out for an upcoming trek, I was extremely dismayed to find the midsole had begun to crumble and was separating from both the uppers and the outsole. Not a product I would trust in the wilderness. Or even around town. Plain and simple. DO. NOT. BUY.
Stomp.
Familiarity:

I've used it several times

Fit:

True to size
On my second day of ownership, I hiked two 14'ers in CO. It never even hurt. This thing grips, protects, is GoreTex, and looks good. I had done my other 14'ers in the Solomon XA Pro 3D Mid and this boot was an excellent step up into more ankle support, resistance to decay, and general Vibram grip. No slips, all glory. Buy it.
Good for females with a wider foot
Familiarity:

I've used it several times
I had a hard time trying to find a wider size hiking shoe in women's size 10 wide. I decided to give these a try. They are men's 8.5 but fit my feet perfect and are really comfortable. Besides them having more of a masculine look I would recommend them for females with a wider foot size.


Good out of the box so far
ive heard these have durability issues but out of the box and 15 miles of hiking with a 40 lb pack, they feel great.This pretty normal for Vasque boots I feel. Very supportive for heavy loads and the rubber seems to be pretty grippy on rocks. Waterproofing has been very good,so leaks. I'll update once again after I've had them awhile
Split soles = Not recomended
I chose these boots for my everyday work boot last year. They were comfy and dry, but about 6 months in I split the soles across the ball of my feet...on both boots! I squat alot in my job working on equipment, so the ball of my feet are always flexing. Apparently too much for these boots. I upgraded to Merrell's for my everyday work boot, and Asolo Fugitives for my hiking and backpacking boots.
Last boot you will ever try on
I cannot praise these boots enough. They are trail runner comfortable out of the box and break in fast. The gore-tex liner means your foot will get a little moist but not the normal swamp that normally follows a day of hiking. They are water proof up to the brim or as close as any breathable boot can get (1+ hr in running water), even if you dunk your foot and the boot fills, it quickly expels the excess, meaning only a few minutes of squishy walking. I have gone through several pair of laces and the boot is far from dead. Like other reviewers mine have developed a crack right where the ball of the foot flexes. I think the sole material is just a little too rigid and extreme flex will crack it. Even with a crack the boot performs, It only allows a little water seepage that the boot soon expels. Buy a pair, and then a second so you will have them on that day long down the road that you finally retire these boots from the trail to a well deserved retirement of yard work.
Best boots out of the box
I use these boots for work and bird hunting.. My first pair lasted 2 years. They are so comfy and supportive right out of the box I just love them. There is very little break in time. I ware them at least 10 to 12 hrs a day 5-6 days a week In all kinds of conditions from standing water, muddy ditches, basements full of sewage water, so the boot being waterproof is a real advantage. I usually have to replace the laces 2-3 times a year. My soles on the first pair did crack the last 6 months I had them. I only noticed because I read the reviews on the web. I bought some work boots from sears and the break in takes too long. Went on line and bought another pair of vasques. I've also pulled nails and staples from the sole that never got to my foot.
These boots are very comfortable, however I wear them for work (as a forester) and play (hunting, hiking, backpacking). I love them and they stay reasonably waterproof the first year. At about year 1.5 the soles crack at the front of the boot. It's not like there is no tread left because there looks to be a lot of life in them left excluding the cracked sole. Anyhow I have owned 3 pairs of them now, and just about to purchase my 4th pair. If ya don't mind replacing them every so often for $140-$180 per pair these are great boots..
I live in tropical north queensland of Australia. I go hiking in the rainforest jungle with them all the time. My feet stay dry even after walking through multiple streams all day and the best part is my feet dont get hot and sweaty. love the goretex
Soles cracked, but it took a few years
THese boots were incredibly comfortable and blister-free. If you asked me about them 6 months ago, I would have given then 5 stars. However, on the trip last week, about 8 miles fromt he trailhead, I noticed that the left boot sole was cracking, in fact had cracked all the way through. Inspection revealed that the right boot was starting to go, too.

I'm a big guy....275 pounds and I carry a 50+ pound pack. OK, that's a lot of weight. On the other hand, I ONLY wear these for backpacking, one week per year, plus maybe half a dozen short day hikes spread throughout the year. I think it's ridiculous that a boot at this price should have an issue like this. The old Hi-Tec's that I replaced with these Vasque's lasted nearly a decade.
These are great backpacking boots. They didn't have much of a break in time. They are pretty stiff, but i like that when you have a heavy load. I've probably only walked around 50 or so miles on them, so i cant say a ton on the durability, but they still look brand new. They are great boots and i never got hot sports or blisters from these boots. Overall i would recommend these to anyone.
Does Vasque re-sole their boots..many...
Does Vasque re-sole their boots..many companies do not anymore!
Find a good cobbler - most will put a new sole on whatever boot you take to them. I have several pairs I did just that; 2 pairs of red wing work boots that are on #8 and #11 respectively.
I don't believe Vasque re-soles their boots, mainly because most modern boots have uppers that are fused with the lowers. meaning the soles aren't "stitched" on anymore. It may be possible, but for the relativity low cost of a new pair of boots, I would say go for a new pair...maybe a more durable model.


The vasque web site refers to 3 authorized places for re-soles. Getting ready to choose one now.
Cowsh*t n' boots!!!!
Familiarity:

I've put it through the wringer
If you don't like these boots..then you don't like boots. Full time rancher and adventurer. Work and play in the outdoors 365 days out of the year. Ride horses, 4 wheelers, ship, receive, and process cattle (cowboy work), load and unload livestock trucks, am in mud, water, and cow S*$t daily... not to mention the bulls*@t.

If I am in these boots at years end they deserve "BOOT OF THE YEAR" award.

Love what you do....do what you love.



www.pittoranches.com
I suppose I've had these boots for about 19 months now and they've been through hell and back with me. Waterlogged upwards of 25 times (and by that I mean they were dueling as hiking/portage/paddling shoes in the worst of waters). Hundreds of miles in woods and desert. The reinforced shank is now starting to crack where the heel of the foot is. Considering I got these around $100 bucks they have been a great purchase. Slip resistant. Just use a little mink oil now and again to keep them up!
Comfortable fit but soles crack
I work for a Federal Land Management agency and spend a considerable amount of time out doors. I have had many different brands of bots over my 30 year career including custom boots. The GTX is very comfortable right out of the box but within a couple of months the soles begin to crack on the ball of the foot. I have had 4 pairs now and every pair had cracked one pair within 3 months. I work with 3 other biologist and all of their boots have cracked as well.
soles split across the ball (two pairs)
the soles split across the ball on both feet after maybe 250 miles of sidewalk in a year. vasque replaced them after they saw the photos. I'm about 9 months into the second pair and the same thing is happening. I weigh 180 and wear size 12.

don't buy them unless you just want to display them on your mantel.
This is my husband's fourth pair of these boots, he loves them! He has the 10.5 Wide and finds them so comfortable for work. He wears them every day and they last about a year before getting a split in the sole, which means they leak when it rains... but otherwise wearable in dry conditions.