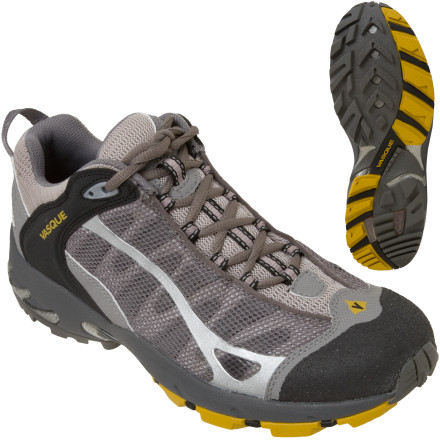 Detail Images

Community Images
Great shoes in dry or wet
Decent shoe but not for high performance.
The shoe is comfortable but I probably won't get them again. I thought with the rugged build of the shoe that it would handle some high mileage, but after the first couple runs I noticed some substantial damage to the sole that I thought was unreasonable (heal started taking in air and there was a noticeable sucking sound. The shoe does grip unless conditions are a little wet, then I always get a little concerned about traction on some of the smooth rock in Little or Big Cottonwood. Also, with my hyper-mobile foot the wide toe-box made for to much play in the shoe.

Honestly, I am not saying this is a bad shoe, I am just pointing out it's flaws.
grip like a monky to his mom
very comforable, light, but not durable
I have been through several of these now. They were very comfortable for me, and light on the foot. Unfortunately they were not durable at all. After perhaps only 10 miles of light use (walking, and not even on the trail) the sole under the heel area delaminated from the shoe. This allowed air / water to be sucked in, and then squelched back out, with each step. It was like walking on a pair of whoopee cushions.

After this occurred the shoes seemed to not get any worse, but the outside material was also quite flimsy. I tore one of them pretty well scuffing the shoe against a rock. I was pretty surprised about the damage given the size of the hit.

I would still buy these again if there was an improvement / fix for the sole failing.
really loved this shoe, but its really heavy. was comfy, but ended up buying a pair of the same brand at a discount store with less sole so it was lighter and cheaper!
tough trail running shoe!
although primary used as a trail running shoe, took these out for multi day hike on a moderate difficulty track and had no problems with traction and comfort. big strong toe box saved me dozens of times from stumping my toes on rocks and logs. was perfect for trips where i wasn't doing any hiking that was overly arduous, and needed something I could cycle, wear around town and hike all in the one shoe!

after using this shoe for over a dozen hikes, a couple multi-day, the mesh had ripped a little, but that's fair enough since I used these in some terrain where i really should have been using boots.
i love these shoes. i wear them practically everyday. only bad thing was the meshing on the top of the shoe got hung up and ripped some...it's just part of the design, but still. it initially took my feet about a day to get use to them. after that they have been my shoe of choice in my collection. they do kinda have an annoying squeal on the heal of the sole when you walk on tile. but it makes me not drag my feet anymore that's for sure. i seems others have had this issue with the shoe too.
I'm not a trail runner, I like trail running shoes because they are comfortable and tough. I usually wear the regular Velocity, but they didn't have any so I tried the VST. The first pair I had only lasted about a month before the sole started seperating at the heal. Sent them back no problem, got a replacement pair. Some of the decorative stuff on the side is coming off already after not even a month, and no trail running. I do wear them every day as my everyday shoe, but they should hold up better than they do. They are comfortable and seem to have a wider toe box than some. I won't buy another pair of the VST's, I'll go back to the regular Velocity if I can, they held up great!!
I don't trail run, although I may start,...
I don't trail run, although I may start, I mostly run outside on the road. I was wondering if anyone uses these for road running? If not why couldn't you use a trail runner for road running? For some reason I seem to always be drawn to trail running shoes. I think it's mainly because I'm not too fond of the flashy type shoes that are indicative of road shoes, I love my Asics, but they, as are all road shoes are too busy and flashy for my taste. Also, my weight is 195, are these suitable for heavier runners? I tried on a pair and they felt great but they also felt like they may be a little soft, but then again I didn't run in them.
, ☃bcs_badge_alumni_label☃
Best Answer
Todd, its my opinion that you can use any trail shoe for running on the road. However, there may be some features in trail shoes that aren't necessarily needed for road running, such as a stronger toe-box area for when you kick rocks and roots, and extra grips/treads on the sole of the shoe to help you make those steeper climbs. Because of these features, you may find some trail shoes to be a bit 'clunky' or heavy for a road run.

While you may have that feeling of driving an SUV down a flat paved road, you can still run on the road with these. I am not sure about these shoes for heavier runners, but I do know that Vasque shoes are among the best in the business so I can't imagine you having a problem with these not being supportive. If they felt great, go for it!
If you run mostly on the road, go for a road running shoe. It's gonna be much lighter (100grs average) and way less stiffer. The poor flexibility of most of the trail shoes, except for the onesthat are more "race oriented" comes from extra layers of material for protection and the insert that you find very often in the sole to protect from rock pinching.
VST's are a bit disappointing
My VST's are doing what many others have done they are bubbling up in the heel so it's probably only a matter of time before they come unglued completely. I have 190 miles thus far but my last pair of Velocity's (Not VST's) I ended up putting just under 600 miles on them.

I have a 50 miler at the end of October and I don't think these will make it so I now need to look for an alternative to these. Otherwise, they seem slighter narrower than the previous Velocity's (I have a narrow heel but a somewhat wider forefoot). I do like them, I just don't think I am going to get as many miles in them as I should.
The pups are perfect for me. I've mainly used them to bump around town, to and from class and the gym, but also have had a run or two in them. Combined with my custom inserts, they minimize the pressure on my feet caused from my plantar's fascia, heel spur, and terribly overpronated and flat feet. The cushioning/support and weight of the shoe find an optimum balance, making the Velocity's one of my best purchses in a while.
Has anyone had quality control issues...
Has anyone had quality control issues lately with these? I'm hoping the heel/squeaking problems were with early models. Any experience running on rocky steep terrain? Wide feet and pronation control?
Best Answer
i have the heel squeeking problems on mine too, but i was pretty much cured from dragging my feet after using these shoes. these do fairly well on almost any terrain...i've taken these shoes up several trails in boulder in february and they held up great.
Will the squeeking stop? Will they stretch...
Will the squeeking stop?

Will they stretch out a little? My toes are right up against the end, but not blistering or uncomfortable.
Best Answer
Once a squeaker always a squeaker, actually they may just take a few runs to break in but with ur toes being jammed if you run downhill your toes will get hammered plus it's always good to leave a little extra room for foot swelling.