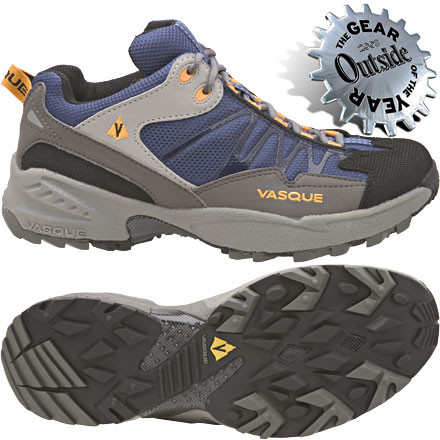 Detail Images
The Vasque Velocity is a state-of-the-art trail runner, and it has proof: Outside Magazine recognized it as the 2003 Trail Runner of the Year. Built for motion control on rugged terrain, the Velocity provides rock-solid stability in any condition. An aggressively-lugged Vasque Mako outsole offers superb traction, while the dual-density EVA midsole, which is stiffer in the medial and postal regions of the foot, reduces pronation and collapsing. Vasque includes a nylon plate that extends from the forefoot to the arch, providing a comfortable flex with incredible torsional rigidity. TPU-reinforced Airmesh offers support and prevents the synthetic leather upper from stretching out over time. Further support is provided by lacing that extends near to the toe for a high-performance, precision fit. A burly toe rand protects those tender toes from rocks, roots, and other obstacles in the trail.
EXCELLENT CHOIX POUR TOUS LES JOURS
Gender:

Male

Familiarity:

I've put it through the wringer
Mes meilleurs souliers jusqu'a present. Je les portes tous les jours. ils sont aussi confortable a la ville que dans les sentiers.
Retired guy here that does mostly day hikes...
Retired guy here that does mostly day hikes in the Adirondacks. What mid-priced shoe is appropriate?
A midweight hiker such as these is perfect for what you will be doing. Best off to order a few pairs and find what fits you best or go to a local shop and try some on.
a great everyday trail shoe
I'm not sure if this is my third or fourth pair of these shoes. I keep buying them for their comfort. I've got flat feet and they do a good job of fitting the shape of my feet. I've only had problems with one pair. After a lot of miles and a lot of exposure to the elements, the sole separated a little from the shoe. They allow my feet to breath well and I haven't had any problems with slippage. The toebox is just right, not too roomy and not too tight. The only reason I have so many pairs is because I keep a pair in the trunk of the car and rotate between the others to give the soles from staying too compressed.
Its a tank and doesn't have the necessary support for a toe strike runner. The support in the fore foot was gone after only a few runs. They have been downgraded to light day hike shoe. For a runner look elsewhere
Do Vasque shoes, such as Rifts, have built...
Do Vasque shoes, such as Rifts, have built up arch support on the inside. Too often many shoes have little if any arch support designed into their insoles and often are simply flat surfaces inside the shoe.
My feet are slightly flat. I own hiking boots, approach shoes and several trail runners that are all Vasque. While there is a slight curve to the foot bed, there is not a pronounced arch. The insoles tend to cup your feet and provide just enough of a barrier to comfort the feet.
Unanswered Question
Write your question here...Can this shoe...
Write your question here...Can this shoe be used for trail running?
I wore these shoes until every last tread was gone, and the mesh was completely ripped out. I absolutely loved them, however I would not recommend them as a trail shoe. They are more of a light hiking shoe or go to shoe for ANYTHING outdoors. They held up a lot better than my La Sportiva Raptors.
I use them in summer amd rain and mud in the winter. all I can say is that thay grip in all train you cant mistake with this one!
I'm sorry but no thanks. I tried these out for a bit but exchanged for the Vasque Transistor, of which I am on my second pair and love. The velocity is a heavy, bulky, high-centered hiking shoe which is masquerading as a trail runner. They are actually very similar to the gore-tex merrell trail shoes I have. If you are looking for a solid, rigid trail shoe I suppose these would work well for that purpose. However, I did not find these shoes very responsive and would not recommend them for trail runners, which is what they are advertised as.
How do these compare with the Vasque...
How do these compare with the Vasque Velocity VST? Purchased a pair, but they had to go back- they developed the dreaded VST Bubble after a single day of owning them. The fit was great. Pondering these ones... What is the difference? Are these a pre VST model from a year or two ago? Thanks!
The Vasque Velocity (VST)is: Vasque Spine Technology (VST) in heels incorporates a TPU top plate with a cushioning gel to reduce heel impact forces and ensure stability...but they have short live
i am currently on my second and third pair of velocity shoes, rotating them for long trail runs. i have 280 and 340 miles on each pair. they a perfect for me for trail running, especially long runs. i hope backcountry gets some more in my size!
This may be the perfect trail shoe
I usually have a complaint about at least one aspect of a trail shoe... too narrow, not enough sole cushioning / protection from rocks, toe bumper inadequate, hurts my achilles, etc. etc. I have owned the Gore-Tex version of the Velocity, the GTX, for about 2 years and really liked the way it felt, so I ordered the straight Velocity. Right out of the box it felt amazing. I now have about 50 miles on it and so far it is amazing feeling... much lighter than the GTX waterproof version, very well ventilated, and the rock & root protection on technical trails. I'm thinking of ordering other pairs in case they should ever discontinue this shoe! The perfect trail shoe? It just might be!
I was very pleasantly surprised at how well they fit right out of the box. I took them to the treadmill to break in and expected some rubbing or break-in issues - I had none. They fit very true to size and are very grippy. I have used them for a couple light afternoon hikes and a couple times on my mountain bike. They grab the mountain bike pedals very well - even when wet/muddy. No issues on the hikes. Overall, a good shoe at the regular price and a great shoe for the money if you can catch them on sale.
great straight out of the box
My favorite trail shoe. Wide toe box, good cushioning, durable enough to fend off the rocks, sticks and roots of techinical trails. great traction on almost everything, good not great on wet rocks. I wore a pair straight out of the box with a pair of Injinjis and gaiters for the whole race recently at the Bear 100. Zero blisters and only 1 lost toenail.
When you first put them on they feel flat
but at the end of 15 mile hike your feet feel great. They have great traction, they breath well and are cool on your feet. Great shoe.
Great traction, horrible material durability
I got only 370 miles out of my Vasques before the material on the inside shredded. Actually, the material on the inside and outside near the front of my foot was showing major wear and tear as early as 200 miles, but then the inside of one of my shoes shredded in the middle of a long trail run, really irking me to the say the least. Yes, the shoes provide great traction, but the material is so not durable if you're on single track and gravel trails. Also, the shoes are VERY heavy. They have far more minuses than pluses. This go-around with Vasque proved to me that it's hard to find a better trail running shoe than Montrails.
Great shoe, my second pair, the first were Gore-Tex lined and I now prefer the non-lined ones. Great stiff sole. I would recommend these to everyone out there. budget the Gore-Tex ones if you plan on getting wet, if you want high breath-ability get these ones.
I've had 2 pairs of the Velocity and I consistently love them. They fit my feet fabulously and they are extremely durable too- my first pair I wore straight for 1.5 years before I got my new pair.
Immediately I ripped the mesh on the side on a sharp rock while scrambling in CO, then went on to wear them pretty much every day for 5 months in Africa (very harsh on footwear) and the tear never got bigger or became a problem.
I have worn them extensively both hiking and running in CO, the Winds, Kenya, etc. and my love for them remains, sans 2 Issues- These are dedicated runners and not good for hiking/scrambling/approach due to how flexible the tread lugs (= not stable) are and how quickly this sort of activity tears them off.
Also, the plastic...um, thingy on the sole under the arch can make them treacherous on rocks, as it can slip very easily.
But if you want trail runners for trail running, these are great shoes.
This shoe was so comfortable right out of the box. I've got a lot of shoes, and many will "hit the trail" now that I have this one in my arsenal.
I recently purchased a pair of Vasque Velocity's. This was my 3rd. brand that I had purchased and they are the best that I have run in. I run the granite domes at Enchanted Rock SNR in TX not the main trails but the boulder fields and obscurre trails around the park. I get great support and stability on very uneven terrain. I would recommend this shoe to every one.