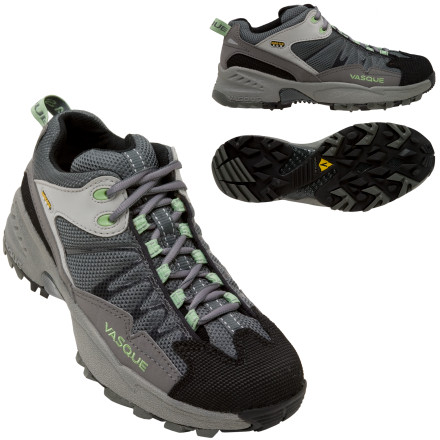 These trail runners are awesome. I have a wider toe box, and these fit the way I like them to. I've owned Vasque in the past, and now the present, and I'm sure about the future.
I love these shoes! I've had Vasque in the past and loved them so I'm not to surprised. Light, tough, GTX, comfortable all in one shoe, am I dreaming? And this site rules for online ordering.
These are great shoes and will keep your feet warm and VERY dry (remember to wear moisture wicking socks w/ these) during winter>spring trail runs. I like them a lot, however I need more cushioning. I have found that these are great for runs under 15 miles, but anything longer and the balls of my feet ache. I run very technical/rugged trails. I am a neutral runner who needs a cushion shoe (road and trail). Also, the laces loosen fairly quickly. These do have great traction....
This is an amazing light weight shoe. It is everything it was said to be. It is perfect for trail runs. It is extremley sturdy, I would not recommend this shoe for treadmill running.
These are the greatest shoes ever. No reason to buy anything else.
I love my new Vasque Velocity Trail Shoes. They are not only awesome looking shoes, they fit great and feel good. I have had 5 RT ankle surgeries and need good shoes with good support and these are deep enough for my orthotics. This shoe is everything I need it to be! The shoes and service were great! I highly recommend this company's mechandise, service, and delivery. Thanks.
This is the best trail shoe I have ever run in, and I have tried the top ten or so over the years. The traction is superb. I have never fallen in them even on ice. I have broken my ankles in the past, so I require a sturdy shoe, and this is it. The Gore-Tex is perfect for running through mud and small streams. However there is still the balance of enough flexibility to make them fun to run in. But this is my second pair and I ordered the same size and they are way too large.