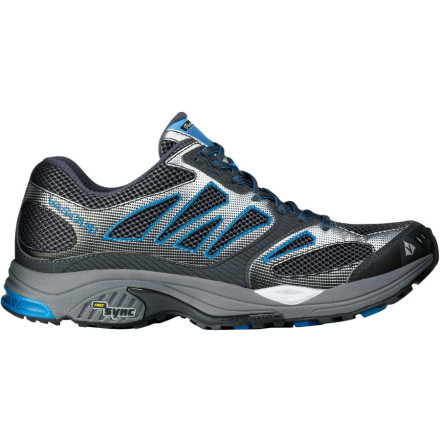 Detail Images

Community Images
The Vasque Transistor FS Men???s Trail Run Shoe offers superb trail feel and response without compromising the protection and support your feet need. Vasque built this shoe using a breathable and abrasion resistant synthetic leather and nylon mesh, making it lightweight and flexible, but also durable and supportive. A protective toe bumper prevents the inevitable trail running hazard of stubbed toes. Poron?? memory foam forms to your foot and makes this shoe super comfortable. And the outsole utilizes a slip-resistant rubber compound and aggressive, multidirectional lugs for optimal traction.
First off, there are way too many shoes that are really boring in terms of color, and then there are a lot of shoes that seem to be bright just because they can be. Vasque hit the right medium with the yellow peat color. I've had them for about a year, probably put close to 300 trail miles on them, plus just running and kicking around town, and I've gotten numerous comments on the color. I caught a friend once taking a picture of my shoes while hiking, so yeah, if you're going to get these, definitely get the yellow.



Aesthetics aside, they're a great pair of shoes. I was a little skeptical of the built-in footbed at first, but I'm a believer now. They're perfectly molded to my feet and feel like a million bucks when I put them on. Okay maybe not a million bucks, but still pretty good. They're pretty durable too, as the number of miles can attest to. The only real damage has happened in the past month when the sole started tearing off the rest of the shoe and now I can see my socks... They breathe really well, lots of mesh to air out my stinky paws during a run. The sole is pretty sticky, not like climbing shoe sticky, but it'll earn your trust going over a boulder field.



The one downside is the toebox is slightly on the narrow side. I've got fairly wide feet so my pinkie toes have started grumbling about the width, not to the point of full on blisters, but definitely unhappy.



All said, 5/5 for the durability and steeze.
I got this shoe last spring and started running in it right away. I love the snug fit of this shoe which feels supportive when running on varying terrain. Not only do I run on and off road in these, I enjoy hiking in them as well! I have hiked and ran all over in these for the last year or so and they are still holding up alright, with just the side mesh beginning to fray and break. I wouldn't recommend Super Feet in these, as they felt too tight when I put mine in. It may just require going a size up ( I would take them with you to the store, or by a size up if you plan on using insoles). The sole of the Transistor is very grippy even on the wettest, most steep terrain! A good buy for sure!
I really wanted to love these shoes, as the concept seemed a great one: shave unnecessary weight of a conventional trail shoe by removing the footbed insert, and reshaping the bottom of the shoe to compensate. I've never found there to be any merit in insole footbeds anyway, and the market for overpriced aftermarket insoles (cough -- Superfeet) has always struck me as selling snake-oil.

My size 10's weigh 22.5 oz per pair. A comparable shoe (Brooks Cascadia) with an insole is about 25 oz, so the weight savings are probably around 10%.

Vasque have done a great job. The shoe runs well, and feels very much like a regular trail shoe, except that they ride noticeably lower to the ground -- which is good thing! Great stability on uneven terrain and less chance of rolling an ankle.

However, the outsole is surprisingly stiff, both in the heel and forefoot, which is great for running over sharp rocks, but I found them uncomfortably lacking in cushioning on paved sections getting to and from the trails.

The forefoot is also a little on the narrow side, and my foot is relatively wide. I got significant chafing -- enough that I had to alternate with other shoes to let my skin recover. I hoped that they might stretch enough to be tolerable (I had a pair of Vasque Blurs that felt narrow at first and then stretched out nicely) but even after ~50 miles, the transistors still feel too narrow -- enough that I wouldn't want to do long (multi-hour) runs in them.

If you like the shape of Vasque shoes, you'll probably love these. But I can't recommend them for wide feet.
I originally bought these to hike in but I started running in them because they feel so good. They are really low to the ground, less padding is nice. These compliment vibram fivefingers well for training. Great trail shoe because they dry so quick, lots of mesh and plastic. They could be a little more durable, but then again I beat mine pretty hard. All around great summer shoe with no fancy gimmicks.